I wanted to make the grands a desert of their own for Thanksgiving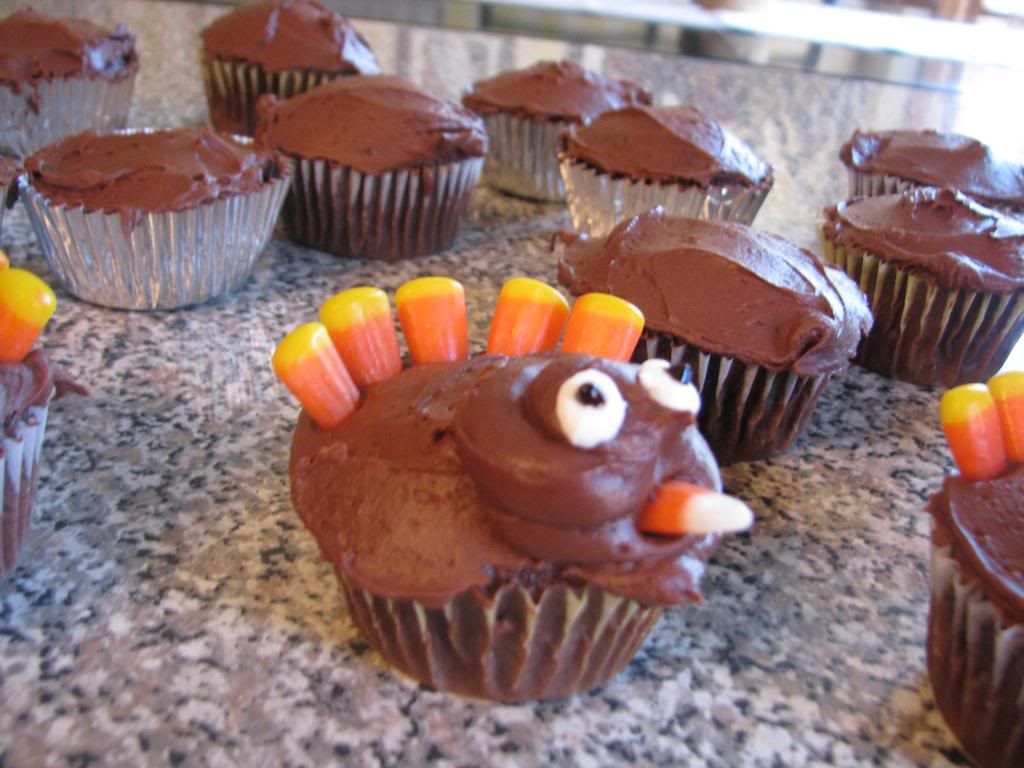 Little turkey cupcakes were a hit. Truth be told cupcakes of any sort would have worked just fine.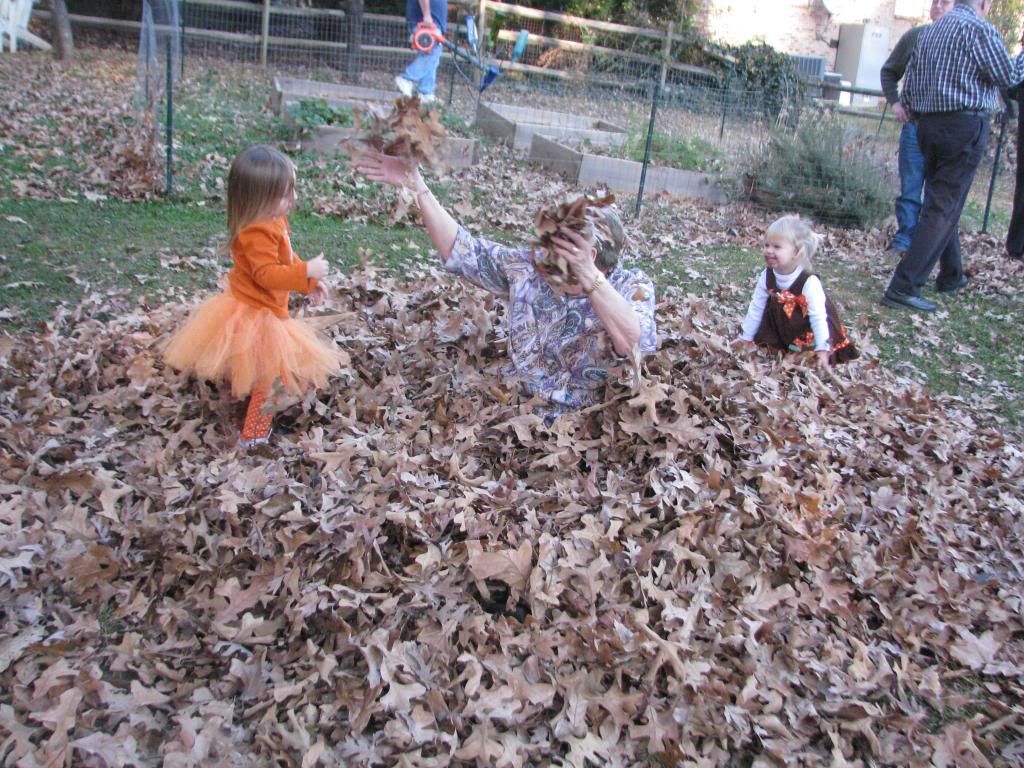 Hubby's sister lives in FL so she never gets to experience fall any more. She was fascinated by all the leaves in our yard and they just keep coming down. Hubby used the leaf blower to pile up a bunch for she and the grands to play in after Thanksgiving dinner. The grands had such a good time throwing leaves at Auntie Jo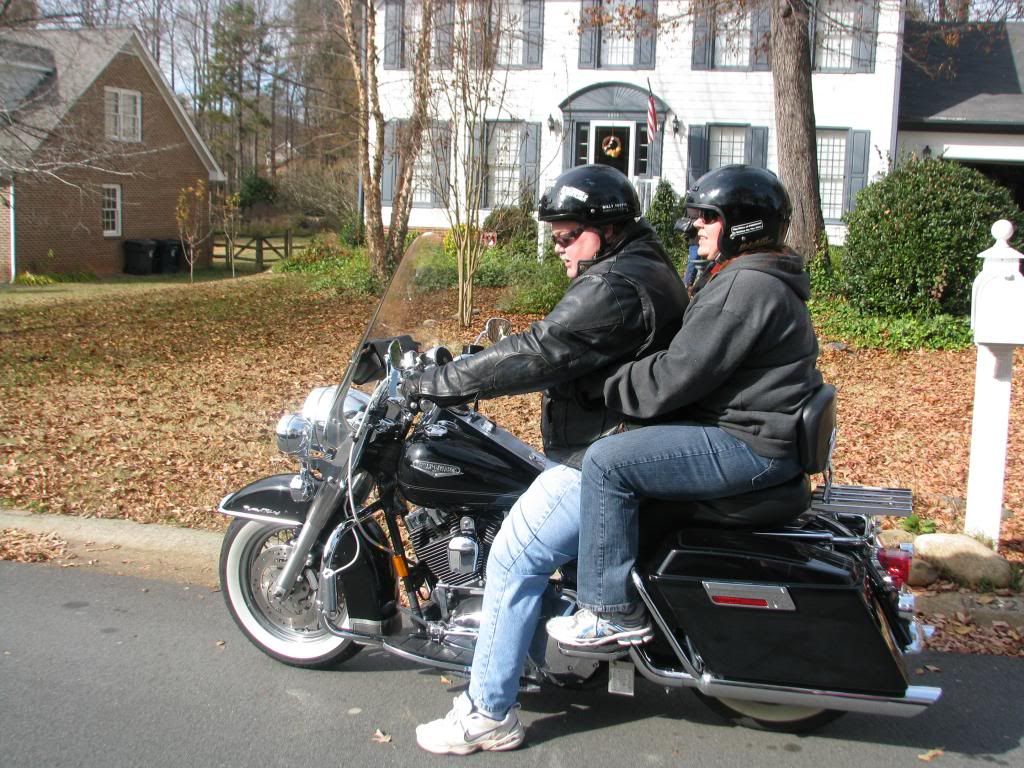 Hubby's Niece marked riding a Harley off her bucket list. Now her hubby might be in trouble as she seems to be hooked and wants one all her own! Ha
We ended the day at DD#1 home for desert and a Christmas movie. We never got around to watching the movie as the little ones put on such a great LIVE show. Who needs a silly old movie when you have the real thing in action. SIL figured out how to set his camera for delay (I think that's what its called) so we could get a photo of the whole gang. Needless to say we were looking like raga muffins by the end of such a long day but who the heck cares we haven't all been together for 4 LONG years.
Thanks to all of you ladies for helping me figure out how to continue to download photo's on this blog for free!!!!! It has taken all afternoon to figure it out and lots more e-mail to
Cindy
to complete the task. In time I sure hope it won't take as long! Ha
The leftovers are gone, wish I could say the same for all of the dirty dishes. Hubby made an executive decision this morning that I would not be doing any more cooking for the gang so we all went out for breakfast then everyone headed back to their respective homes. We had such a great time with Hubby's family and all of our girls but it's time for some football and rest!!!!
After breakfast hubby and I ventured out on errands and a little Birthday/Christmas shopping. SIL#1's BD is December 23, SIL#2 BD is November 23, followed by Mason mans 1st BD on November 30. Can my girls pick them or what!! Ha Hubby will be heading back North next week, I wanted him to get to help out with some of the Christmas shopping as it is one of the highlights of the year for him (costly I might add) We knocked out lots on the Christmas list and of course a few things that were not on the list. Then back home for the last of the leftovers, a nap, followed by some good Bama football. ROLL TIDE All around a wonderful day until.....
I finally got up the nerve to call on my sewing machine that has been in the shop since last Monday. The verdict was not good. She has a cracked bobbin shaft. The good news is it is covered by the warranty, the bad news is she will have to be shipped off to Chicago IL, if they can't fix it then she is headed to Switzerland. I will be out of a machine for 4 to 8 weeks. Holy Cow!!!! I had a great start on all my Christmas gift sewing but there are still lots of things waiting in the wings. My local shop has been nice enough to offer to let me come in and use their machines in the classroom so I can finish everything up. It's an hour drive down each morning then an additional hour back at the end of the day. The shop doesn't open until 10:00AM, no more early morning or late night sewing for me. Tomorrow I will be getting my ducks in a row so I can head out Monday morning to get started. Three quilts are a MUST finish for our girls. The rest will more than likely be added to the UFO pile until my machine has finished it's world tour. Other than quilts for our girls I only had 2 additional gifts I needed to make, of course lots of hope I can do things but they won't be happening.
Hubby is a doll baby, he suggested we go ahead and purchase a new upgraded machine. No wayNo how, we are talking thousands of dollars. Patience is not a virtue of mine, this will be a good time to develop that skill! Ha
Sunday dinner tomorrow will be SIL#2's Birthday dinner. Thank goodness he pick a simple menu that everyone likes. Along with getting dinner on the table hubby will be helping me drag in Christmas tubs of decorations before he heads back north. Decorating for Christmas is like eating an elephant, all you can do is take a bite at a time and hope for the best. The evenings will be spent working on the grands Christmas stockings that have been a work in progress for the last two years. Maybe the Christmas stocking will get done this year now that my machine has decided to act out. I still have the embroidery machine that has worked backed up that needs to be completed for gifts so that should all keep be busy. I have HIGH hopes that cybr Monday will have be bragging that our Christmas shopping is complete. A girl can dream right?