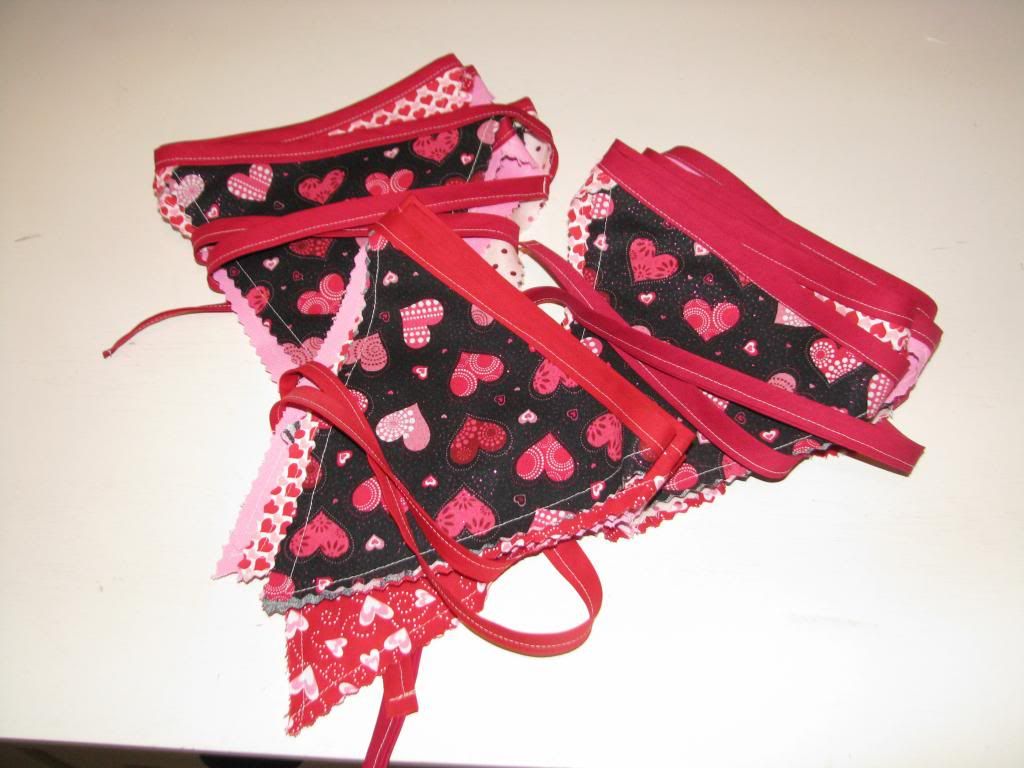 Over the past two days I have been trying to clean up the piles of little finishes that needed to be done before the projects turned into UFO's. I have plenty of UFO's already, don't need to add more to those piles!!! Three Valentines buntings moved to the gift drawer for next year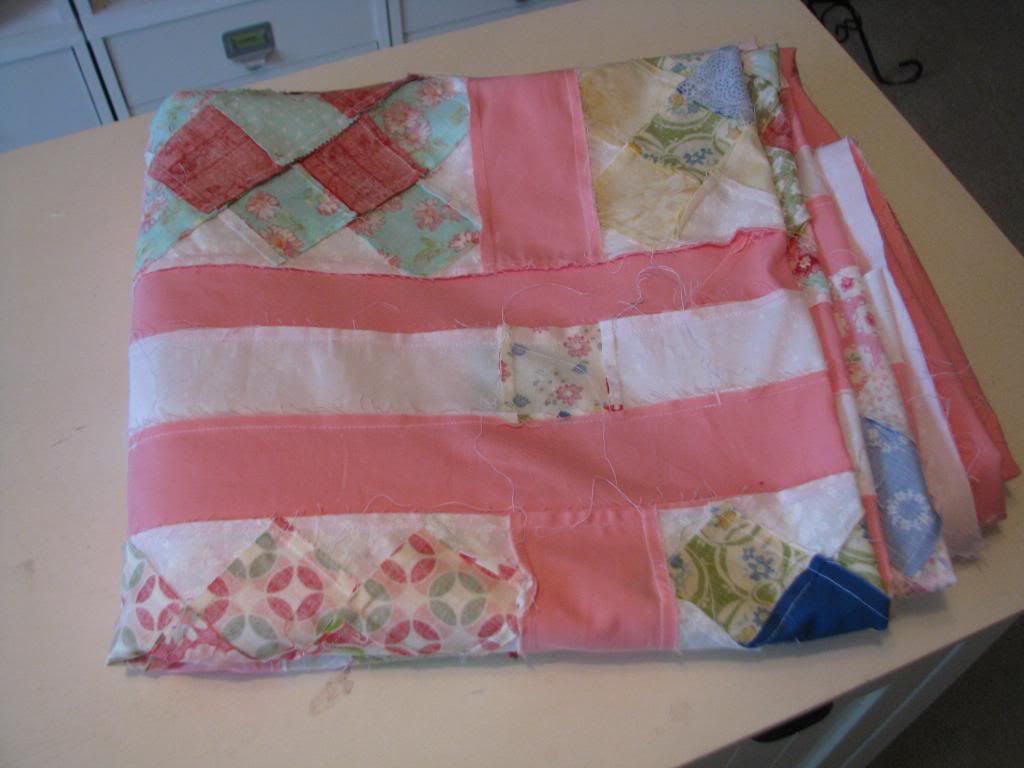 The Granny square quilt top now has the final little piece of border added. It has been moved to the be quilted box.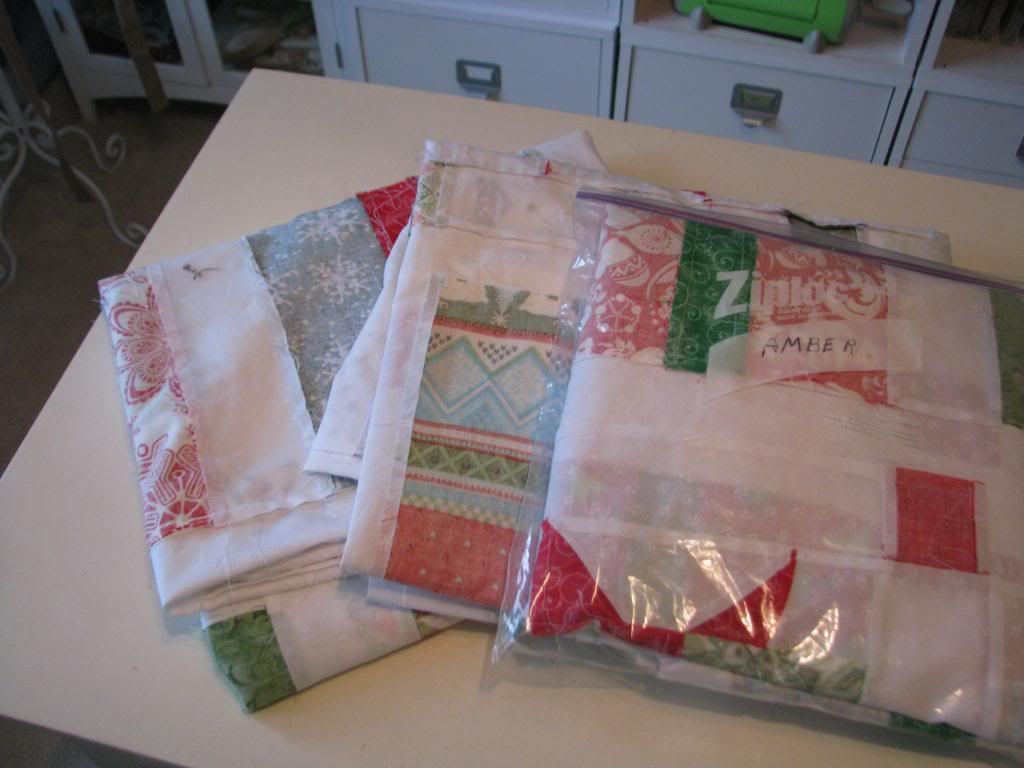 My embroidery machine has been giving me fits lately, I finally just walked away from it for awhile. Maybe she just wanted a vacation!! The last of the names are now embroidered on the Christmas Package quilts, they too moved over to the needs to be quilted box. I have them on my yearly calender to begin quilting after July. Two of these quilts will be Christmas 2013 gifts but I want to wait to begin the quilting until I am sure no new additions will be added to the families. DD#2 quilt top is bagged and will be stored in the hope chest for when she marries and begins her own family. Not that I am pushing you understand!! (well maybe just a little)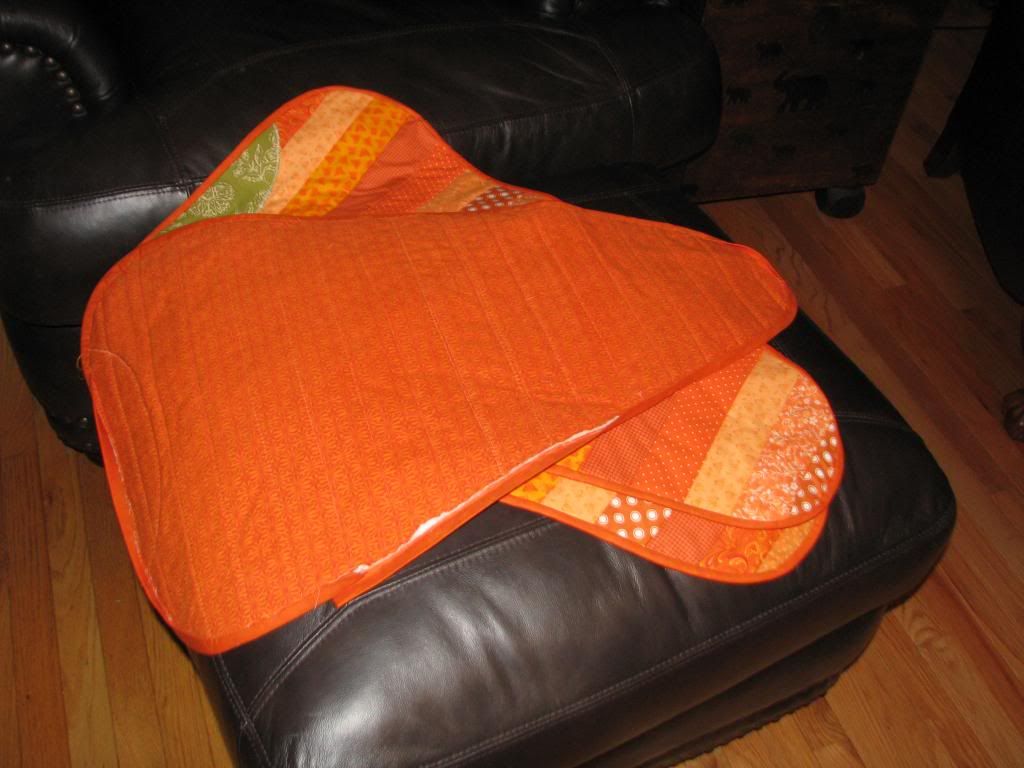 I finished sewing the binding on 3 more Easter carrot table toppers last night, all that's left to do today is sew on the greenery for the carrot tops and they too can move on over to the gift drawer. Finally I am head of the game for the next holiday!!
Cara
I think you are the one who sent me this idea, if so Thanks!! BTW
Carla
is doing a GREAT "Spender to Saver" series that has some great ideas and thoughts on how we manage of hard earned $$ you will want o check out!!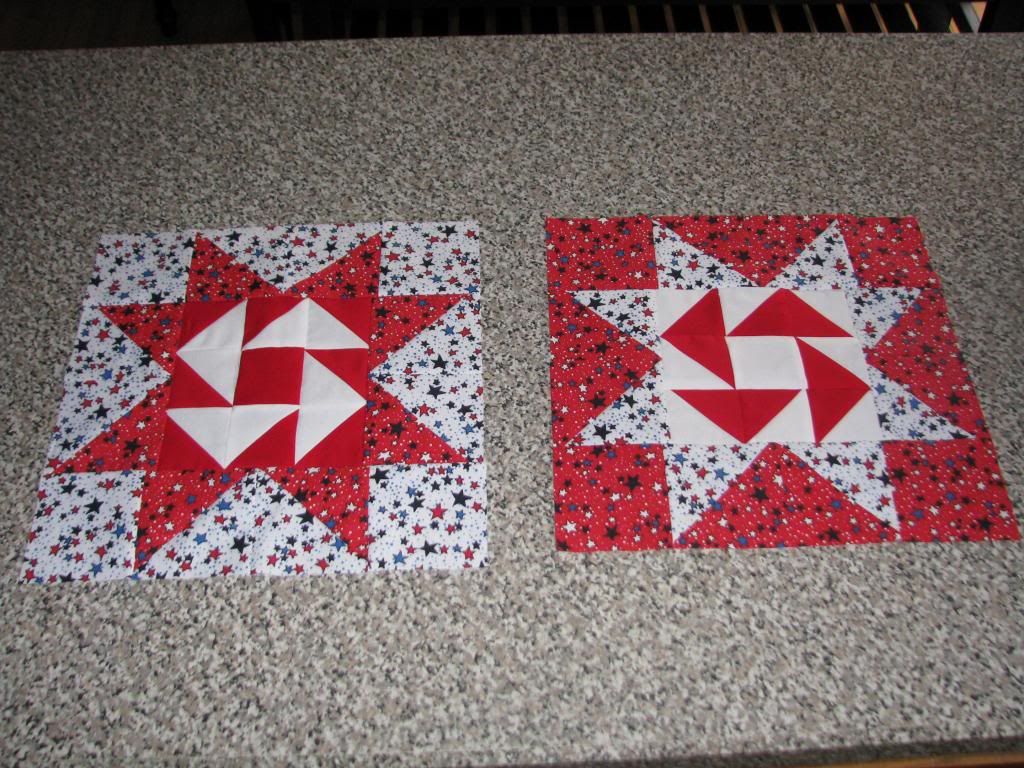 Blocks of the month, done! One day this week when it is not POURING down rain I will have to make a trip to the quilt shop so I can pick up next months block which I am thinking is the final block!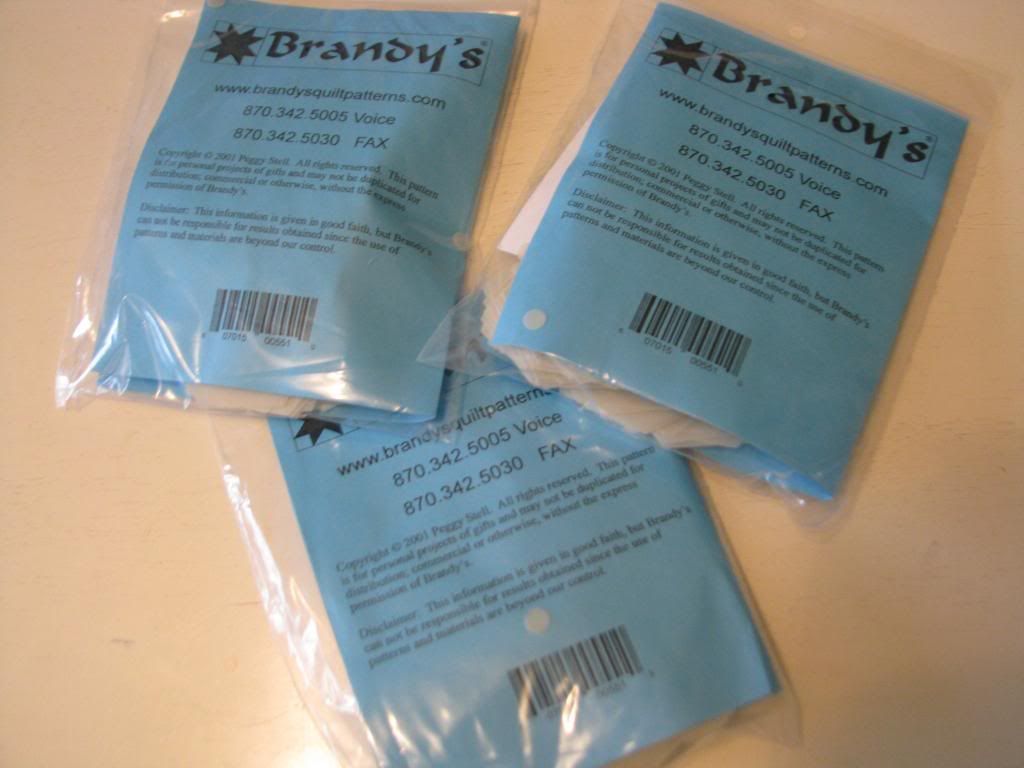 With our tax refund I ordered more Hexie pieces so I can get back to the Hexie quilt that has been sitting in a lonely corner of the living room waiting for some TLC. I really do enjoy doing hand sewing in the evenings, the Hexie quilt will be a nice thing to relax with at the end of the day.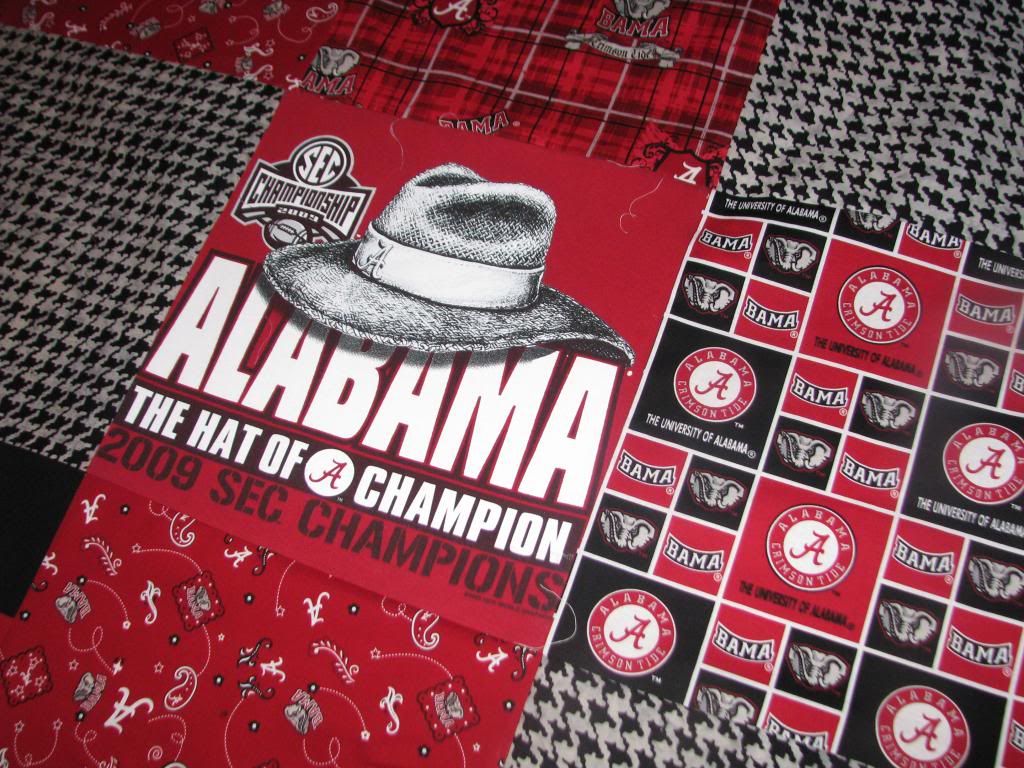 For today I WILL get hubby's Bama quilt sandwiched and pined. I may not get started on the quilting as I have a headache from you know where today but this bad boy will be done before the end of the week!!!!
Hubby left the AM for upper Michigan to pack up his office and rental house. I had planned on riding along but when I go out of town it causes such an uproar in the entire family I passed on riding along with him. It's not like the big kiddos complain that they will have to work out babysitting the grands amongst themselves and provide child care for AJ the beagle (She is HIGH maintenance) But I knew if I went along I would have no time to finish hubby's Birthday quilt. Added too that riding in the truck for 2 days solid up and back each way can cause a problem with my head, why take the chance for just one day of setting in a rental house all alone watching it snow? I have our girls cabin trip coming up at the end of March don't want to lay too much on the rest of the family two times in one month! I packed extra supplies (food) for hubby's trip today just in case he gets caught up in the new storm "Rocky". We think he won't run into it until tomorrow, maybe by then it will have let up a bit.
We ALWAYS have an emergency kit in the car or truck before heading out on a road trip. Along with extra winter gear, emergency blankets and all that jazz I keep energy bars, water, crackers, nuts, and junk food in the bag. Since we know he may very well have a mess of weather to deal with I added lots more food and drinks along with a portable shovel and rock salt.
Off now for my appointment with the Bama quilt followed by some nap time to shake this pounding head ailment.