I am soooo far behind in blog posts :( Seems like every time I sit down to blog one or more of the big or little kiddo's show up and get me off my game. Way back in February I started a cookbook challenge, figured its about time to do the update now that 1/2 of March is already over. I wrote up our family favorites from the cook books shown in this photo to transfer to my personal cookbooks. This will be much easier to manage than digging around to find a recipe I want, no more remembering what book it's in and on what page. I also have a problem with remembering the name of the recipe as I always seem to come up with an off the wall title of my own! Ha I would give myself a C- on this part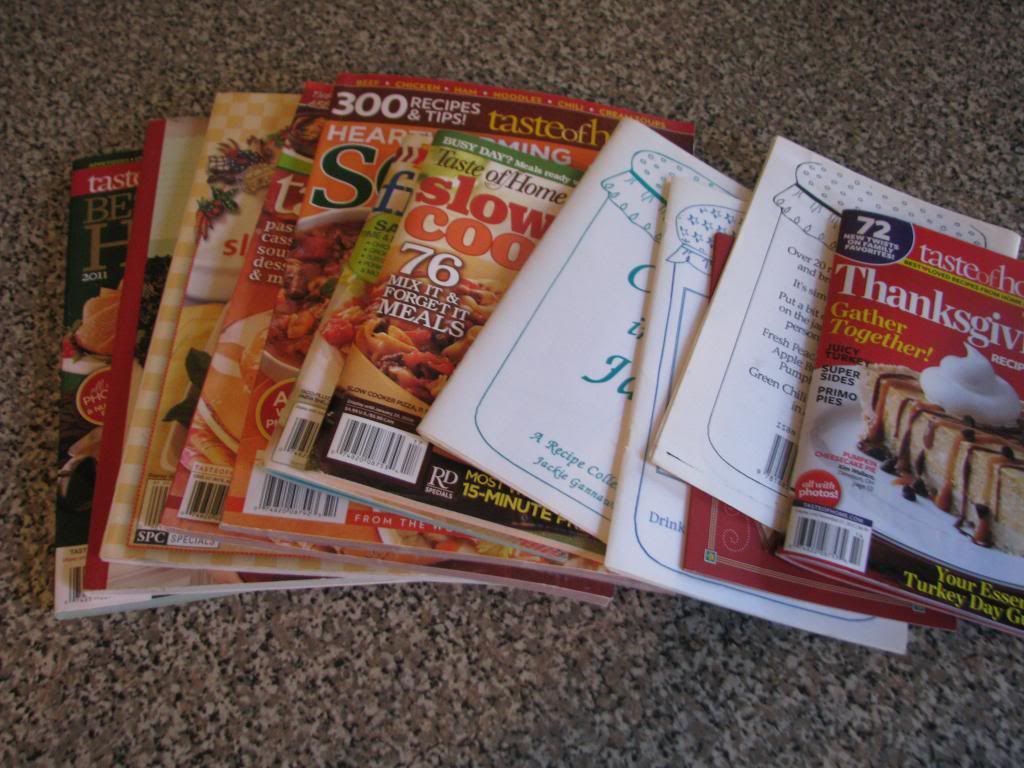 This pile of stuff I had pulled out to work on but never got around to it. I did however get all the recipes written on the back of napkins, envelopes, pulled from the newspaper, magazines, and printed from the Internet done. I would give myself a B- on this section of the challenge. One thing I have learned is to STOP buying cooking magazines at the check out counter. The covers are just so stinkin appealing to me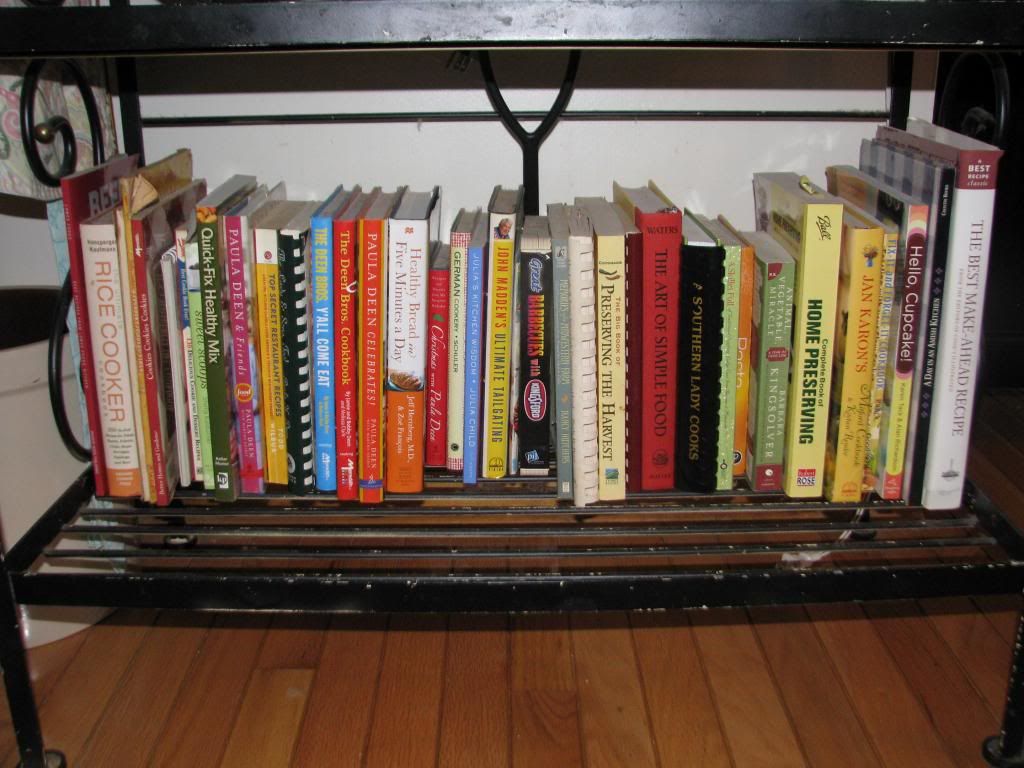 Here are the remainder of cookbooks I didn't have a chance to look through :( Maybe someday soon I can take it one book at a time to work up. Gotta give myself a D on this part!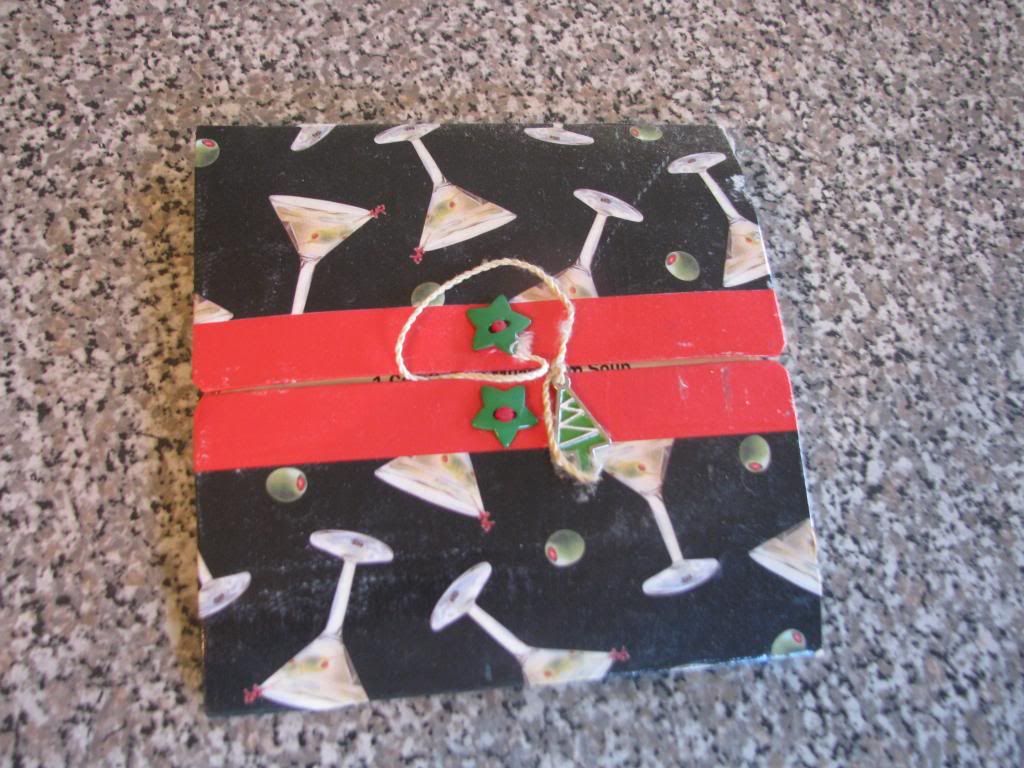 One thing I will give myself a A+ on is our holiday cookbooks. I made these way back when for myself and our DD's. I use to cater our company Christmas party, people would always ask me for the recipe's for different dishes, of course once I got back in the office I was OVERLOADED with work so I would forget who wanted what. I got the bright idea to make up a Christmas appetizer/snack food cookbook I could take along to the annual party that I put on a side table in a stand. If someone wanted a recipe I would direct them to the book and have them make a copy on the PC right then and there, no more muss and fuss for me.
I took the idea a step forward by making one each for our DD's as they were always calling home at the holiday's wanting a recipe. Now each year we pull out our holiday books and we are good to go, no more endless phone calls or digging around for recipe's. I also made each of the DD's a Thanksgiving cookbook. One of these days this old Nanny will be hanging up her apron and sporting a Depends diaper. Our DD's need to know how to feed hubby and I in the style we have grown accustom too!!
Now that I am FINALLY getting to add hexie blocks to the quilt top it was time to reload my zip baggies of "To Do" blocks. It's amazing how many hours it takes to pull out scraps that are just right for the quilt and the coordinating fabrics to go with each block. Maybe I will find some time to work on hexies over our girls weekend.
Four hexies are attached to row #3, on to the last 3 blocks that I hope to complete this week!! I think I have the timing down on the hexie blocks now, 6 hours to complete each block and additional hour to attach the block to the quilt top. Holy Cow what was I thinking!!
As seems to be the case these days DD#3 called just as I had started this post wanting me to meet she and Kara at the Homegoods store to pick out a bedspread for Kara's soon to be big girl bedroom. I of course know the drill by now. I will pull my hair out shopping with a toddler only to end the trip with a toddler hissy fit wanting to go home with Nanny!! Of course I will give in then wonder what the h... I was thinking as this kid needs a NAP. I shouldn't complain as I am lucky to have time with our big kiddo's and little ones but it sure puts a hurt on my schedule!! Ha
The other challenge today will be to squish the budget to cover the cost of Kara's bed ensemble. We have always help with the grands nursery and first big kid room. I wasn't expecting to take this expense on so soon but DD#1 and DD#3 got together yesterday and got a wild hair up their collective rumps to do some redecorating. I am at least ahead of the game with Karsyn's big girl room, back when Mommy set up her nursery I went ahead and bought the comforter for her toddler bed so she won't need anything when Mommy is ready to convert her room. We also bought all of the grand convertible cribs way back when, all that will be needed in that department will be mattresses and box springs that Mommy and Daddy can spring for. We also helped the big kiddo's buy nursery furniture with an eye to the future, dressers, chest and such won't need to be replaced.
Now where did I put those blood pressure pills, I think I could use and extra hit today!! Yep drug of choice at a certain age changes. Ha Just kidding (I think)