My GF decided she will be sorting photo's during our cabin stay. She has TONS of pictures of her own as well as boxes and boxes from her parents after losing her Mom 2 years ago. The goal is to have them all sorted by today (not gonna happen) Then move on to scrapbooking tonight (also ain't gonna happen)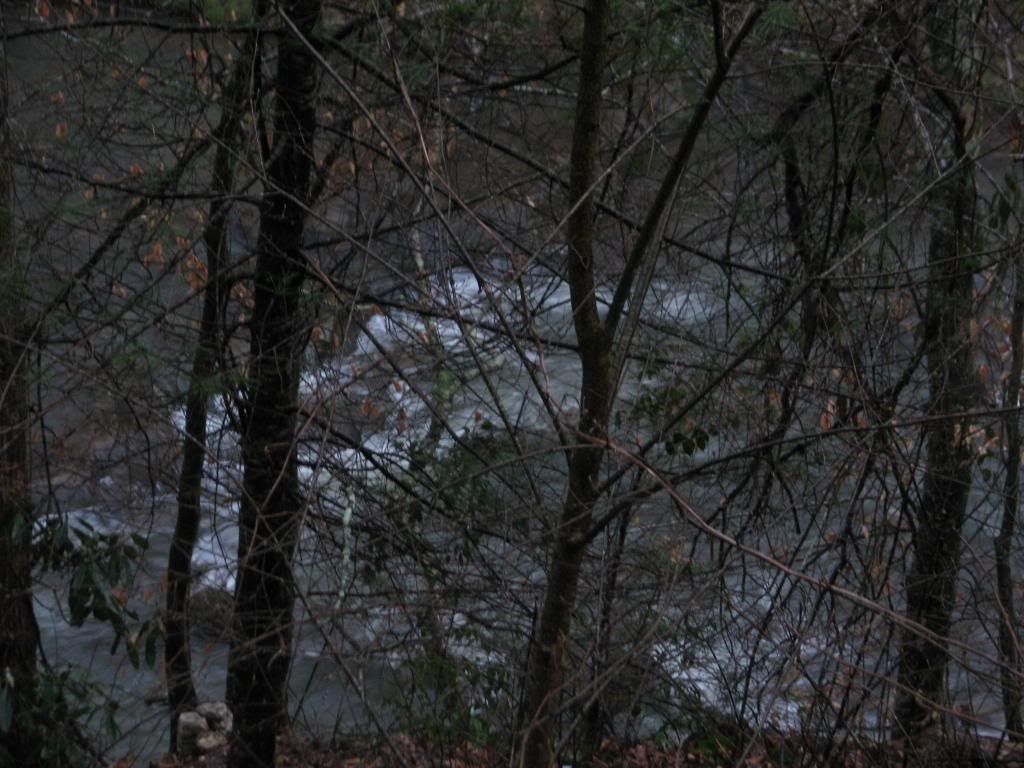 The brook from our back deck. Love this view but I have to go potty before stepping out. The water falls get mine going! Ha
I am setting here in bed looking out the window at a SNOW storm trying to decide if I should jump in the shower now or after we eat a little something. Hard decisions right? Ha
We checked the weather yesterday morning to decide what day we might want to do some site seeing or running around. What the heck! a high wind and snow warning for Monday and Tuesday. Since all that was falling from the sky at the time was a cold rain we thought we better go while the going was good. Destination, Harrah's casino as my GF has never been, in addition Paula Deen has a new restaurant in the casino, some fried chicken would hit the spot! Don't you know when I googled the operation hours there was a BIG warning on the first page that a landslide had the road closed with no estimated reopening! My GF will have to wait to knock that one off her bucket list.
We called it a day and did nothing but eat, nap, and watch the first season of Downton Abby, perfect day. I did at least get an additional hexie on my quilt but that was the extent of our productivity for the day. GF didn't believe me when I told her snow was coming in for the next two days. After a quick search of her own we debated hitting the grocery store for some snow supplies. We opted out since we hadn't even gotten out of our PJ's all day. Hope we won't regret that decision today as we are not experienced driving around in the mountain's on snow covered roads.
Thanks for all the sweet comments on the tee shirt quilt!! Our server is in and out up on this mountain so posting is a hit or miss deal, replying to comments might not happen until we return home.
Decision made, it's a shower, breakfast, then the grocery store as the snow is coming down hard and heavy now. Who wants to be stuck with very little food no matter how cute the cabin is!!