When I left Sunday dinner last night Karsyn was insistent "I go home with you Nanny" To keep the tears at bay as it was almost bath and bedtime I took her for a ride in my car, went to get gas, and made all the left or right turns she requested since as she says "I da boss of you Nanny, right?" I promised her she could come over to play as soon as she woke up this morning. Needless to say she was ready to rock at 7:00AM, crap. After picking her up we stoped by Target to get new nipples for my bottles as the nut case Kara has bit the end off the whole durn bunch. Well I have to tell you, Karsyn is a pro at shopping. " Nanny I rike this" in the buggy it went, "Nanny we needs this", "where is the pretty pacies, I need more" We ended up with a nice haul. I won't even share what we/she spent. A friend of mines hubby took early retirement last year, I have been picking her brain on the what to do and not do's with early retirement. Her number ONE advise was to stay AWAY from the grands!! Ha She is sooo right!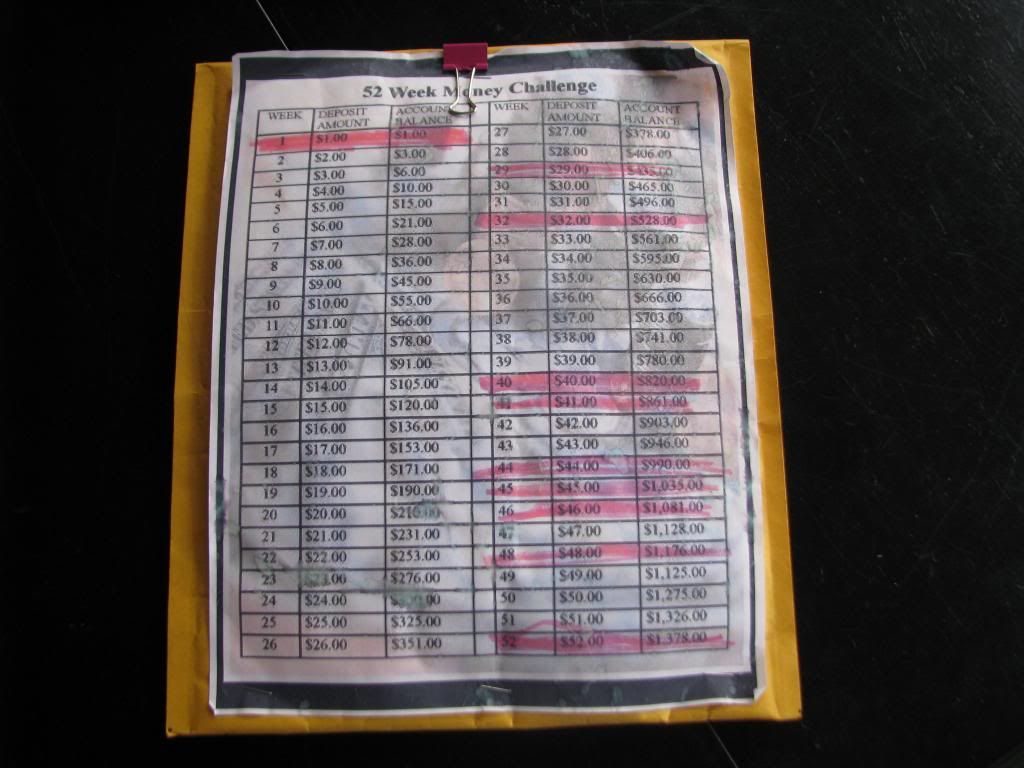 Forgot to do the weekly update on the 52 week challenge over the weekend. Grand total $378.00. nice!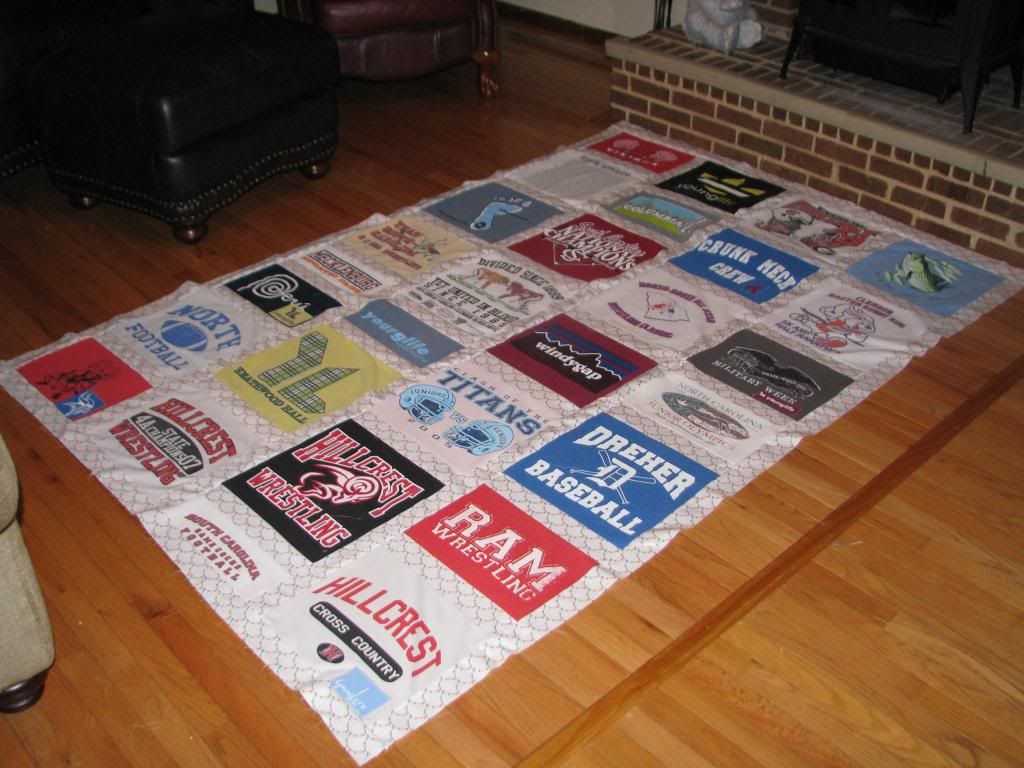 Between all the "tea pardy's" with Karsyn today I finished up the tee shirt quilt top. Shes a huge 64 x 94. Tee shirt quilts are tricky buggers, they seem to grow bigger all on their own.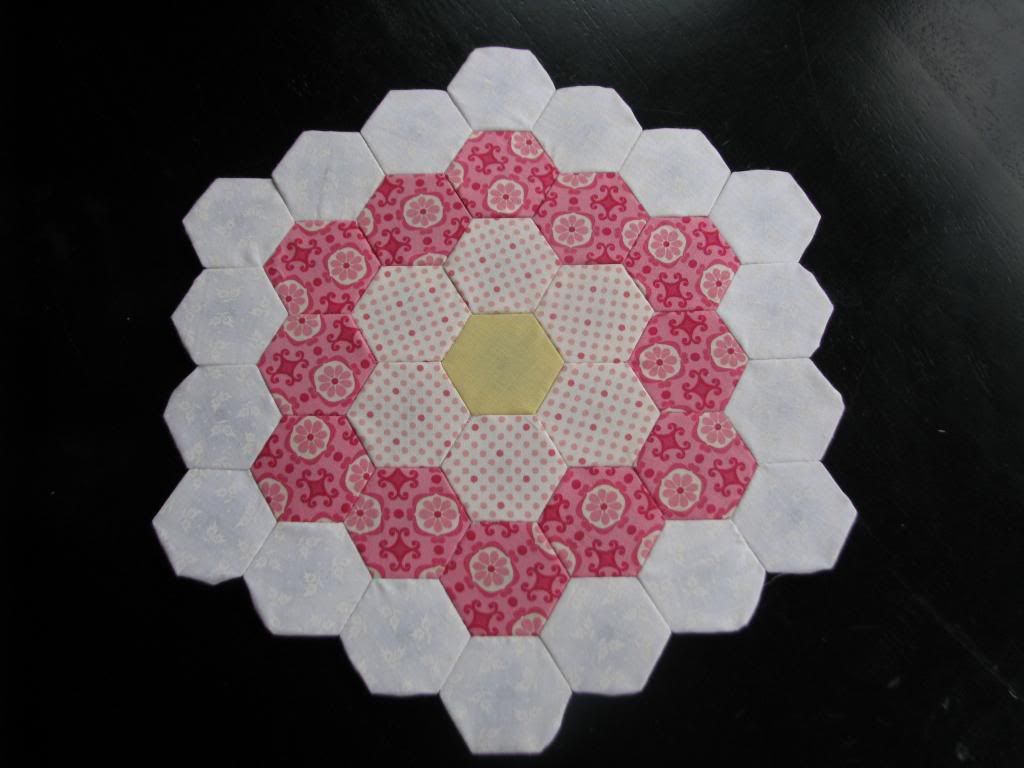 After Sunday dinner AJ the beagle and I had some snuggle time while working on another hexie block. That's 4 down 3 more to go for the monthly goal!!
What a fun day with Karsyn!! While Karsyn enjoys her brothers, cousin Kara, and her little friends she LOVES having herself some alone time at Nanny's house. For a child that was a nightmare when she was little bitty she has turned out to be a toddler that Mommy's can only dream about. She was a little put out with me as hubby and I took down the portable crib before he left for AZ. "Nanny where my night night bed?" Oops!!
All of the grands have gotten too big for my little crib. I planned of getting a toddler as a replacement but haven't been willing to hand over the cash yet. Looks like a trip to Ikea will be added to the list this week as naps are a must have when the grands end up spending the day. I do have Kara 2 or 3 days a week for the full day but she likes to sleep in the baby swing, or with me in my bed, never has taken to a crib.
Hubby is so funny. He called tonight after his dinner for a little phone visit. I have yet to have my dinner as I am just not in the mood for anything. We talked a bit more then before he hung up I told him its too late to eat. After some discussion and disagreements over the time difference he figured out that yes by golly his wife is right that the time difference is 3 hours not 2. With the change in daylight savings time and his 5 day journey to AZ he lost track of time or even days of the week! Ha
When any of you get the chance check out
Sharon's
post on the cost of insuring your family, great post!! Insurance is one of the area's of spending we all seem to forget, a check up now and then is a wonderful idea!!!