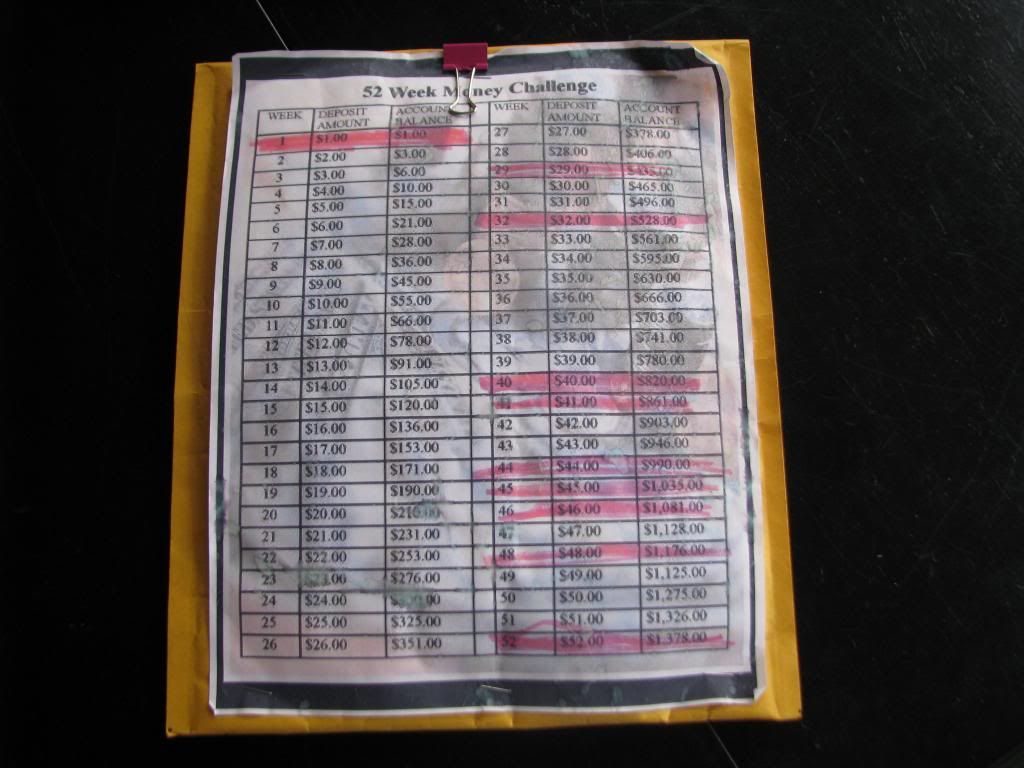 52 Week Savings Challenge is up to $415.00 I am so enjoying adding a bit each week to this envelope!
With NOT too much help from Kara yesterday I worked on the massive pile of Dr bills and EOB's. We paid off seven different Dr's. labs and such from this payday. While that is a great step in the right direction we will be responsible for $3,800.00 of the hospital bill, in addition I think we have a few more (what I hope to be) small bills that have yet to come in. My goal is to pay everything off from our regular pay over the next 60 days. I don't want to dip into our EF or HSA if I can help it. Hubby's company owes us a chunk of change for expenses from his last project as well as his trip out to AZ. I have high hope with that reimbursement and living on next to nothing for 2 months we can pull it off.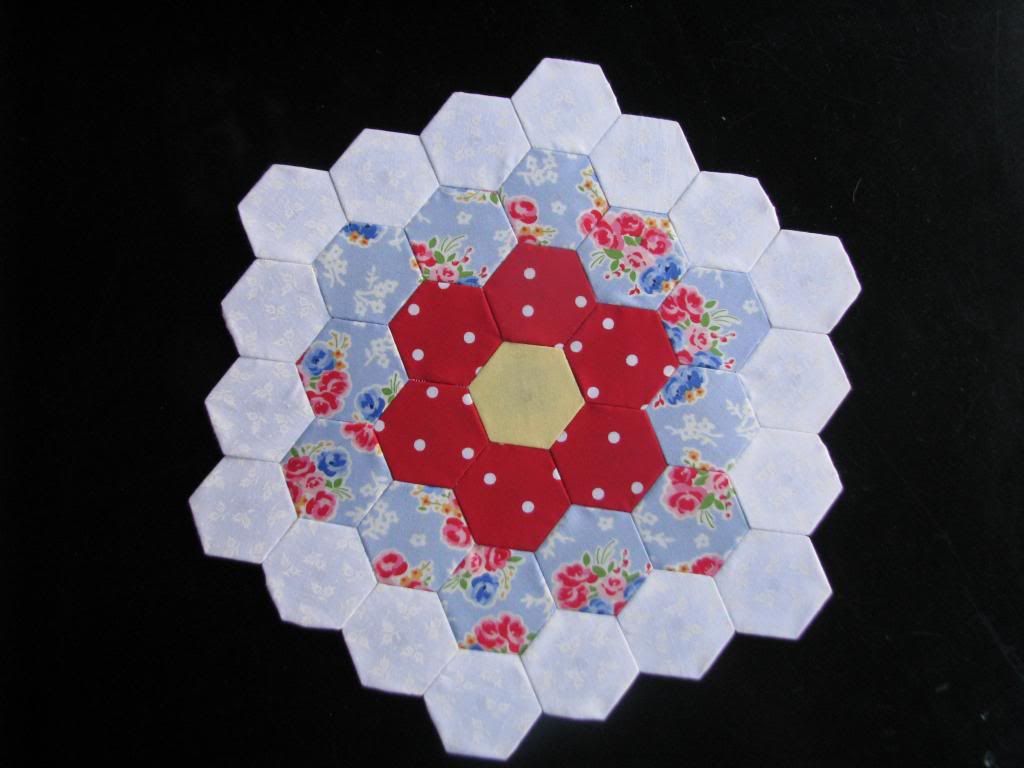 Latest Hexie block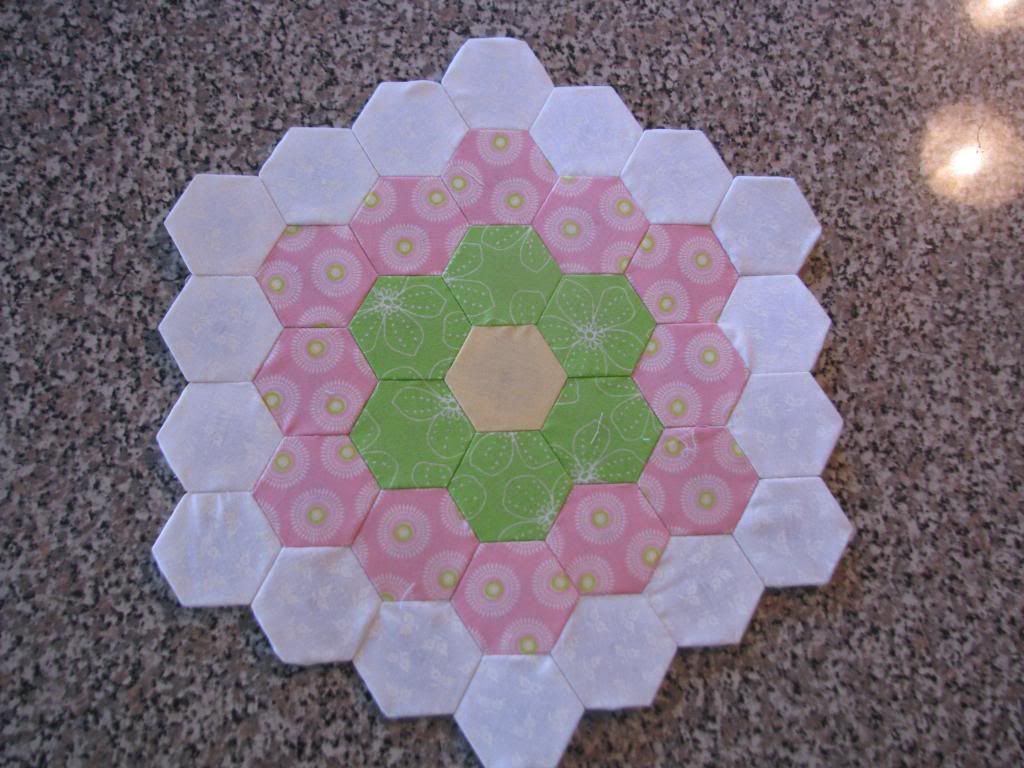 Two blocks as a matter of fact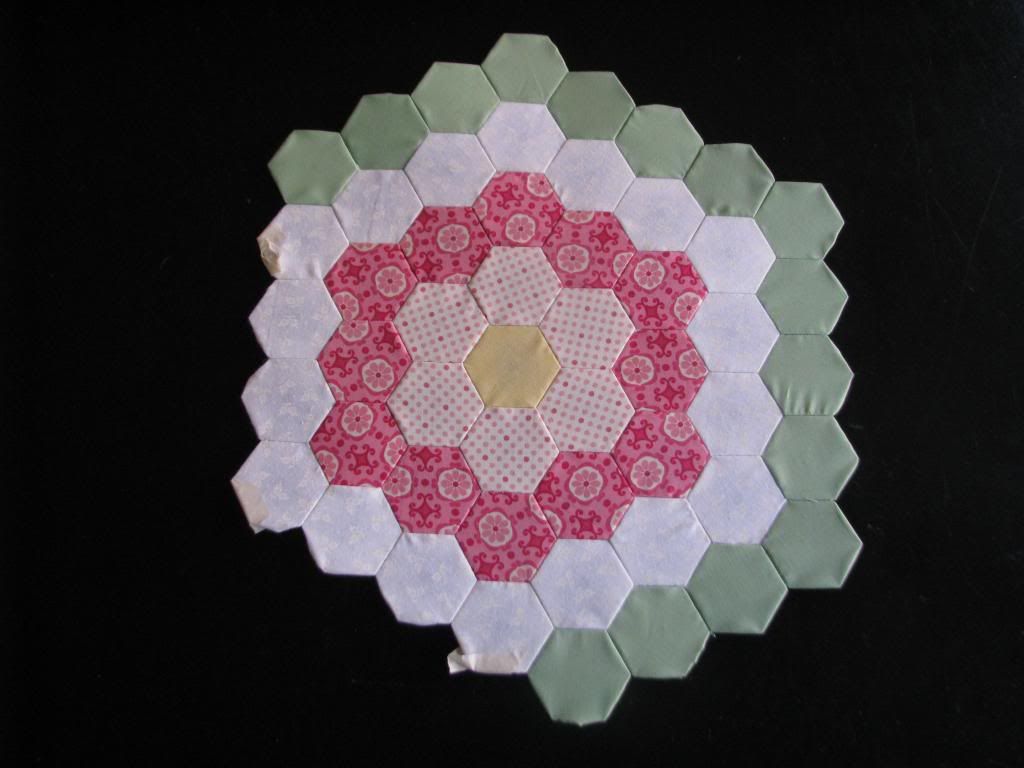 Last night I added the sashing hexies to one of the blocks
Today while the sunshine is pouring in the back door I am beginning to attach the hexies I have completed. If I have figured correctly I will finish row 3 on the quilt top from the hexies created this month.
Do you ever get in a mood that you just don't want "To Do" what you should be doing? I am in one of those moods today. I forced myself to clean our bedroom and bath this morning, vacuum the upstairs, and put away laundry. I am thinking the rest of the day will be spent working on the "Grandmothers Flower Garden" quilt. We are having a BEAUTIFUL warm spring day, sitting in the family room with the windows and doors open seems like just the treat I need after a stressful day figuring out all the medical bills we were facing!!!
Soooo, I talked to hubby yesterday and warned him I was thinking of breaking the bank this payday in paying off a heck of a lot of Dr bills. I didn't seem fair to live like a hermit for the next two weeks without getting an OK with him that he was up for the CHALLENGE!! I would love to have hubby at home full time (I think) so we could do our financial planning together but his profession just doesn't work that way :( For the most part he is open to whatever I have up my sleeve when it comes to saving money. However I am not always aware of what he might be needing/wanting to spend money on. For us team work is the only way to go even if 1/2 the team is MIA most of the time. HA
For the next 2 weeks all grocery shopping is off other than milk and eggs. Not much a challenge on that front as we have everything we need to eat like kings. My gas needs to last for the rest of the month, again not to big a deal as I have close to 1/2 a tank left from March 1st fill up. No quick trips to CVS unless I can walk out with everything FREE. Ditto at the fabric store!! I do have rewards points for $30.00 I can use for fabric and what not's. None of that "what was I thinking" spending on the grands or big lids for 2 weeks. We still have money in the checking account, I didn't TOTALLY drain the account but I did run it a whole heck of a lot lower that I ever do. I also made deposits in both EF and Christmas/vacation savings. It feels SO DARN good to have put all those bills to the curb this morning (mail box)
One hiccup in my spending plan is my girls mountain trip next weekend. I should be able to pull it off with what I have in my wallet for our weekly spending. I could always use whats in our vacation account as that's what we set the account up for but......I HATE withdrawing money once its deposited!! One of the ladies going along lives locally, we will split the cost of gas by traveling together. We are each in charge of cooking all meals for one day. I got that covered as I will just bring what I need from home, again no an unusual thing for me to do. We normally eat out the first night we are in town, since that weekend will be the start of spring break for lots of schools we might pass on the eating out as NONE of us are into waiting 2 hours for a table. Shopping just ain't my thing, no worries on that front! I think I can, I think I can.....
Off to enlarge the calluses on my fingers from hand sewing and maybe putting on an additional inch or two to my rear end from sitting all day.
Is anyone else living like paupers to reach a finacial goal this spring or this year as a matter of fact? What changes have you made to reach your goal?