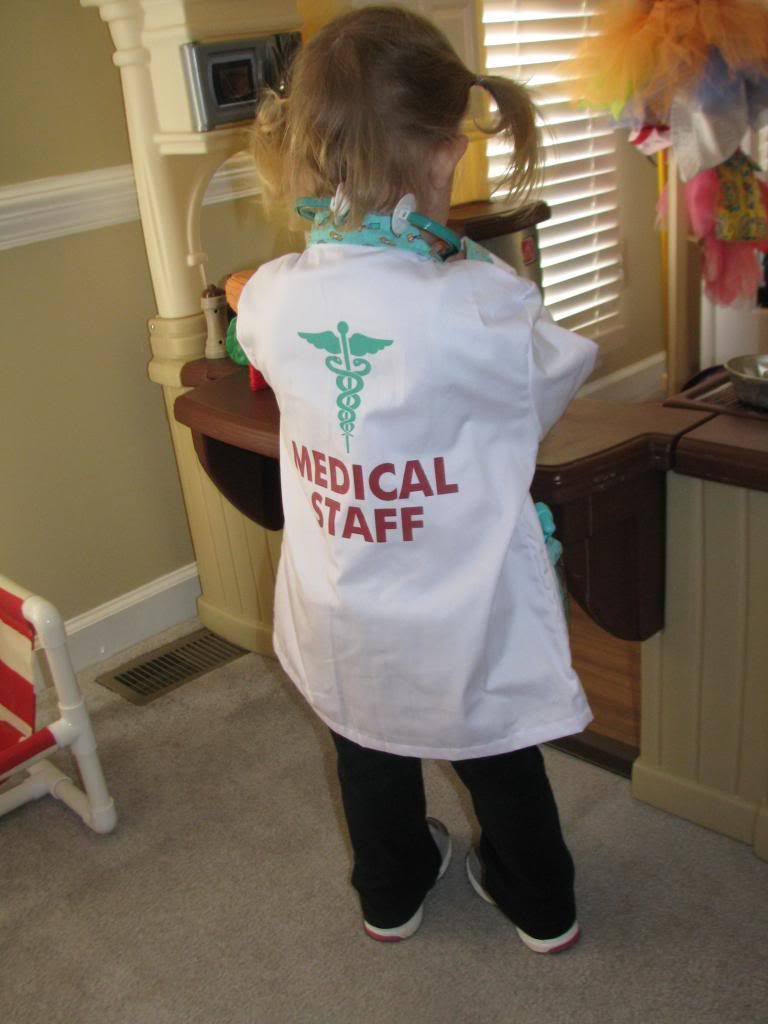 Dr. Karsyn Ryleigh Kundla spent the morning with me yesterday.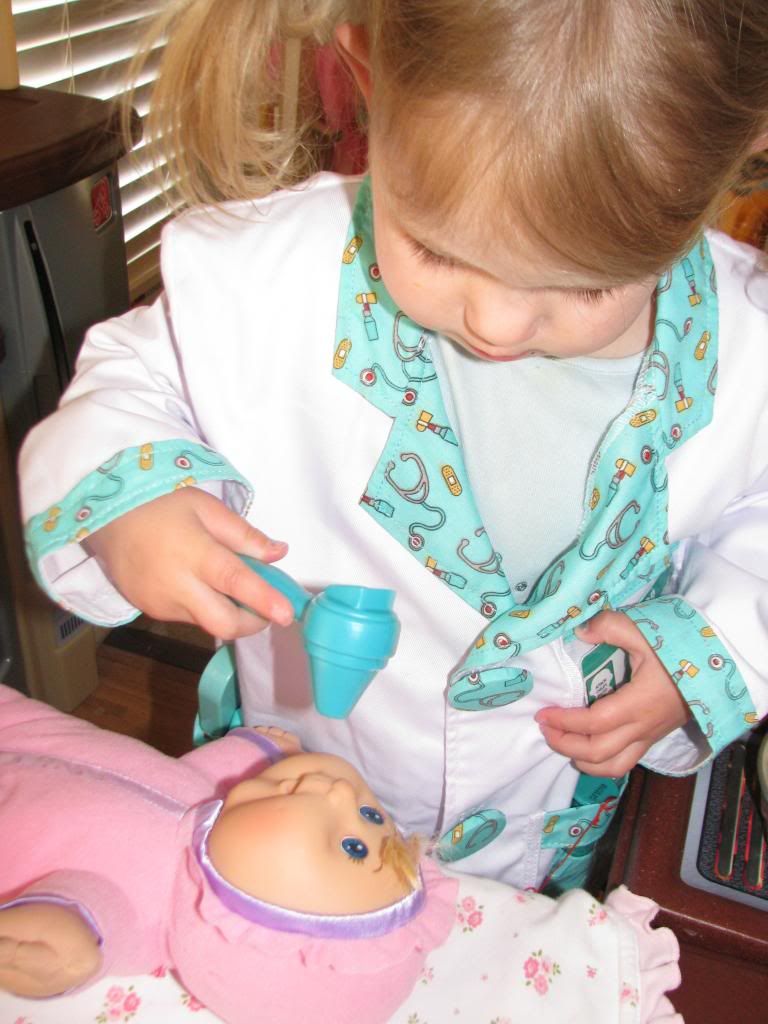 A whole lot of Doctoring was going on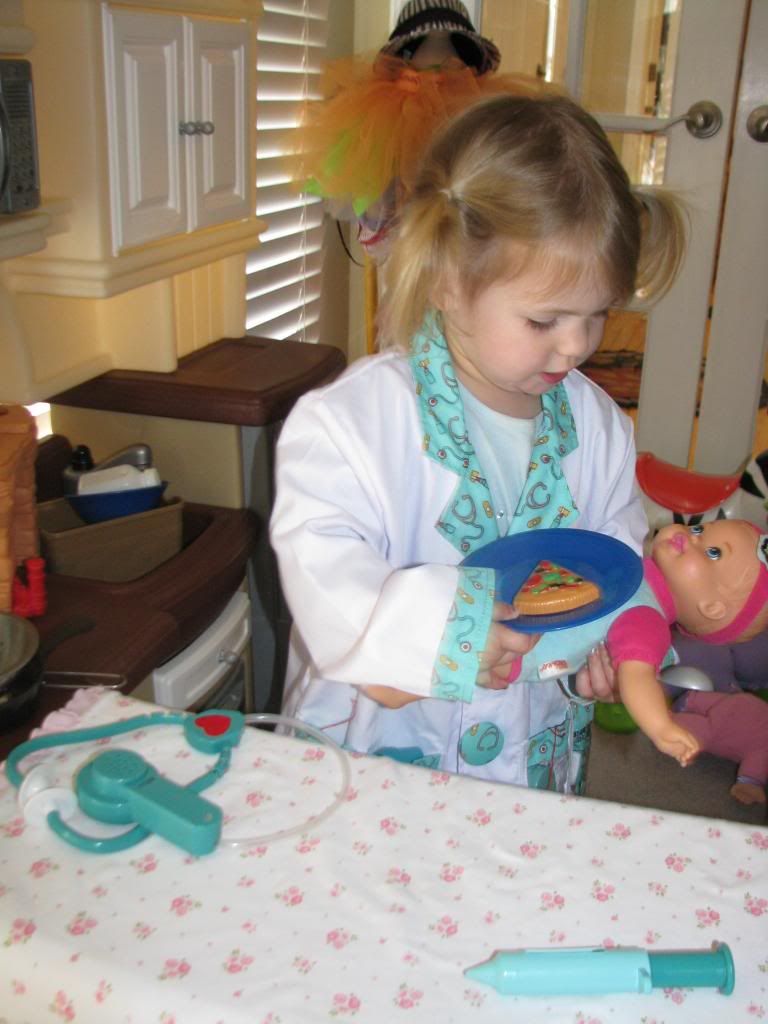 The "Nanouis" (Diagnosis) for this baby is she needs pizza.
I sew should be doing 101 other things but I would like to try and work on these cute House blocks during our cabin trip. I have been pulling out scraps like a mad woman, the sewing room is now upside down :(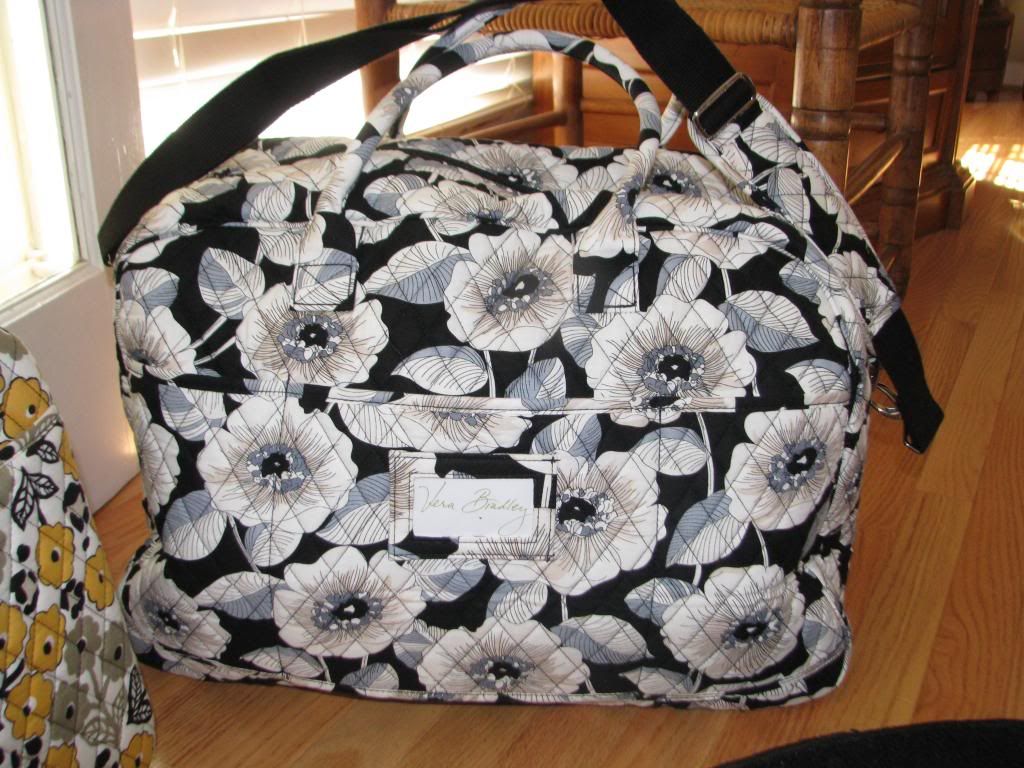 While I was dropping of packages to mail this morning I decided to use some of the money I received from a BIG custom order to treat myself to a weekender bag (shame on me) Here's the deal. I had a $18.00 store rewards credit to use and the bag was on sale for 40% off!! How cool is that? Total cost for a $120.00 bag only $54.00!!!! OK so it's last years model but for me it's the first girly travel bag ever. I like it! Ha
With all that savings I sprung for laptop computer bag. Ouch it was $84.00 but I had budgeted $150.00 to spend on a bag so I am still under by paying just using my sewing money plan (not by much) Here is the other cool thing. The shop called back to tell me I should have received some sort of two additional little somethings by Vera Bradley so come on by the shop and pick them out. It has been a prized full week for sure!! Ha
Here I sit on this PC when I should be busy packing the rest of my things for our weekend trip in addition I have to get the Tee shirt quilt finished today as I am meeting it's new Mommy in the AM for delivery. I sew need to FOCUS!!!
I have a lot of the sewing packed up I will bring along knowing full well I won't make a dent in most of it but I'm not sure what mood I might be in. Sew....I have over packed! I have nothing on my must do list as far as sewing goes, just gonna sew for fun.
I have another lady who wants to commission 3 Tee shirt quilts to give her adult children for Christmas this year. I can't tell you how much I hate doing these quilts, they just seem so messing looking to me when they are finished but folks love them, Sew I will take it on. What the heck it will feed my fabric habit! Before we leave town tomorrow I will be depositing the check from the tee shirt quilt I am delivering in the AM (I have to finish today) into our Vacation/Christmas account. I am trying to fund that account with what I consider found money; refunds, rebates, coupon saving and transfers from our checking account each payday. Some side sewing for profit should be a nice addition.
For our trip this week I won't be withdrawing any cash from the vacation account!! I have enough leftover weekly spending money along with leftover sewing money from earlier this week that I can sit back and watch that Vacation/Christmas account keep growing. Whats not to love!
Alright enough of this wasting time I gotta get it in gear or I will be up way past my bedtime. But here is a question for any of you ladies who Sew for profit.
I have been telling people who want to buy a quilt the general cost of materials for quilts based on the size they request in addition I am charging between $75.00 and $150.00 dollars for my time. A baby quilt is usually less. I have yet to have anyone that seems shocked at the price. Am I under charging? The tee shirt quilt I WILL finish today has 20 hours of work into it 62 X 82 size quilt. What do you think? Here is an example in my area long arm quilters are charging .04 cents a square inch to quilt the top. The quilting alone on this quilt would have cost $205.00. That doesn't include the fabric, batting, backing or piecing the quilt.
I would NEVER want to overcharge someone but undercharging seems not right to ladies who have a real sewing business.