Our Fall quilt has been moved from the UFO pile to the linen closet!! Yepee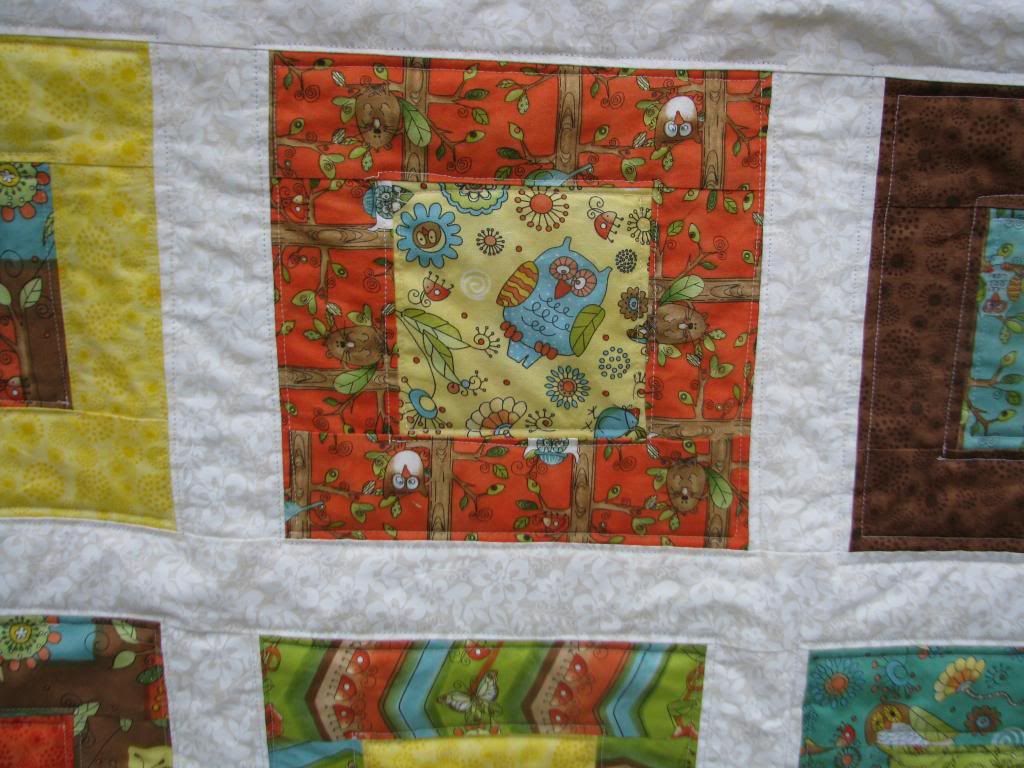 Fun bright fallish colors that should be a nice addition when the leaves are in their full fall glory come October.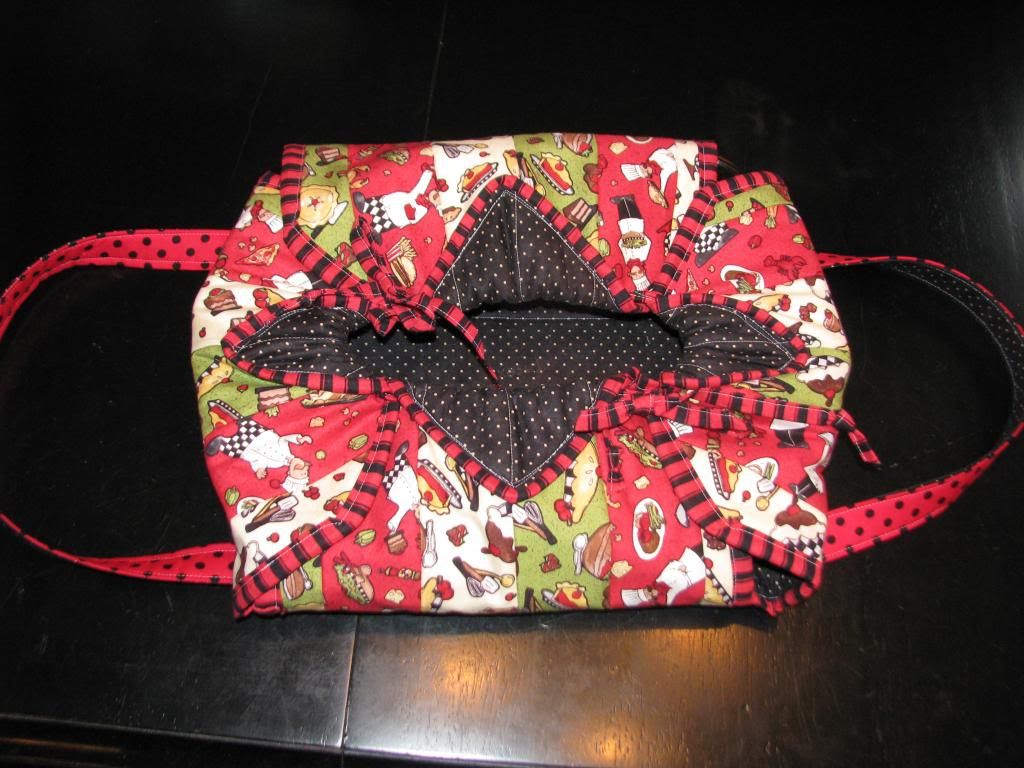 Today's project was a cozy for a 9 x 13 casserole dish. I sent the pattern for this along with the pre-cut fabric needed to my Secret Sister, hope she likes it as her Profile said she enjoys sewing
You just side the casserole out on one end
Maybe this is a better view. I used Insul-Bright for the batting to help keep the dish warm as it travels to whatever dinner it will be shared at. For some reason I can't for the life of me figure out if the handles go vertical or horizontal :( Next time I am in the quilt shop I will have the ladies show me what they did with their sample.
Sew what did we do today? After loading more STUFF into the attic while I had hubby around to help we proceeded outside in the cold rain to make some repairs to our fence, BURRRR Glad the fence is repaired but I can't seem to get my core warmed back up. Not sure what our weather will be tomorrow, maybe snow, rain, wind, who knows so we went ahead and packed up the truck thinking at least light rain is better than what mother nature might throw our way in the morning. Hot tea for me tonight before bedtime, just too much outdoor time for me today.
Hubby had a friend invite him to the "Bon Jovi" concert tonight!! Woohoo for him, they even have Royal Box seats. Can't say no to a deal like that, right? Due to the problems I have with loud music and flashing lights AJ the beagle and I will be under our quilt working on some Hexie blocks. I have missed spending a quite evening at home making hexie's.
We had a change of plans for Hubby's Birthday dinner as Chuck E Cheese was full to the brim. Thank goodness we had not told the Grands of where we planned on eating or they would have been very put out!! Instead we went to our favorite Japanese steak house, the big and little kiddo's all enjoy Japanese food. Hubby LOVED his Bama quilt along with the other gifts he received from the kids, of course the best part of the night was hearing them all sing Happy Birthday to Papaw. Mason man doesn't know the song yet but he kept the beat with his cute little head bopping along. Once again we have crammed a whole lot of living in just a few short days, it's always a happy sad time when Papaw has a little time at home :(
Better find something for supper for myself, then dig around in the sewing room for the next to do that needs to be done. I'm in the mood to work on a baby quilt but I have other lap size quilts cut out so maybe I will settle on that for now. Cleaning out another container of quilting would be a good thing!!