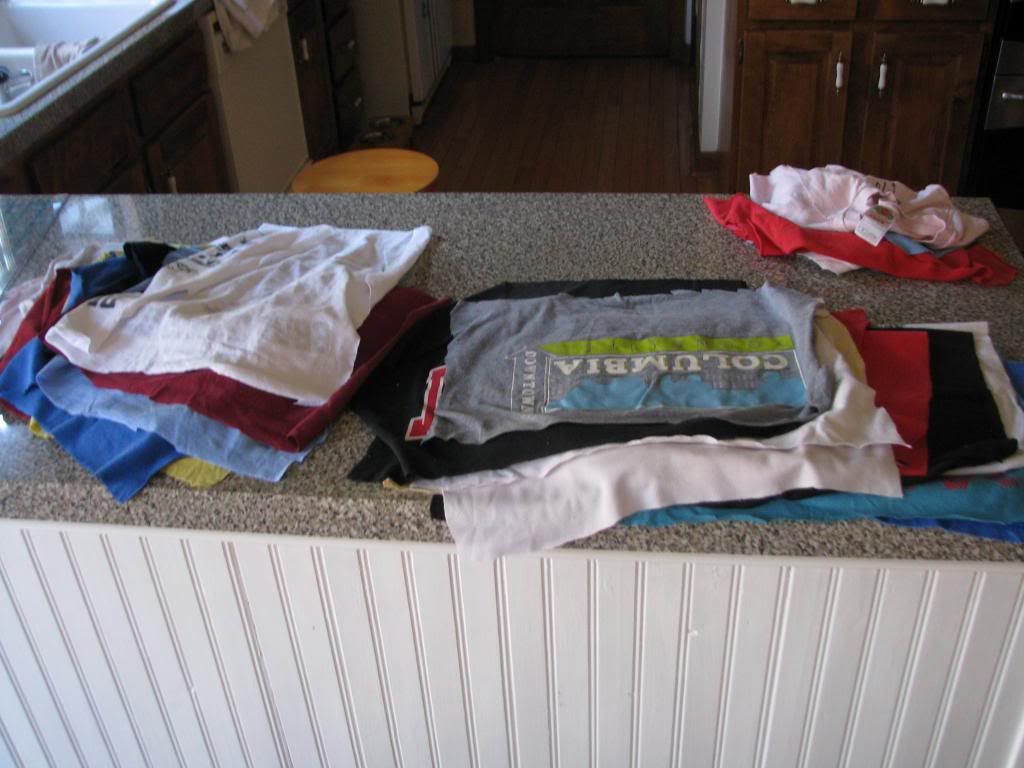 A friend commissioned me to do a Tee shirt quilt for her DD's upcoming bridal shower. I decided to get a head start on it yesterday As I know from experience if it can go wrong it will go wrong!! Ha I took hours and two full garbage bags of cut away tee shirts to get this far.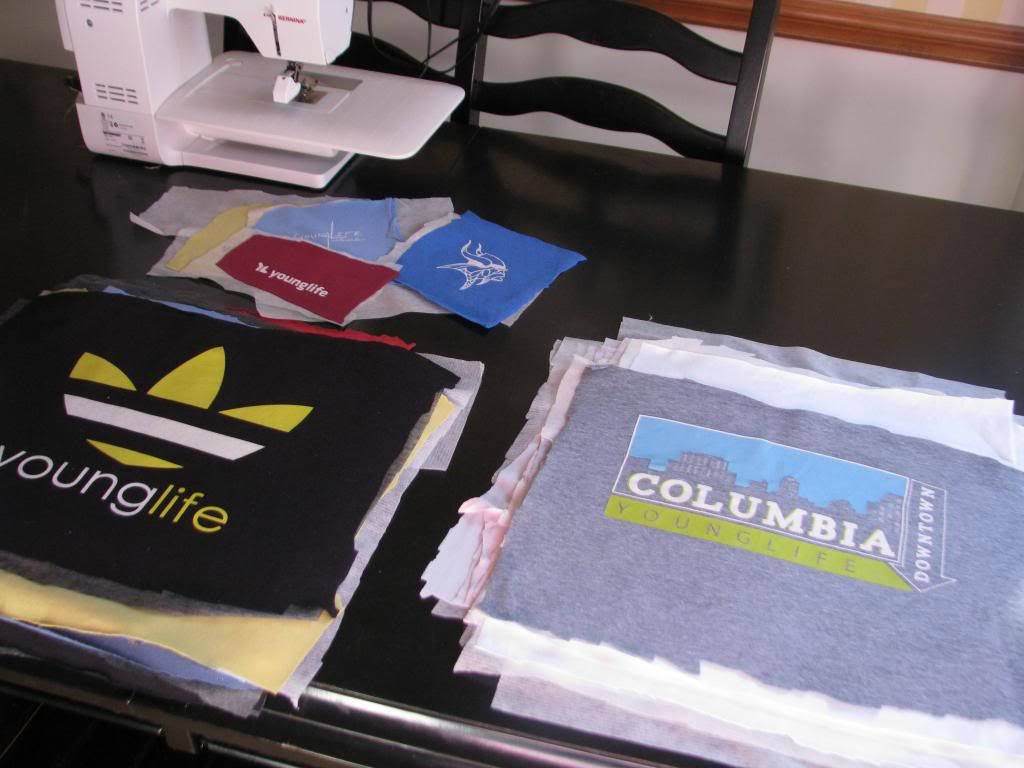 Then it was on to ironing stabilizer onto the back of the shirts, Three hours all told for this step,UGH In addition it took 12 yards of stabilizer!! The stabilizer I have found for Tee shirts is only 24 inches wide at $4.99 a yard. Anyone who thinks tee shirt quilts are inexpensive is very WRONG!!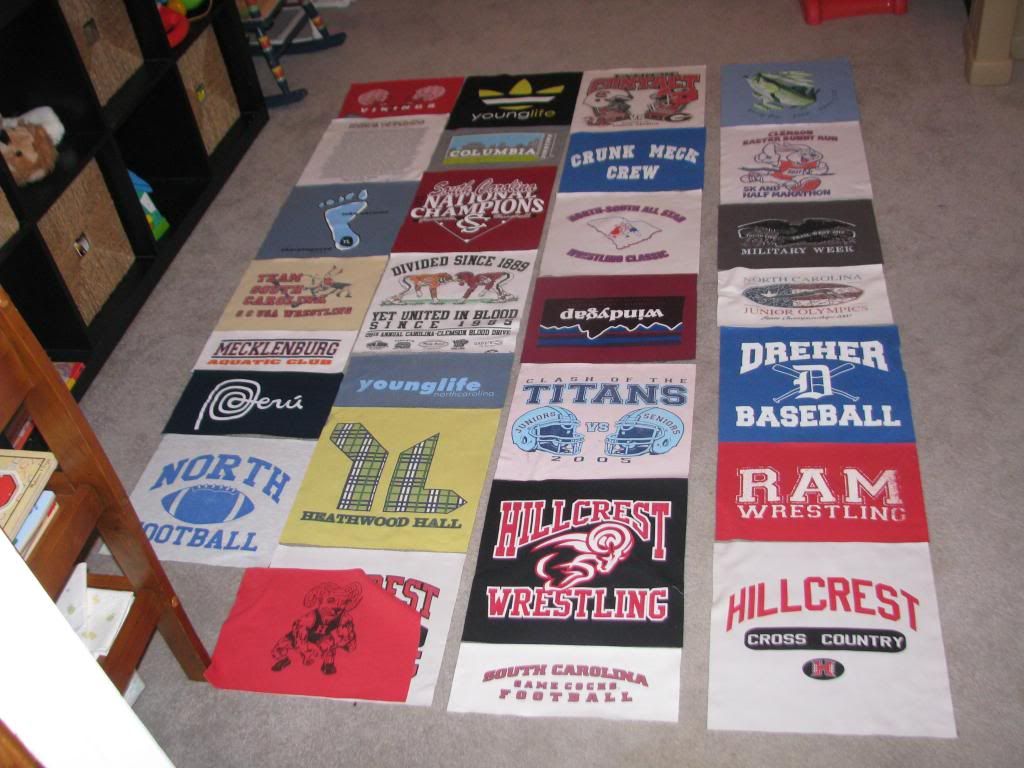 Last night after trimming up the stabilized tees I moved on to doing the layout and e-mailing it to the Mother of the bride before I started working on the sashing. She is happy with the layout, on to the next step, first thing this AM. However my body seems to be in slow motion today so I am not sure I will get the quilt top completed.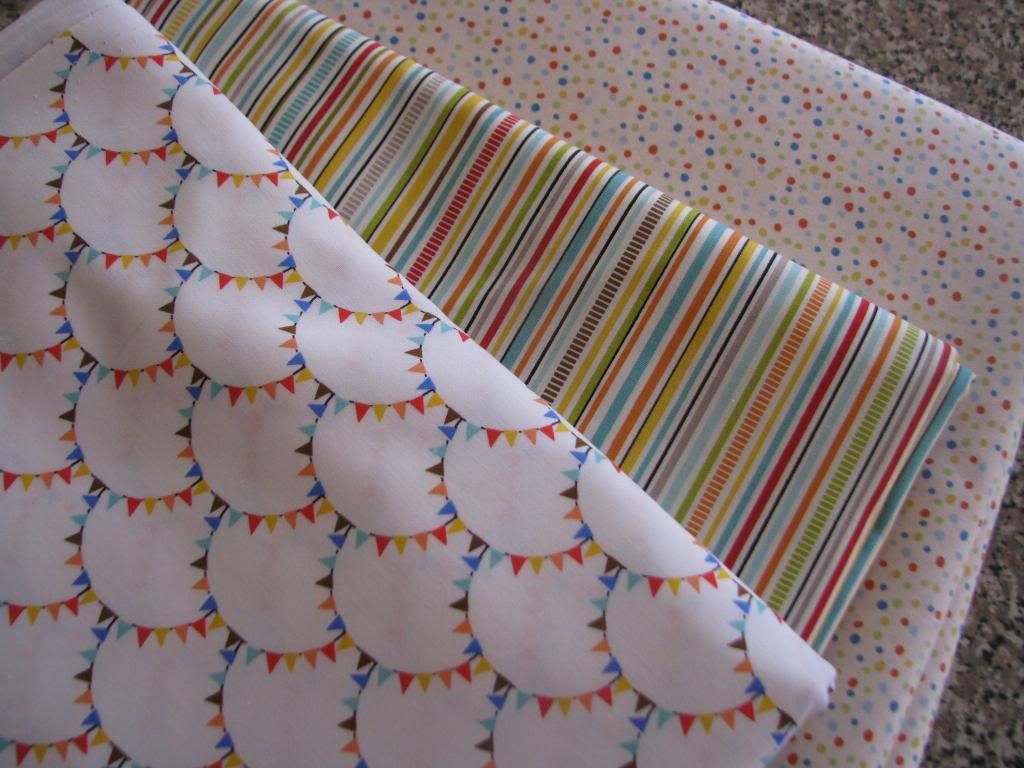 I started on the quilt at 9:00 AM yesterday, threw in the towel at 10:00 PM. I did take a break in the afternoon to pick up the fabric I would be needing. Bunting fabric for the sashing and maybe a boarder, stripes for the binding, polka dots for the backing, and of course batting for the quilt. For a change I am keeping up with all the costs as I need to let the Mother of the bride know what the total spent is. At this point there is $191.56 into it. I don't think I will need to spend any more other than thread. Figure total time involved is 11 hours with many more to go!!
I finally sat down after all that standing at the ironing board and cutting mat for some hexie time before bed last night.
Can I say right now I HATE when the time changes!! Along with the change of times hubby and I are trying to get use to the time difference from NC to AZ. Two hours difference might not seem like much until hubby calls to say goodnight, his time 9:00, my time 11:00, hello dear I am in bed!! I accsidintly got him back this morning at 7:30 my time, 5:30 his time Oops, sorry honey!! We will figure it all out in due time.
We are moving Sunday dinner to DD#1 home today as the weather is BEAUTIFUL!!!! Perfect day for a cookout; hamburgers, hot dogs, macaroni salad, roasted red potatoes, fresh strawberrys with cream, and Birthday cake. Today is hubby's real Birthday, even though we celebrated before he headed to AZ last week we thought it would be fun to Skype with him tonight after family dinner to sing Happy Birthday and have the grands blow out the candle. He is soooo excited for his unusual birthday celebration, I hide a small gift of a book and Twizzlers candy in the bottom of his suitcase so he would have something to open on his special day. He called a little while ago to tell me he found it and will open it during our Skype time tonight.
Not sure if I have shared this before, if so please excuse my bad memory. Hubby's father died on his 16 Birthday :(. Ten years later his mother died on his 26th Birthday :(. It is a really hard day for us both. Over the years we have to remind ourselves how lucky we are to have the sweet memories of his parents and the blessings we have right now to still be around to enjoy our time with our big and little kiddo's.
God always has a plan, sometimes it takes us years to understand, some times it takes a 2 x 4 up side the head to get a clue. It's not like we ever forget to count our blessings, nor will we ever forget our parents who all died at such a young age. But today is extra special for us. We are reminded of the hard days of the years past in a stark way. We say an extra long prayer. God are we getting this thing called life right? Are we making our way through parenthood and grand parenting with out a "how to manual" as you would want us too. Yep it's a VERY special day, and deserves a extra cake or two!!
Time to start loading up the food for Sunday dinner to transport to DD#1 home. Shhh don't tell but having Sunday dinner at one of the big kids homes is such a treat for me even if I still do all the cooking. No washing up the dinner dishes, sweeping and mopping the floors after they all leave, finding little treats in unexpected places, no gathering up all the phones in the house little hands have wonder off with!!Ha