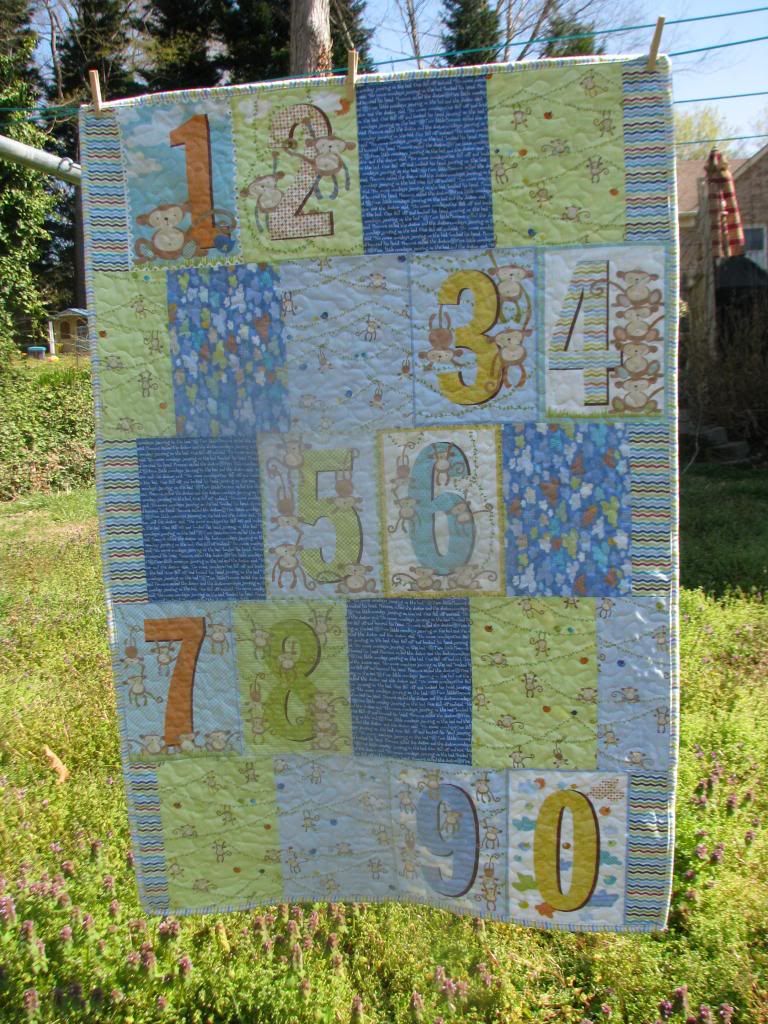 One of two baby boy quilts went on the clothes line this morning.
5 Little Monkeys Jumping on the Bed.
I found the backing at one of the big box stores at 40% off, while it is not part of the fabric line used on the top seems to work just fine to me.
Meandering quilting looks a bit more boyish to me.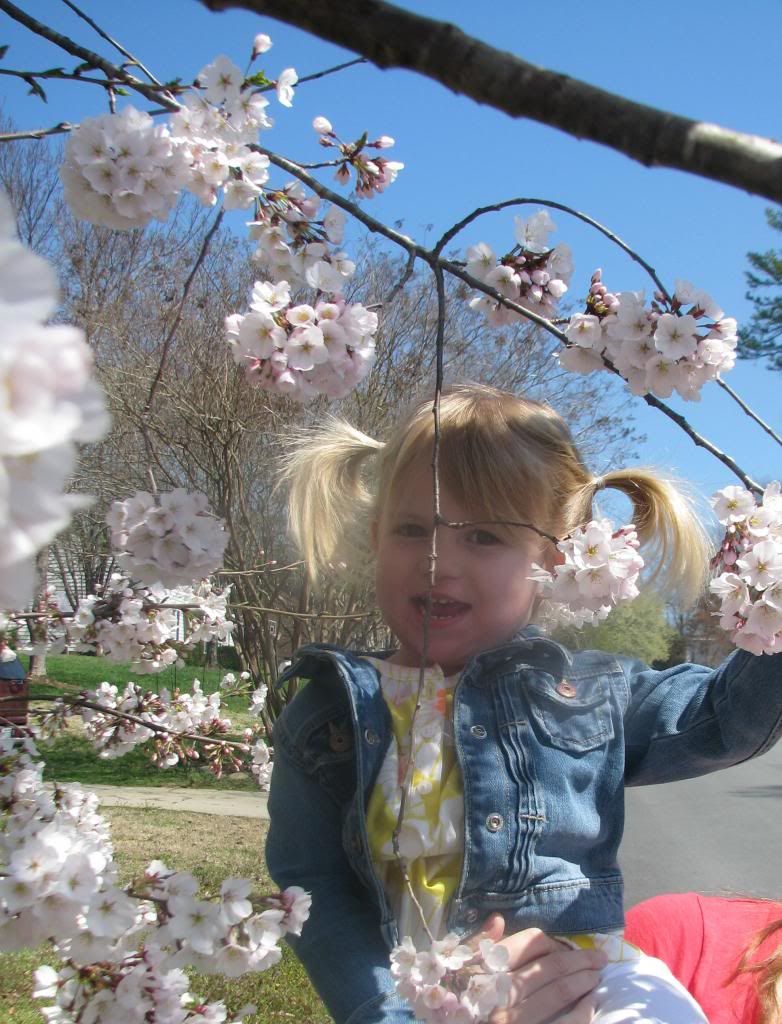 Our cherry tree is in full bloom this week. Even with strep throat Karsyn gave me a smile.
Mason man is always all smiles.
While Tyler didn't want to smile normal, we did get a big old laugh out of him.
I realized after I took all of the photo's today something didn't seem right. Ahhh, seems Kara had her hands on the camera while visiting yesterday, the lens was covered in little finger prints. Oh well something is better than nothing. I might be able to get better shots later in the week when the gang is all here, if not there is always next year. Kara is hanging out with me tomorrow so she will get her turn in the tree. This is a fun way for us to keep up with how much the grands change year to year. Tyler's first cherry tree photo was at 7 months old. We put this tree in the first year we bought our home thinking someday it would be a great tree to climb, of course the only one that has that desire is wild girl Kara!!
I was moving right along on piecing the second baby boy quilt today when DD#1 dropped by with her kiddo's. Here is what they ate in a 2 hour visit.
Grapes
Strawberries
Mandarin oranges
Popcorn
Grill cheese sandwiches
Chocolate chip cookies
1 quart of apple juice
and a nibble of dog food (Mason man)
I don't know how in the world families keep the kids feed these days with the prices continuing to go up each week.
Headed over to DD#1 this afternoon to watch the little ones. Tyler has t-ball practice, Daddy has his first softball game, Mommy can't keep up with the toddlers lose on the baseball field!! Ha Oh I remember those days well when Hubby was paying ball and our 3 DD's would run in opposite directions for hours on end, what a nightmare!!
We are having such beautiful spring weather this week!! Nothing better than getting to sleep with the windows open all night, of course the house is covered in pollen each morning but who's looking? Certainly not me as I have better things to do than dust!