Karsyn was looking very sassy while running the front end loader Sunday
A nice pile of fat quarters to start the day off right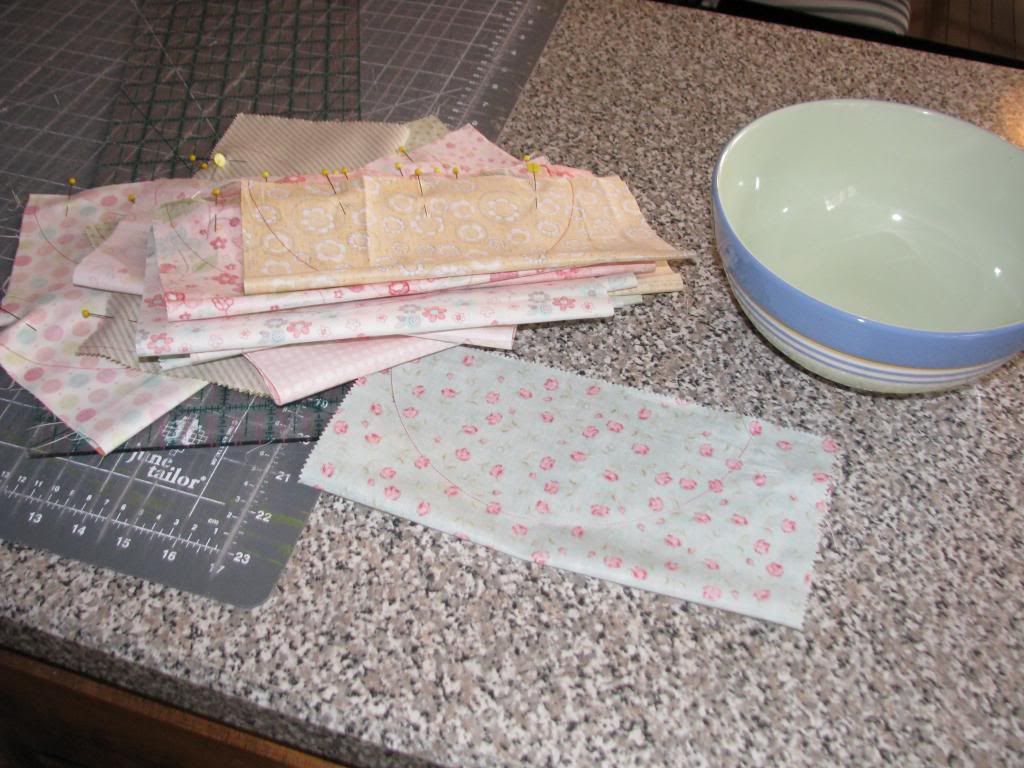 The pattern I am working with called for a layer cake. Since I couldn't find a layer cake I liked but I was in the mood to cut up some fabric I converted the fat quarters into a layer cake. I also needed a 8 inch circle ruler. Na, I have more rulers than I need already sew I used an 8 inch serving bowl as my ruler.
I seem to be meeting myself coming and going this week with very little down time for just fun. Yesterday afternoon I should have been sitting at the PC cleaning up photo files that have been neglected for to MANY years. Instead I pulled out yet more fabric to start a new baby girl quilt. It's all my DD#1's fault!!!
I went over to watch the babies yesterday morning so Mommy could get her hair done, knowing the kiddo's would be going down for their morning naps soon after I arrived I grabbed a sewing book from my room to take along. BIG mistake!! I love every project in the book. While I have made a few of the things I had forgotten how many more I sew wanted to make. Sitting on her patio I made my list of the ones I couldn't put off much longer! Ha
Home again I dug out fabric I thought would work and got started on the cutting. Last night I realized it was 11:00PM and I was still going strong, crap! I have both little girls this afternoon, errands to do this morning, calls to return, floors that need to be vacuumed, but all I want to do is work on my new obsession (baby girl quilt) I had no business staying up so darn late!!
At least I got the yard mowed and some of the broken branches drug to the woodpile over the weekend. The deck is in OK order, the flower boxes have been pulled out of storage ready for planting, and the grands pulled the last of the carrots on Sunday. Our temperature will be up to 84 degrees today, what the heck! My plan is to get the little diva's to help me pull weeds and whatever else is in the raised beds while I have them today. That should keep them busy and maybe even keep the house a bit cleaner (big maybe) I made a picnic lunch for them this morning along with a line of sippy cups ready to grab and go. Having them eat outside might also keep the floors clean. If there is any energy left in the old body at the end of the day I hope to get back to the oh sew cute baby girl quilt!
I do believe spring fever is in full swing!!