After the grands left today I was able to finish up the little girl "Flag Baby" quilt top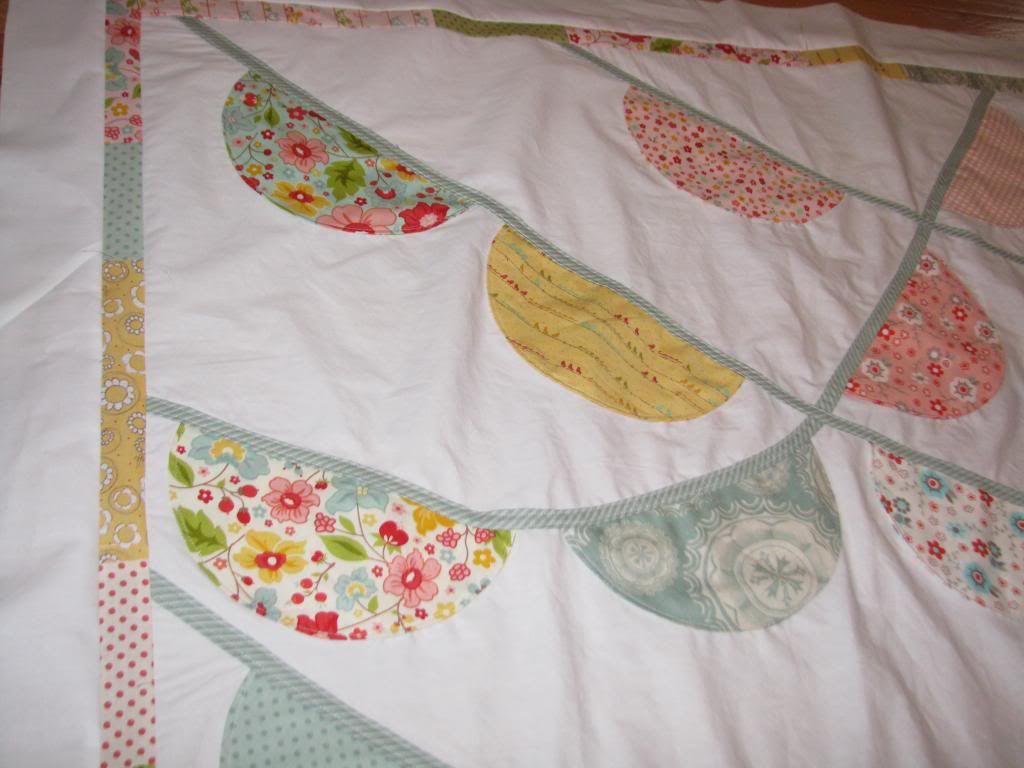 The pattern calls for you to hand applique each of the "flags/buntings" on as well as the bias strips the flags hang from. Well I didn't do that! I really do like to hand sew however...I want quilts I give away as gifts to be used not stored away for "Good" I am not sure how all that hand sewing work would hold up to lots of lovin from little hands.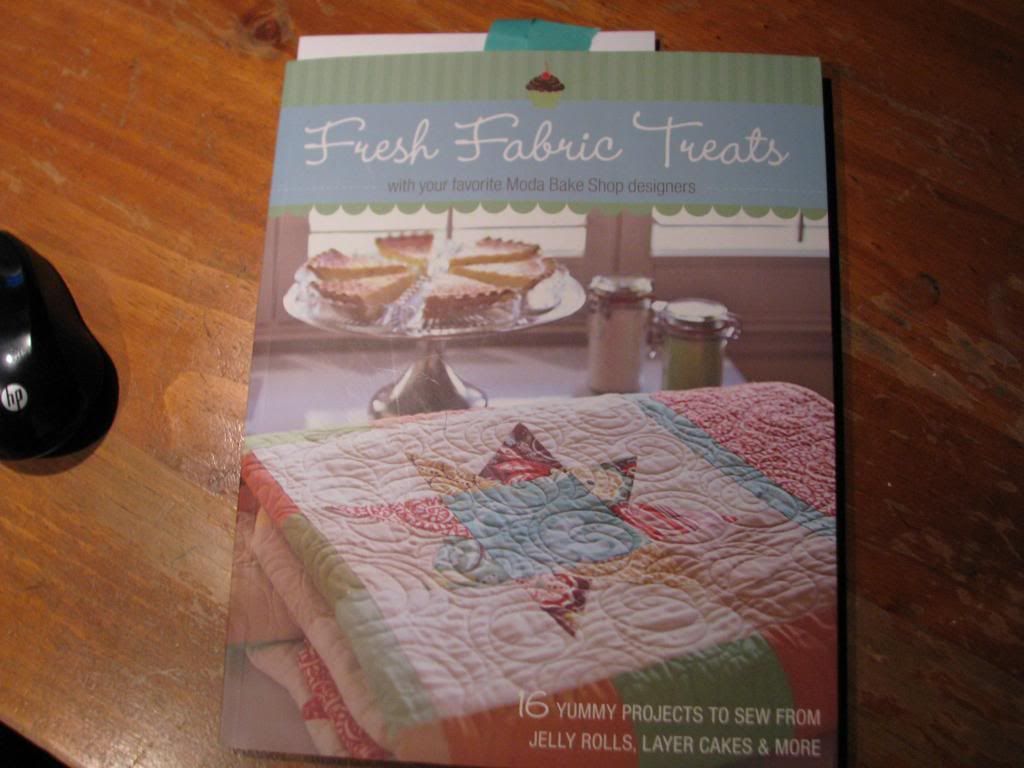 The Pattern came from this book "Fresh Fabric Treats" There are 16 projects in this book, each just as cute as the next!! Out of the 16 projects I will be making 14. I would say that's a good value out of one book!!
Stand up and stretch your back. OK while you are up tilt your head to check out what this quilt will look like when it is completely finished. The quilting really makes the quilt, once it is washed the flags pop as they are left unquilted. SEW cute.
I was on fire to begin quilting this baby quilt tonight but sadly I have no backing fabric that is just right. However tomorrow I need to pick up the part for my sewing machine I ordered back on Feb 27,grrrrr. I will check out the clearance fabric for some backing. I'm sure I can find something that will work at a good price.
As I said on yesterday's post the pattern called for a layer cake along with background fabric and bias/binding fabric. I "Made Do" using fat quarters I had in my stash along with other scraps to come up with the 22 flags, bias tape, and scrappy border as well as an additional 22 flags to use on a future quilt. When the mood strikes me I will cut charm squares with the leftover fabrics from this to make a simple 4 patch baby quilt.
I did purchase the white muslin needed for the base which ran just under $7.00. This is the first time I have ever quilted with muslin, not sure how I feel about it yet as it seems really thin and cheap to me. Hopefully it will quilt up OK but next time I think I will go with a nicer line of base fabric.
The grands didn't hang out as long as expected today as Karsyn was in an alligator mood (biting) Kara was in a have a fit for no reason other than she can mood, Mason man as always just went along in his own sweet world!! All told they were in and out in 2 hours. Digging in the raised beds was out of the question, I'm sure one or the other would have been happy to put their cousin 6 feet under today but NOT on my watch!!
Tomorrow AM I have Karsyn and Mason for a few hours so Mommy can get some shopping done with her Gymboree bucks then its on to completing the dozens of half finished things shoved in the laundry room for me.
BTW the thermometer hit 84 degrees today!!! Hot as all get out but the air will NOT go on this early in the season. AJ the beagle and I will have to "Make Do" with fans tonight.