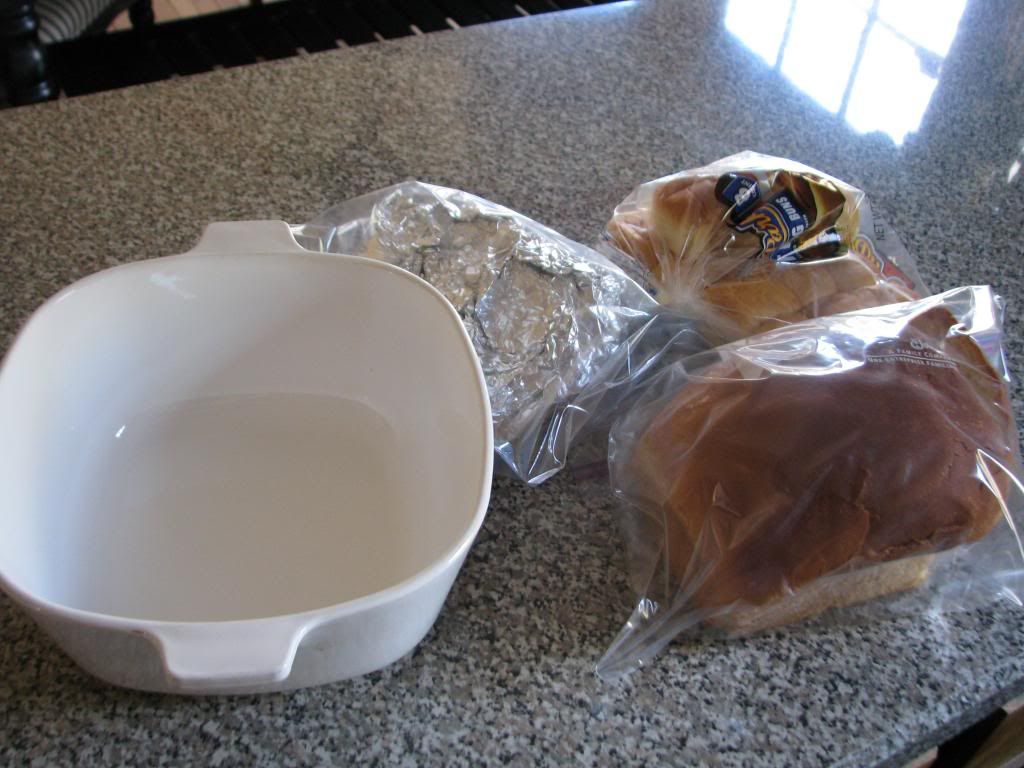 Before we get to the soup, the ever wonderful cook Cindy sent me a recipe for bread pudding. What a perfect way to use up some of the bread that is getting stale around here. Can't afford any food waste this month. I used an extra hot dog bun we didn't need, a few slices of home made bread we wouldn't be eating and the middle out of that darn boomerang bread.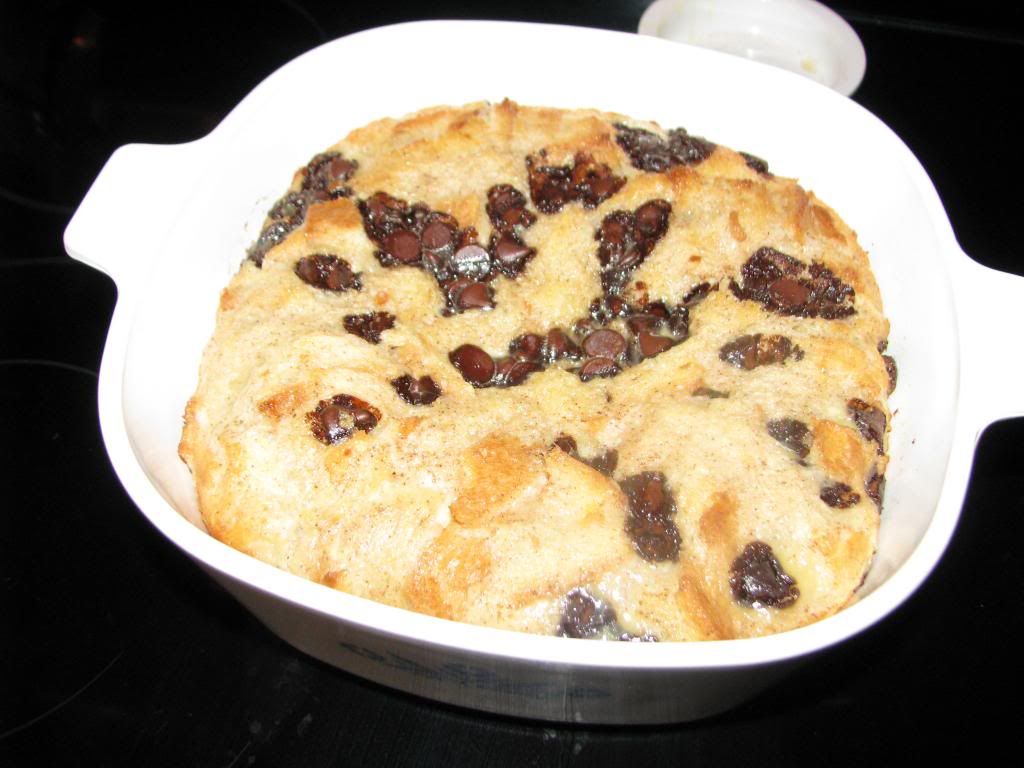 Instead of using raisins (yuck) I added chocolate chips to the mix. Hubby thought he had died and gone to heaven!!! Thanks so much Cindy your recipe is a new favorite. Once this food pantry challenge is over I am going to try the recipe with some of the fruit I have put up from last summer.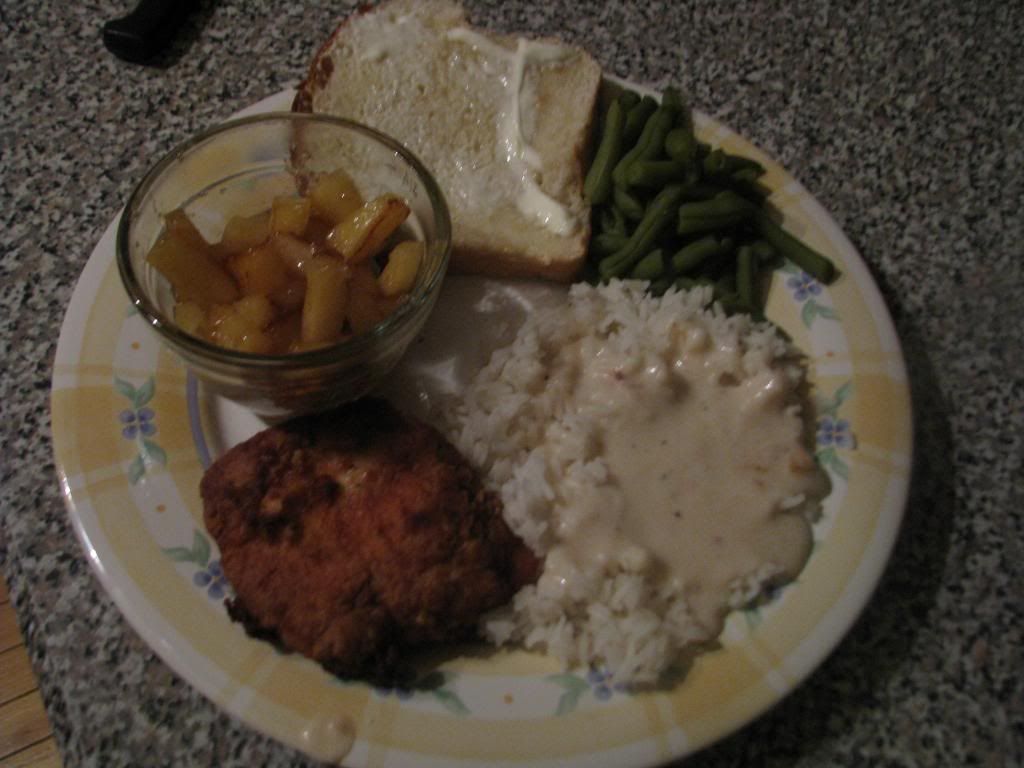 Last night supper was pork chops, rice and gravy, veggie, home made bread and the leftover pineapples from the cake I made last week. I did a quick pan fry of the pineapples with a tad of butter and a sprinkle of brown sugar, yum. We usually have apple sauce with pork but I can't use any of our canned goods this month :(Another item from the fridge that won't go to waste. BTW I stink at making rice on the stove top :( I figured most ladies on assistance don't have a rice cooker so I did it the old fashion way
I have been saving every single bite of veggies leftover from our dinners last week with a pot of "Clean out the Fridge Soup" on my mind. Along with the carrots and potatoes we have on hand I figured we would have a nice size pot for supper tonight as well as lunch tomorrow. The rest will be headed to the freezer for meals later in the month.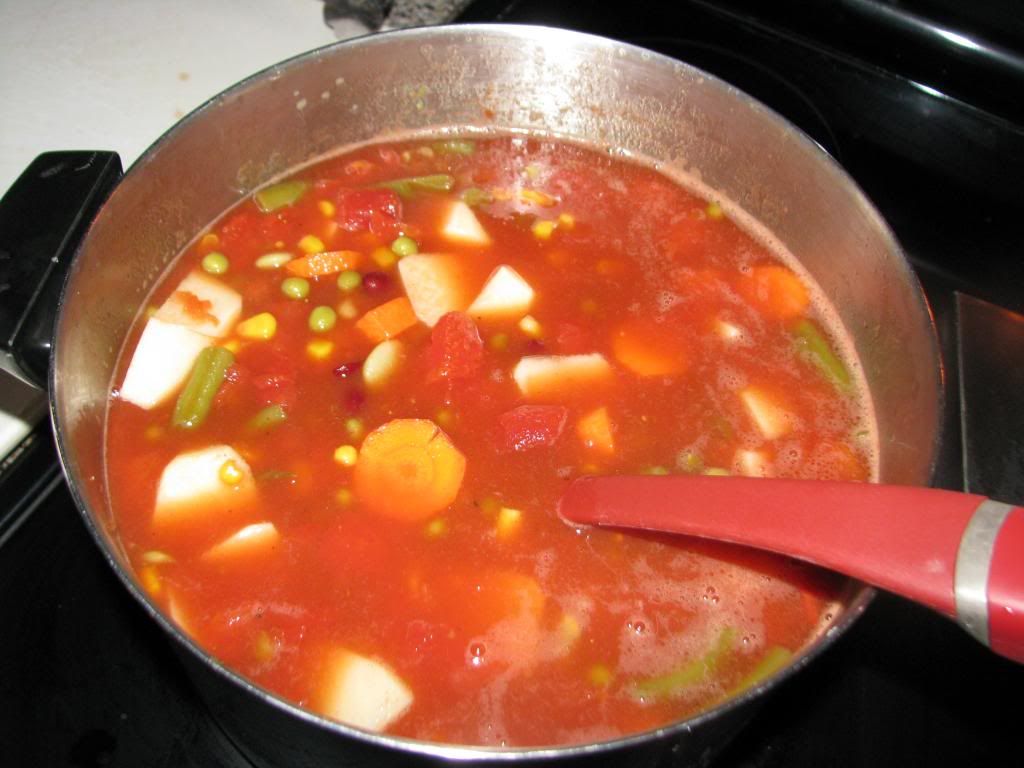 I threw it all together this AM and let it simmer during the day while I chased CRAZY Kara around and kept hubby happy with various snacks and beverages. I used our basic veggie soup recipe but had to omit a few things that I couldn't pull from our dehydrated foods. Still tasted GREAT nobody but I knew what was missing.
Also made a batch of artisan bread for tonight's supper, the extra loaves are headed to the freezer for later.
Last night after dinner I made a double batch of granola with chocolate chips for snacking.Hubby has always been a snacker but now that he is on his back he has taken snacking to a whole new level!! HA
Quick post tonight as I have my heart set on an early bedtime with a book and cup of tea, ya it's been that kinda day!! Ha
Tomorrow will be hubby's first day that he doesn't have to spend all day on his back with his leg up and being iced. He will still have to take it easy but he will at least be able to fetch his own drinks, snacks, remote, phone, I-Pad, Kleenex, dirty dishes, and on and on. I will feel like a free bird!
Here is our menu for next week. I already know I will have to pick up broccoli for the chicken pasta on Tuesday :( This is a pain in the you know what trying to remember each and every thing that goes in a dish. I am SOOOO spoiled with our regular pantry and freezer.
Saturday
Lunch - Leftover veggie soup
Supper - Grilled pork loin, roasted potatoes, veggie
Sunday
Pass, it's family dinner but FYI we will be having a ham with whatever, along with potato soup
Monday
Lunch - Leftover potato soup
Supper - Roast beef, potato's, carrots, veggie
Tuesday
Lunch - Grill cheese
Supper - Bow tie chicken and broccoli pasta
Wednesday
Lunch - Leftover bow tie pasta
Supper - Ham Stk, cream potato's, cabbage, veggie
Thursday
Lunch - SOS (we didn't have last week)
Supper - Chicken & Dumplings
Friday
Lunch - Maybe PBJ
Supper - Minestrone soup
To all of you on the East coast please be safe and stay warm, that is a whopper of a storm you are getting!!!!