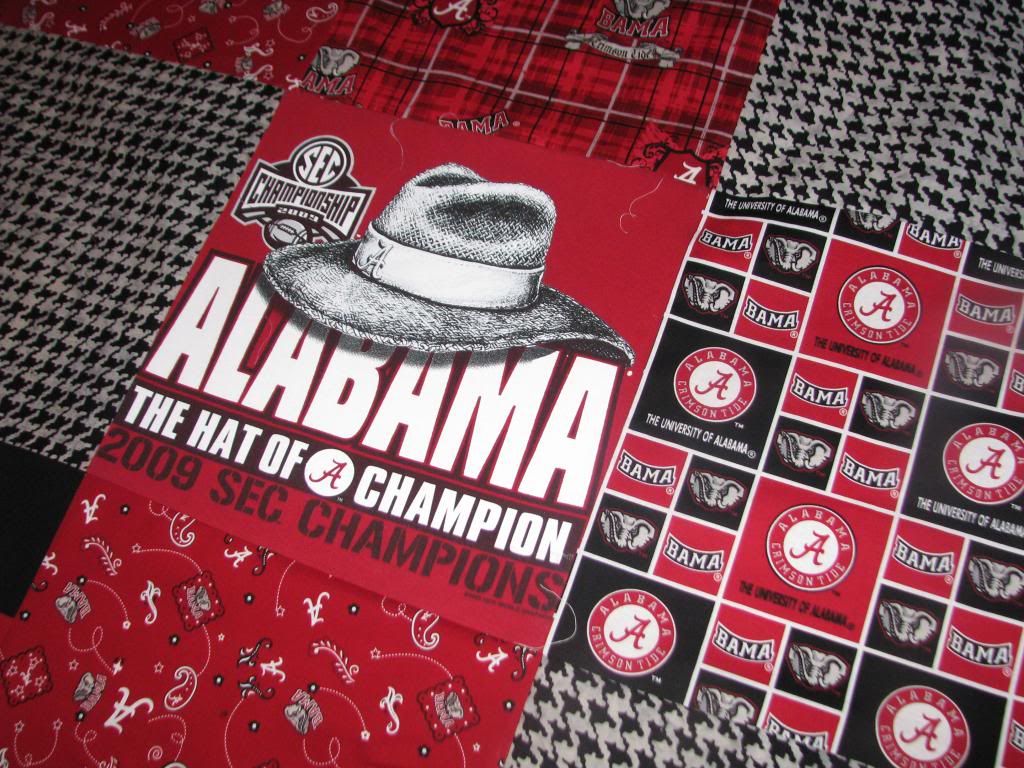 Hubby's follow up with the surgeon was this morning. He is CANCER free!!! We, the surgeon, and family Dr were all shocked by the news. He will have to keep the staples in until at least the 25th of this month then have it checked again. It is one big incision, but everything looks perfect. The Dr released him to work for 1/2 days until then with propping up his leg the rest of the day. Hubby went on to work after the visit and I returned home as fast as the law would allow to work on his quilt top!! I used one of my tee shirts for the middle block seeing as how hubby wasn't crazy about the fact I had cut up 45 of his Harley shirts on the last quilt I made for him.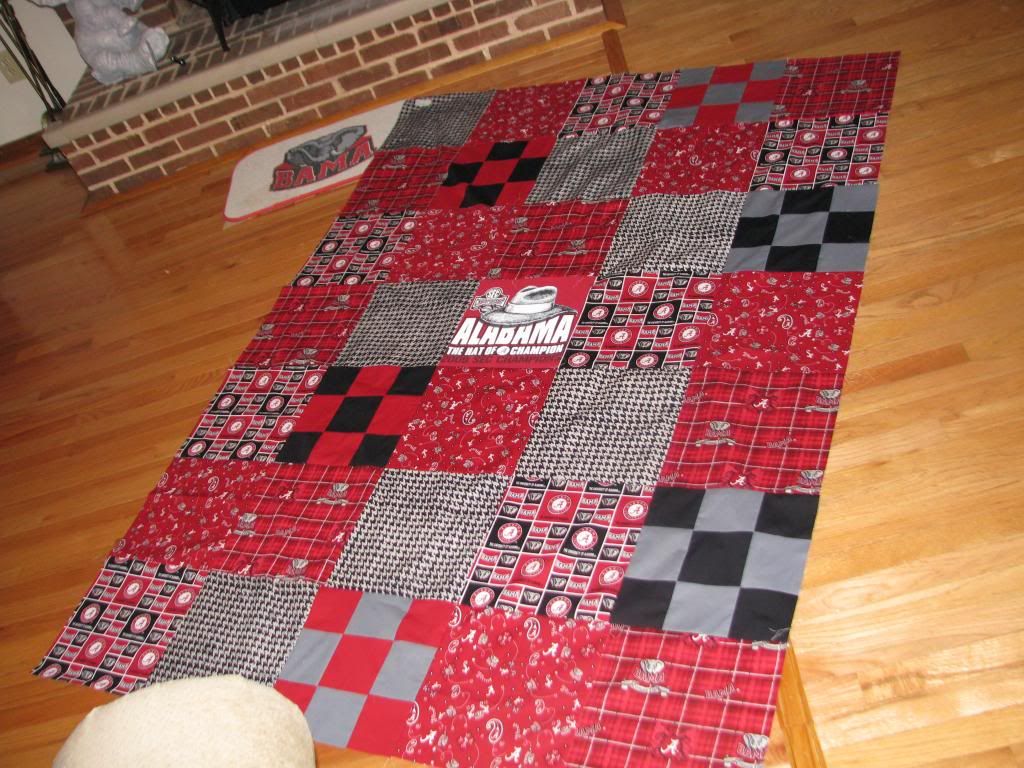 I think this will be the right size quilt for my "Bama boy" to hang out with while watching stupid man TV 60x84. Now on to sneaking in the sandwiching and quilting while he is at work in the mornings. Can we say speed sewing!!! The fancy girl was smoking today I can tell you!!!!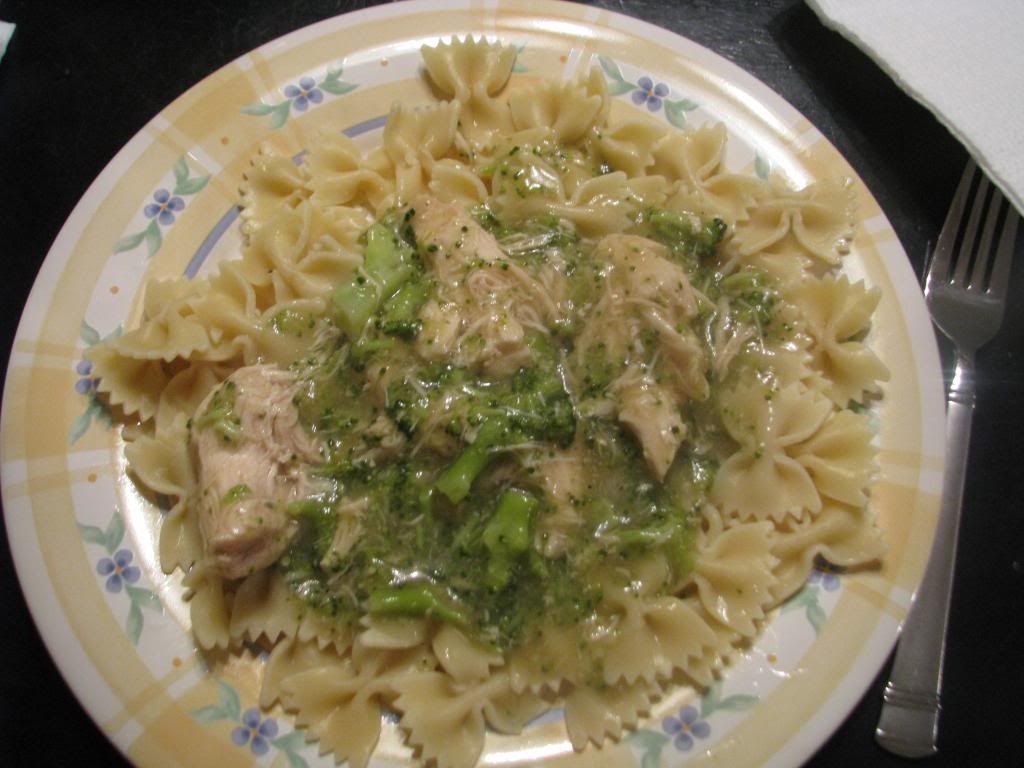 Last nights supper. Pasta with chicken and broccoli along with artisan bread. I'm kinda surprised that this is the first pasta dish we have eaten while on the food stamp challenge. Yesterday I also made a pot of Chicken noodle soup with the thought that hubby would be hitting the road Saturday morning and I needed to cook ahead as many meals as I could to send with him. I also froze the leftover roast beef as well as the chicken broccoli sauce from last night for "To Go" meals. I am now WAY ahead of the game on "To Go" meals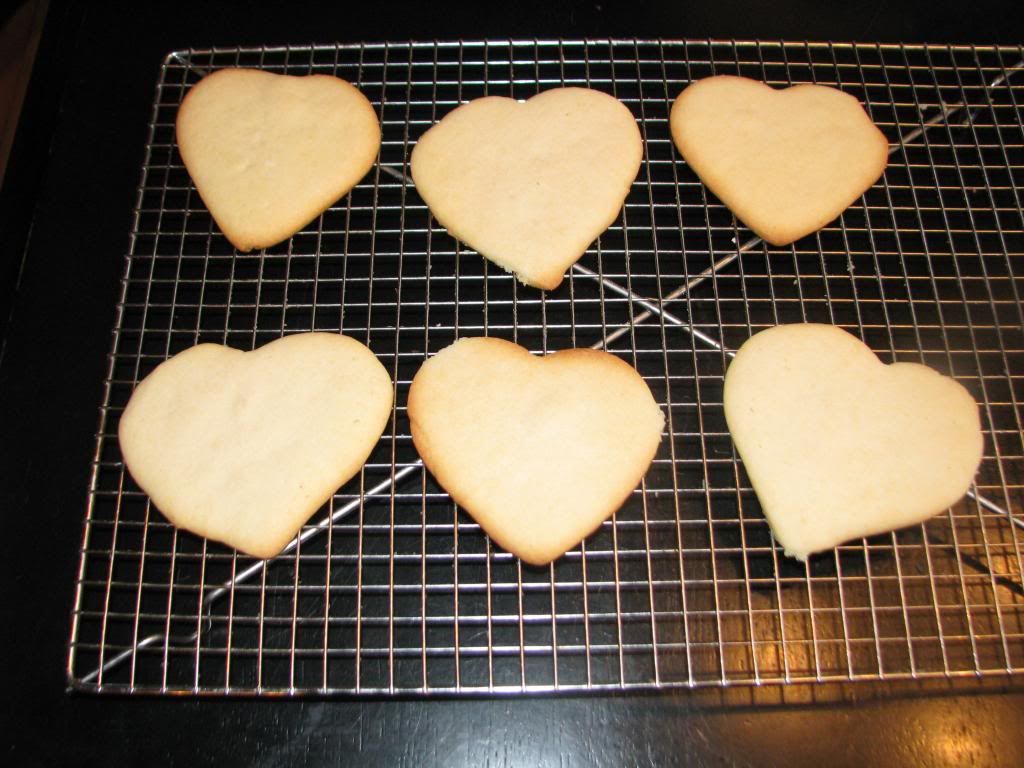 Up next was Valentines sugar cookies for the grands. I have to say I hate making sugar cookies, they are way too much trouble to me.
Two more trays in the oven with an additional two in line for their turn. The decorating will begin after I return from an appointment this afternoon. I have to get the cookies to the grands before 5:30 today UGGGG.
Days like today there is no room for mistakes or bumps in the road. Its full steam ahead and get the heck out of my way if I want to get it all done. Not my favorite kinda day!! Once I get these cookies knocked out I will be home free and can enjoy a nice easy meal to prepare for dinner then hopefully some time with a good book and a little celebrating with hubby over the good news. We have different ideas of what celebrating is (if you get my drift) so the compromise is a trip to the book store!!
Want to make a fun treat for the family to celebrate Valentines Day? (Ya right, pain in the rear is more like it) Check out this
site
. DD#1 has shown Tyler how to get on pintrest and send Nanny GREAT ideas of things he would like for he and his family, maybe some extras for his buddies as well. DD#1 is on my s.... list. This old gal can think up enough make me crazy projects on my own! Gotta love those grands, I would do anything in the world for them.
BTW, I used my food stamp challenge pantry to make up the cookies, the only exception is for the sprinkles I will put on the "girl" cookies. I know from experience the little girls want nothing to do with Spiderman or football stuff. If it doesn't look like "Princess" they will hurl it right back at you.