Our food pantry bags needed to be on the front porch today by 9:00 for the Boy Scouts to pick up, not a problem as we have plenty to share from our regular pantry. Out of curiosity as I was leaving the house this morning I took notice of how many bags had been put out by my neighbors. So disappointed to share that only 5 houses were making a donation on our street. I know the vast majority of our neighbors if not all could have afforded to do just a little something. This makes me sad :(
First emotional food moment of the day
After returning home I needed to address a food issue that was sure to come up. One of the things hubby was looking forward too having when he got home today was some M&M cookies. Crap, I thought about buying some on Friday but didn't think I should spend so much on M&M's since they were not on sale and I had no coupons. I made a what I hope was a fair trade. We have lots and lots of M&M's in the pantry I have picked up dirt cheap or for free. We have more of that yucky kielbasa that I did buy for the food stamp pantry than we will be needing. Since I could use the kielbasa in tomorrows family dinner I traded the two out. I know this was not in keeping with the rules but... Hey if nothing else I plan on being honest with you guys! Hubby is a different story, I would like to hold off as long as I can to keep this challenge a secret from him. I don't think secrets are good for a marriage (most of the time) My excuse is I wanted to make hubby happy after being away so long and I was lusting for those stinkin M&M's I did at least only use 1/2 the bag so I have some in my food stamp pantry for later in the month.
My second emotional food moment.
When hubby comes home the first thing he does is give AJ the beagle and I lots of hugs and kisses. A quick trip to the potty is always followed up by sticking his head in the pantry for a snack. Since the M&M cookies were on the counter he of course went straight to them "It's soooooo good to be home" AWWW.
My second emotional food moment
Before even setting down he was ready to get his hands on the grands. Off we went for some Nanny and Papaw time. When we were ready to go Karsyn insisted on "I go home with you Nanny" Tyler as well had that look in his eyes. Load up guys Mommy and Daddy can come get you later.
Lots of laughing, squeals and running around once we got home then Karsyn turned to me to say "Nanny I here with you" Aww "Nanny we mix it now?" Double aww Karsyn is loving that she is now old enough to help with the baking. So that's just what we did. Chocolate cupcakes with white frosting for Sunday dinner.
Third emotional food moment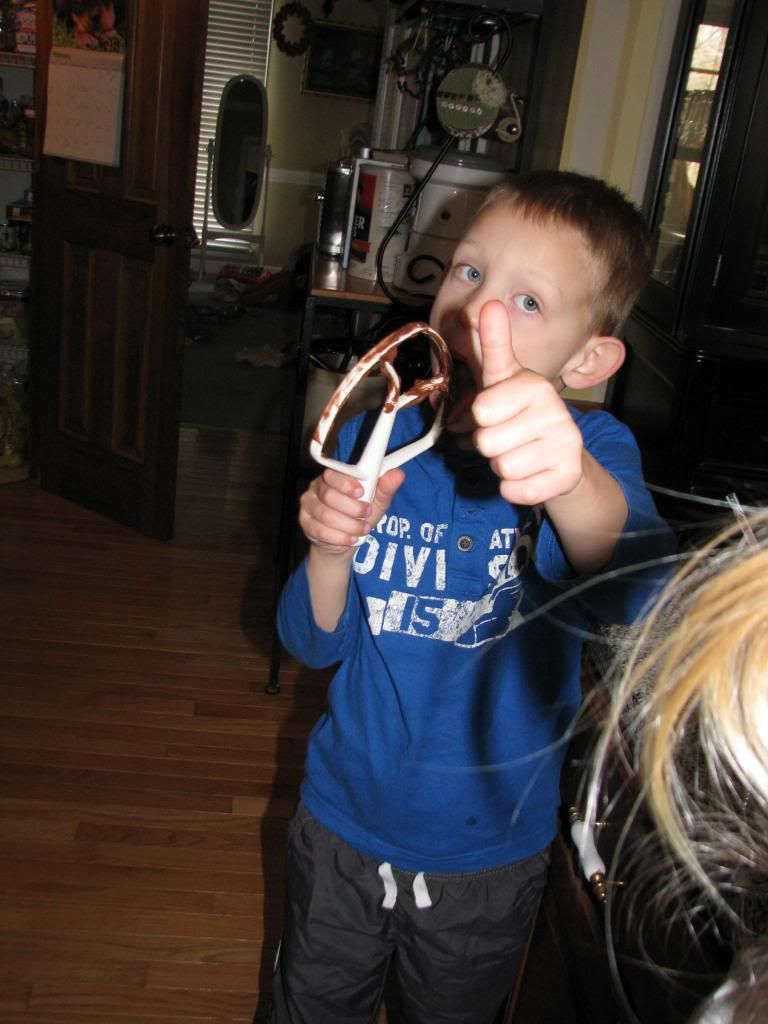 Tyler's new role now that he is all grown up is too lick the beater.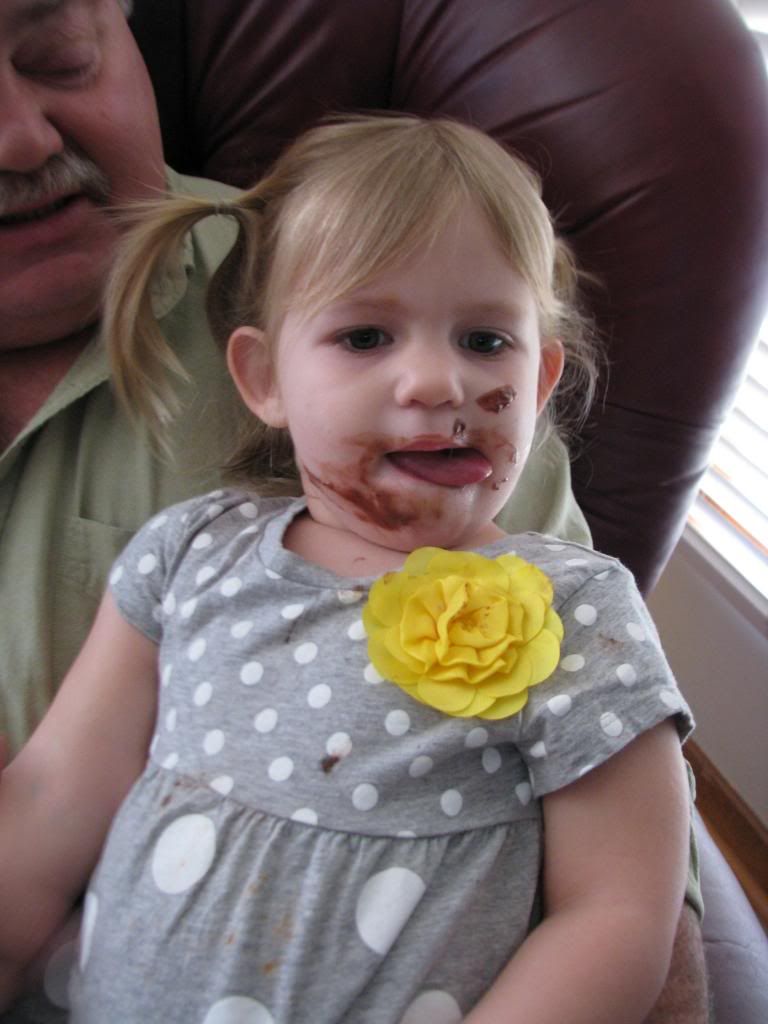 Karsyn got to lick the spoon.
When DD #1 picked up the kiddo's she ask if I had any chili in the freezer, they were having some sort of mexican dish for supper that needed just a little chili on top to finish it off. As a matter of fact yes I was just warming up a pot for supper. I sent her home with a small container and a kiss. After the grands had gone home I got our chili warmed up and a pan of cornbread out of the oven. Hubby and I were too full to even look at the pineapple upside down cake.
Hubby is never home for the monthly meetings with his Harley friends. Tonight was his lucky night, they have a meeting he didn't know about. when I told him I would drive him over (meetings involves beer of course) "No way am I going to leave you on my first night home" Oh yes you are. I think guys need guy friends. With hubby's travel schedule it is hard to fit it all in. He called to let them know he was on the way when it came up in conversation he had just finished a bowl of chili and cornbread. One of the boys ask if he would bring some along to share. This buddy is single and travels all of the time, home cooked meals are a real treat. Yet another told him he couldn't come without cookies, they are all spoiled!! Not a problem Deb has a whole batch here on the counter.
Fourth emotional food moment
Here is something I never expected to happen taking on this challenge and that is how much emotion is involved in food to me. I am not an emotional eater but today has proven I am a VERY emotional cook when it comes to feeding anyone and everyone.
When I realized that so few of our neighbors had participated in the boy scouts food drive it made me sad. All I could think about is how many families could have been blessed with that one sack of food.
The whole M&M's ordeal might not seem like a big deal to many people but for me it was important to have a taste of home ready when hubby arrived. How many wives are not so lucky as to have a pile of M&M's stashed away to make her man feel special. When I put our food donation together for the boy scouts I put only real food in the bag, now I wish I would have thrown in a little something special for a treat. Next time I will.
We have always been aware the heart of our home is the kitchen. Our kitchen is where all the BIG and little stuff happens. At the dinner table our DD's could blow us away at the questions they would ask or the stories they would tell about their day. Now that they are all grown up and on their own Sunday dinners still happen in the kitchen and we are still pretty blown away by some of the conversations we have. And laughter, always laughter, wet your pants kinda funny. Now our grands are part of this fun kitchen time on Sunday's. Helping with the mixing, rolling, baking and mess making is our special time. Today I cried when I thought about all the Mom's in the world who find their kitchen a stress filled unfriendly place. Finding the food to feed the family, having the energy to get it on the table and wondering if they can pull it off again tomorrow can't be joyful for them or the family. How many children won't be setting down at the table to share there day with Mom and Dad?
Sending DD#1 home with a container of chili, sharing a bowl of chili and a hunk of cornbread with a friend, and hooking the BOY's up with some cookies is to me, a blessing. Being able to do that with the food we had in the food challenge pantry (other than the D...M&M's) had me sweating bullets. Will we still stay on track with our spending this month? Do I have enough leftovers to stick with my meal plan for the week? How would Mom's who have never in their life had to deal with public assistance handle all these emotions?
Holy cow, sorry for such a long post but today it all just got to me. Maybe its the crazy lady menopause thing kicking in or lack of dark chocolate, who knows. I can tell you that more than ever I am committed to continuing to make donations to our local organization's and I will be SHAMING all of my buddies to step up to the plate and do more. Last but not least dark chocolate is no next weeks grocery list as well as tea!!! How could I have forgotten tea bags. I am going to need both to pull off this challenge. It's only day 2