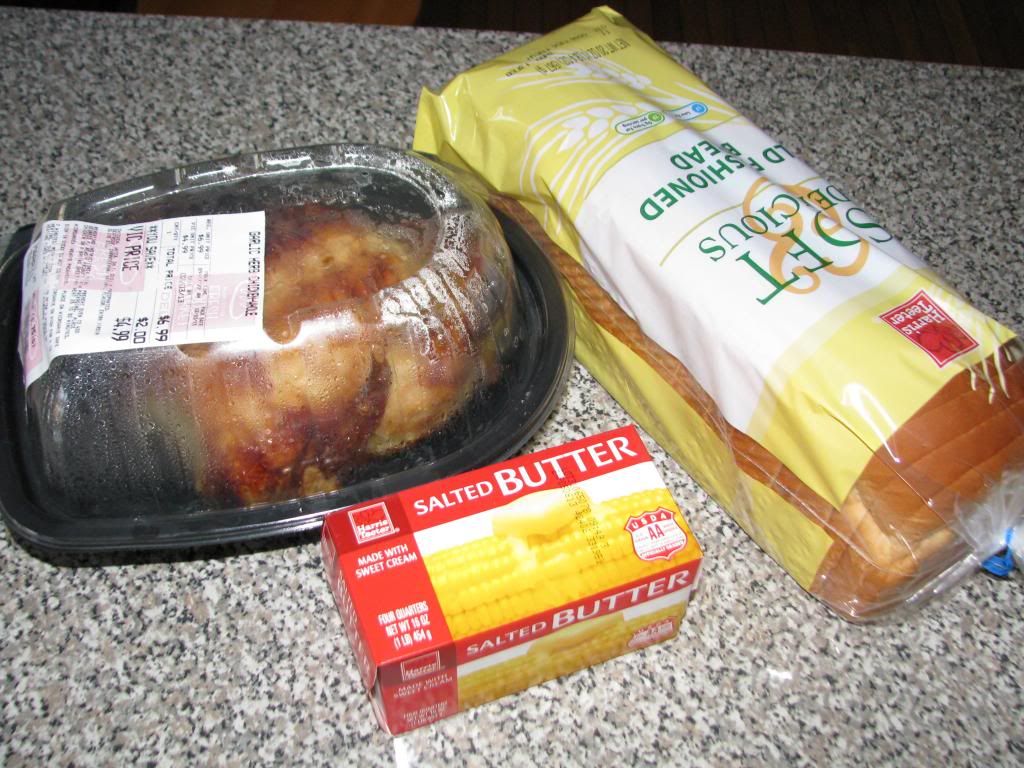 More food for the food stamp pantry. I am already almost out of butter :(. We will be eating a lot of sandwiches this month so I figured I better spring for some nasty store bought stuff, and today is the day to pick up a roasted chicken for $4.99 @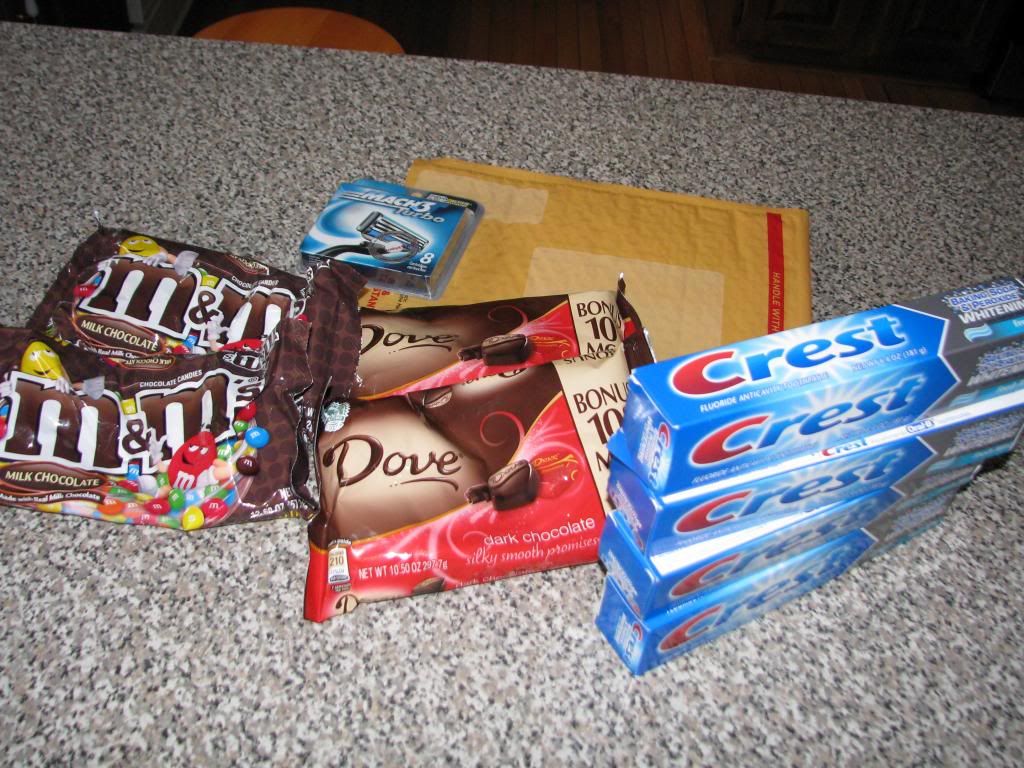 After the grocery I stopped off at CVS to use some rewards coupons and get in on a few deals. BTW this is NOT from our challenge budget. It didn't seem fair to use reward dollars we have earned over the past month or so on this challenge. BTW the candy will not be going in the food stamp pantry, wouldn't be fair right?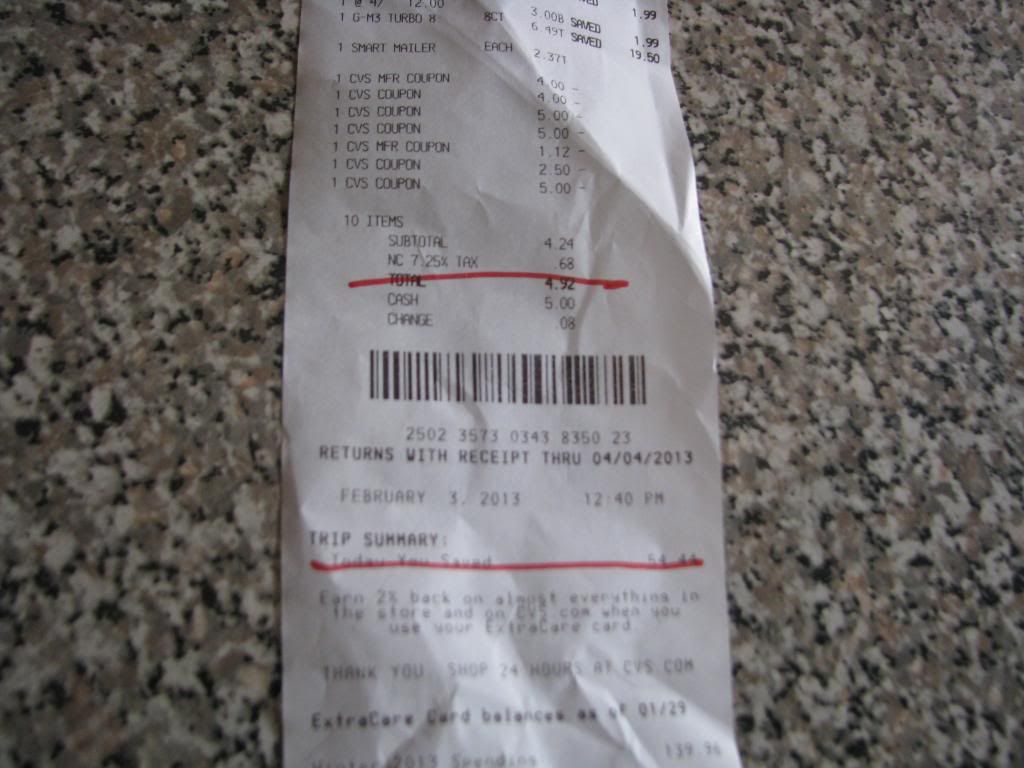 Not sure you can see the total spent. $4.92!!!! Total saved $54.44!!! Coupons and reward ponits are such good friends of mine!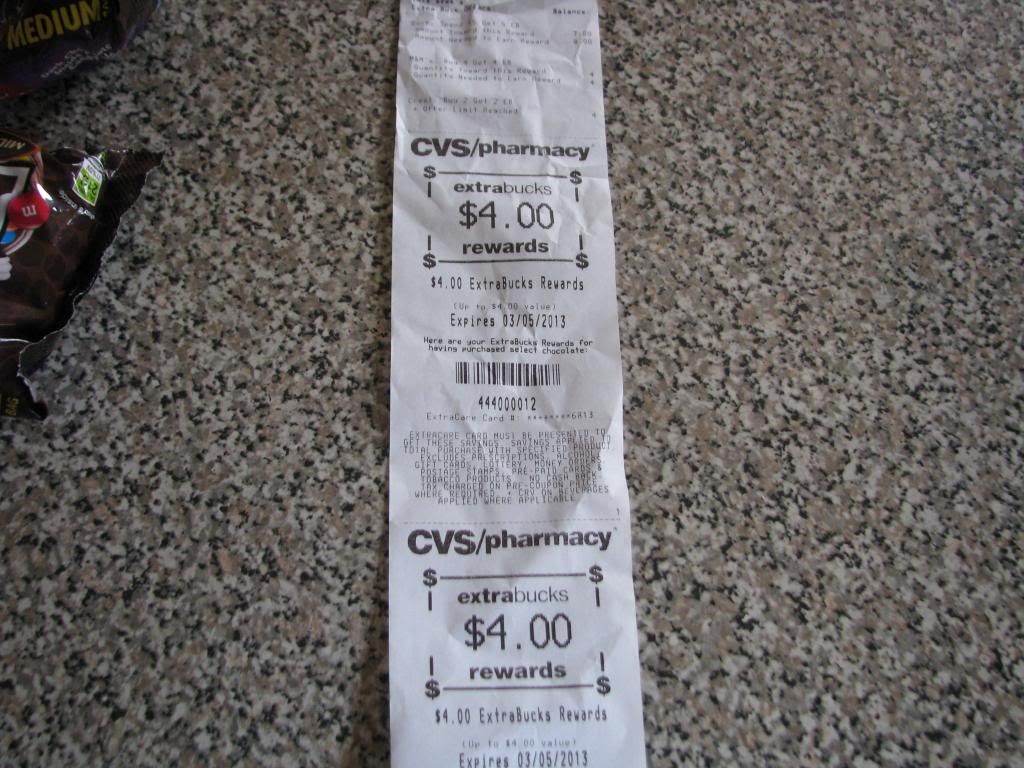 In addition I received $8.00 in additional rewards points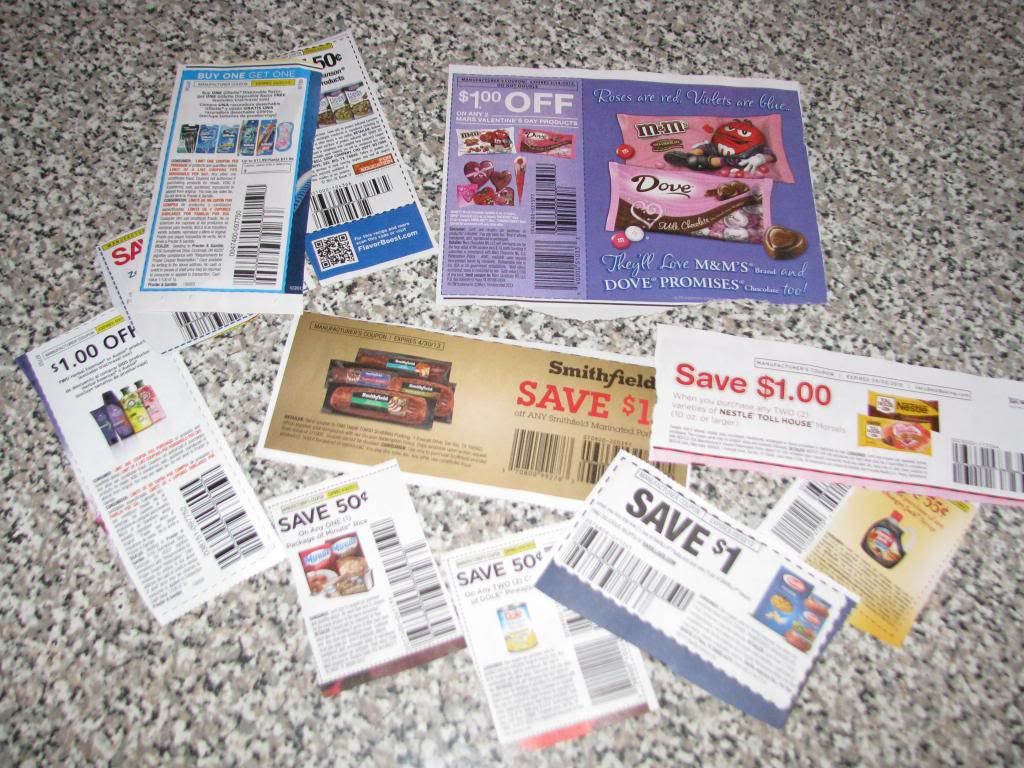 While at the grocery I did pick up the Sunday paper using our food stamp budget. Our paper cost $2.50 on Sunday. The savings I will receive from coupons will be $26.00. That's a good return on the investment don't you think? Notice the nice $1.00 off coupon for Doves chocolate? As soon as I find the best deal on chocolate this week that bag is mine, all mine.
Super bowl Sunday snack for the fella's
Two nice tray's of Ham Delights. Recipe is at the end of this post.
Want to know why the BOY"S all Love me? Cause I feed them good stuff!!
If you haven't been following along on the food stamp challenge one of the exemptions for us is Sunday dinner, Birthday's, or Anniversaries. The fixins for Super Bowl snacks had been bought before I started this challenge so it doesn't count against me.
One of the MANY great questions I have received regarding the food stamp challenge is what about food waste from the things you already had in the house that you can't use for the next month. For the most part our food is all shelf stable from canning over the summer, dehydrating, using the Food Saver to keep meat I have gotten from our local farm or on sale a deep discounts from the grocery. However today I realized Sunday dinner leftovers could be a problem as we can only eat them on Sunday
After packing up stuff our DD's wanted to take home I was still left with a 1/2 pot of jambalaya and rice, 2 loaves of artisan bread and a dozen or so of cupcakes none of which would be good frozen next month when the challenge is over. After a quick call to find out what was on the menu from the buddy who is hosting the supper bowl party tonight I told him 'DO NOT order the pizza" I will be bringing more food than you all may be able to eat. Oh how they LOVE me!! Ha I am not sure any of them will be awake at halftime. I left them fat and happy, licking their fingers with butter on their chins from the warm bread and butter. The cupcakes will surely put them over the top!! Yepee skippy, no food waste and I am still within the boundaries of the food challenge!
Here is a quick final update on
Carla's
Low/No spend challenge from last month. Happy, Happy, Happy that $672.00 is sitting in the Christmas/vacation fund due to joining sweet Carla!! Thanks again Carla for including us all
Cindy
is hosting the 52 week saving challenge. If your interested in joining head over to her blog, the more the merrier. We now have $179.00 tucked safely in our envelope.
While hubby is off enjoying his guy time at the Superbowl party I will be once again working on my cookbook challenge in the warm house, some trashy TV, with AJ the beagle in my PJ's. That is until I get the pick up call from hubby. Another good reason they all love me is I will cart their beer drinking rumps home.
Ham Delights
2 Pkgs Brown and serve rolls sliced
1 LBS thin sliced ham
PKG of sliced Swiss cheese
1 stick butter
Few good dashes of Worcestershire sauce
a squeeze or two of yellow mustard, brown would work as well
Melt the butter then mix in the mustard and Worcestershire sauce
On each roll fold a piece of ham followed by cheese then another layer of ham and cheese
Brush the tops of each sandwich with the butter mix
Bake for 10-12 minuets in a 350 oven.
This also works great with full size sandwiches on a sandwich roll.