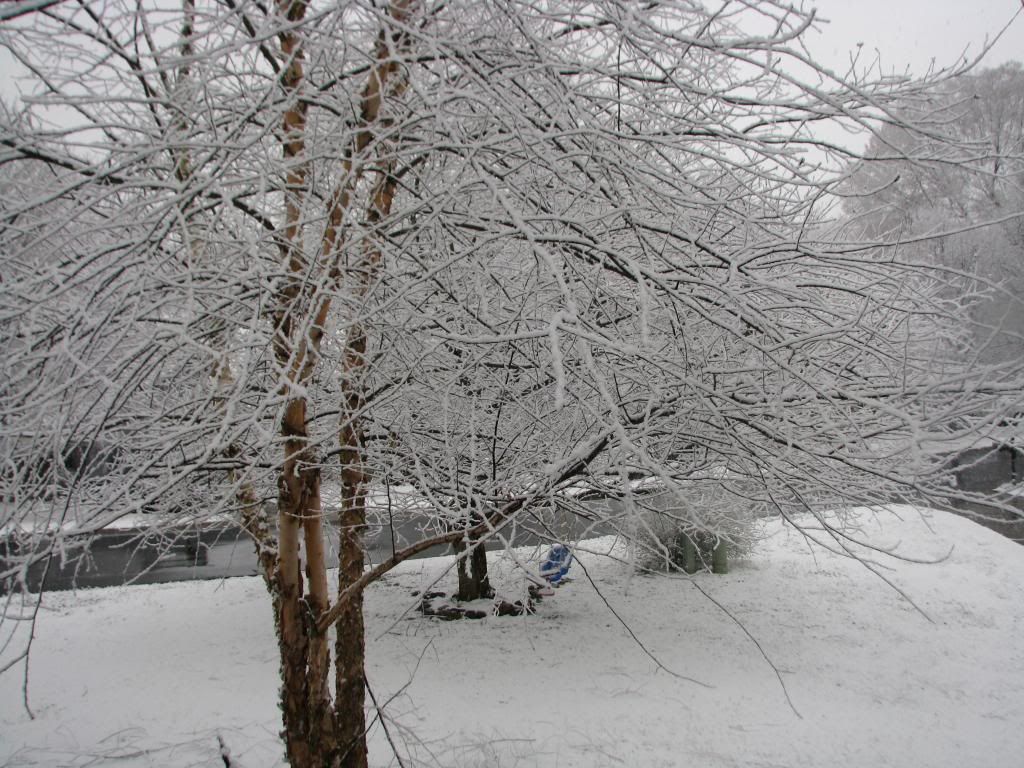 Look at the RARE surprise we woke up too after our naps today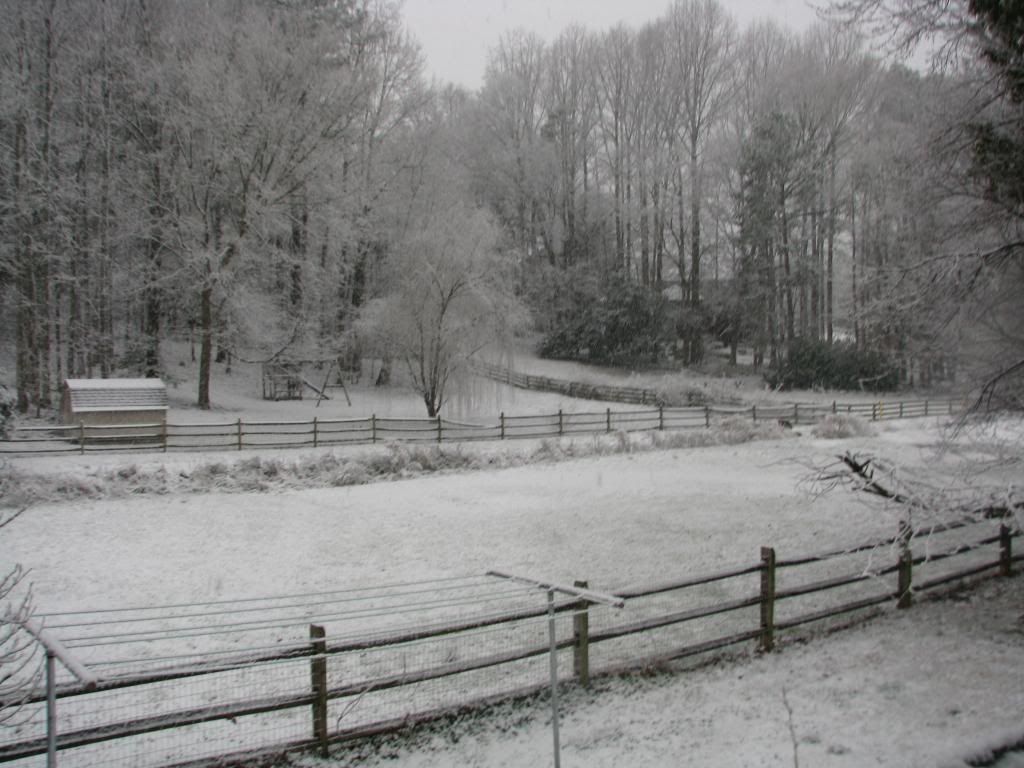 Love looking out over the back of the house
At dusk everything was even prettier.
This is not something you see every day in the Carolina's!! SNOW. To you ladies up North I know it seems like a joke to call this little bit of snow real snow but for us southern gals it's the REAL deal. Dinner is finished, hubby has the wood stove going, time to kick back and be lazy.
I did accompany hubby to the gun show this morning :( Here is the cool part for me. It took over an hour just to get in the parking lot. Then the search was on for a place to park, while looking for a spot to park his bubba truck we could see the line to get into the door. The line went on, and on, and on, then a mixture of rain/snow/sleet started up. Holy Cow what have I gotten myself into? I am soooo thankful hubby decided it was nuts to stand in line for what would be at least 2 to 3 hours in that nasty weather just to get in. He had a certain gun in mind that he wanted to purchase, figured by the time we could get in it would be long gone. I felt just a tiny bit sad for him but VERY glad for me. He told me the gun he wanted was an hour up the road but was $50.00 more than they would have sold for at the gun show. Put this bad boy in drive and lets go!!!! They were going to charge us $14.00 @ just to get in the gun show. I save more than that each week in coupons alone.
After a nice drive watching the snow come down we arrived at the gun store along with what must have been at least 100 other guys (I was the only girl) Hubby finally got his hands on the crown jewel. He turned it over in his hands, studied the workmanship then politely returned it to the clerk and said I need to think about it. WHAT!!!! By this time we had been on the quest for "THE" gun for 3 hours or more. He decided $629.00 was to much to spend on a hand gun, I agree. However the Harley dealer has a cool new speedometer thingy to go on the bike that would be great for the big road trip to Milwaukee this summer. Off to yet another "Boy" store. It's funny to see how excited the salesmen are when one of their customers like hubby get to buy a little more chrome for their babies. It's not the sale that gets them all giddy, its the fact that one more of "Their own" is getting something cool for the bike. I just don't get it....
All in all it was a fun day out with the nicest fella in the world and he even returned home with money in his pocket!!! Gotta love a man who doesn't spend every single dime (yet)
I have already changed up our menu as of supper tonight. I just didn't feel like making broccoli soup after such a nice long nap, can we say nap hangover. Instead we had Waffles and sausage, the leftover waffles are in the freezer for breakfast later in the month. Along with a big glass of tomato juice it hit the spot on our winter day.
On to the menu for the week.
Saturday
Lunch - SOS
Supper - Waffles, sausage, tomato juice
Sunday
FREE DAY, Family dinner
Monday
Lunch - Leftover Broccoli soup (from Sunday dinner)
Supper - Spaghetti/meatballs, salad, french bread (if I can figure out how to make it)
Tuesday
Lunch - Grill Cheese
Supper - Bake pork chops, mashed potato's, veggie
Wednesday
Lunch - Whatever leftovers are in the fridge
Supper - Taco's, beans, rice, guacamole and chips
Thursday
Lunch - PBJ's
Supper - Meatloaf, potato's of some sort, veggie
Friday
Lunch - Egg salad sandwiches
Supper - Potato soup
Also need to make up some deserts and bread for the week