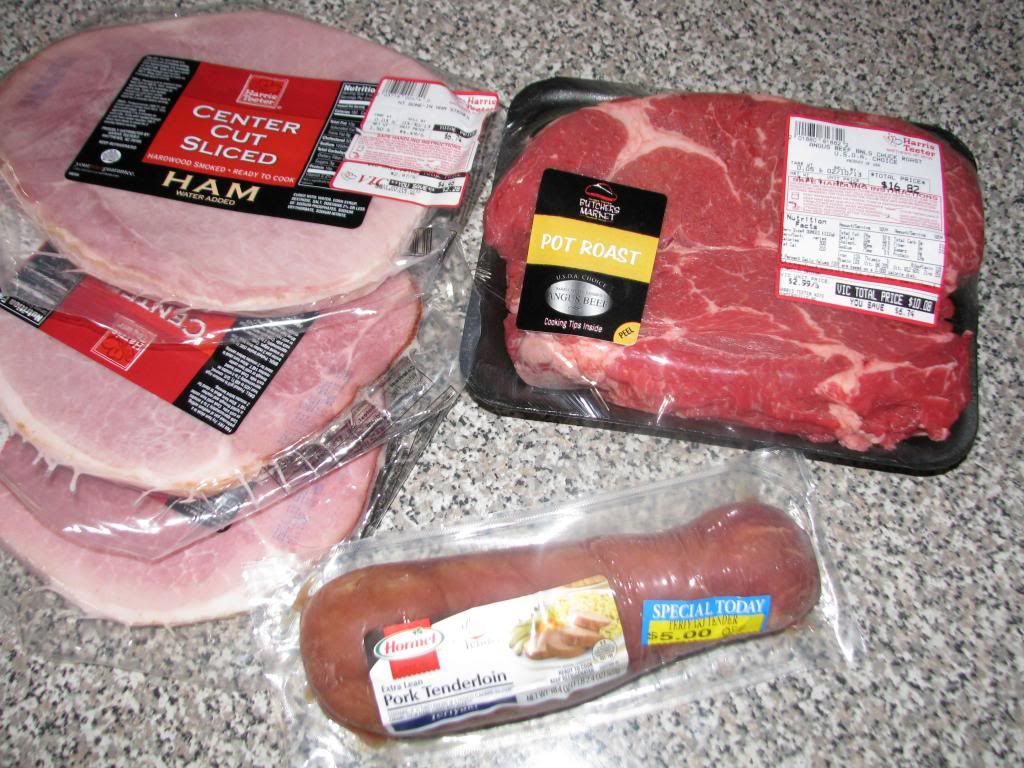 Here is our meat from this weeks trip. The roast was the only thing on my list however the Pork Loin was marked down to 3.88 and the Ham Steaks were 1/2 price. Seemed like too good a deals to pass up.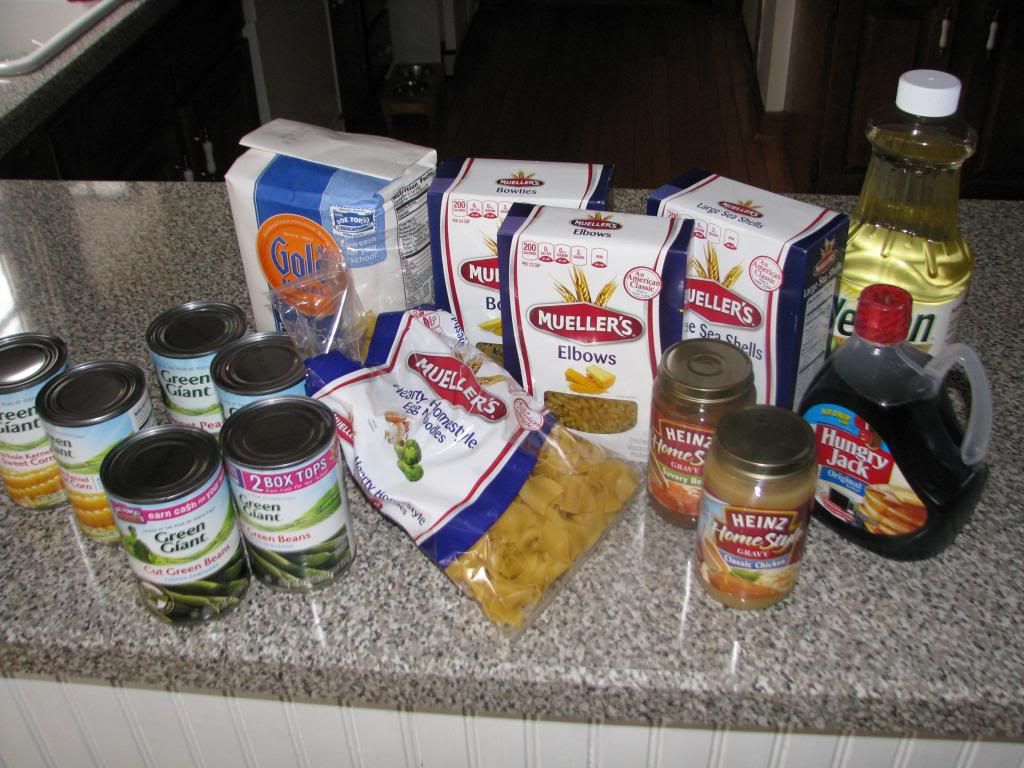 Regular pantry items. Again I bought more than was on the list but I know we will need all of them by the end of the month. Canned veggies were on sale for $1.00 a can, pasta on sale for $1.00 a box. I also picked up cooking oil as I am not sure if that is something most people would have in their pantry. Since I already have a bottle open in our regular pantry I will switch them out, don't want to end up wasting food from our regular pantry during this challenge. Ditto for the syrup, I will switch it out with the open bottle in our regular family pantry.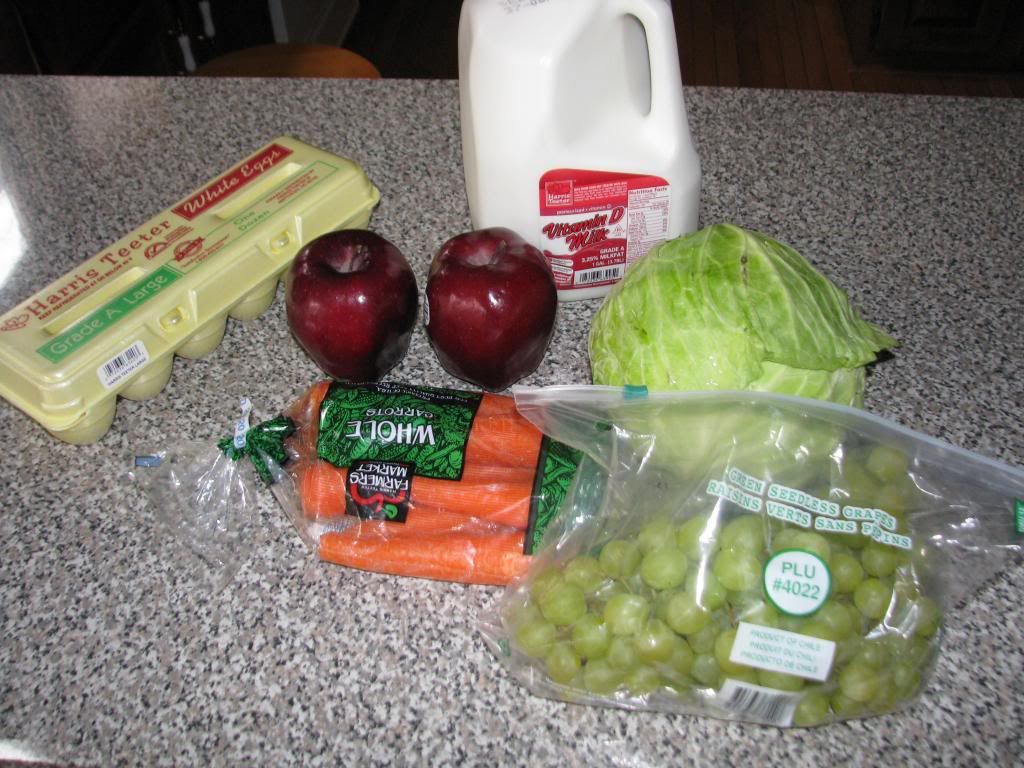 Bought a few more fresh items this week as grapes were on sale, the apples were not but I consider that part of the sick food for hubby! Cabbage and carrots are not something I would normally buy from the grocery store as we grow our own of both and dehydrate them. This challenge is showing me that it wouldn't really be possible for folks on assistance to preserve food to use off season as we do. We get a pretty big savings from the garden!!
This is my splurge for the month. Since I have plenty on hand I will switch this box out with what we already have. We don't HAVE to have tea in the house but I do enjoy a cup or two a day especially in the late afternoon and evenings during the winter. The tea wasn't on sale :(. If we were really on assistance I wouldn't have spent $2.37 on this luxury item but would have waited until it was on sale.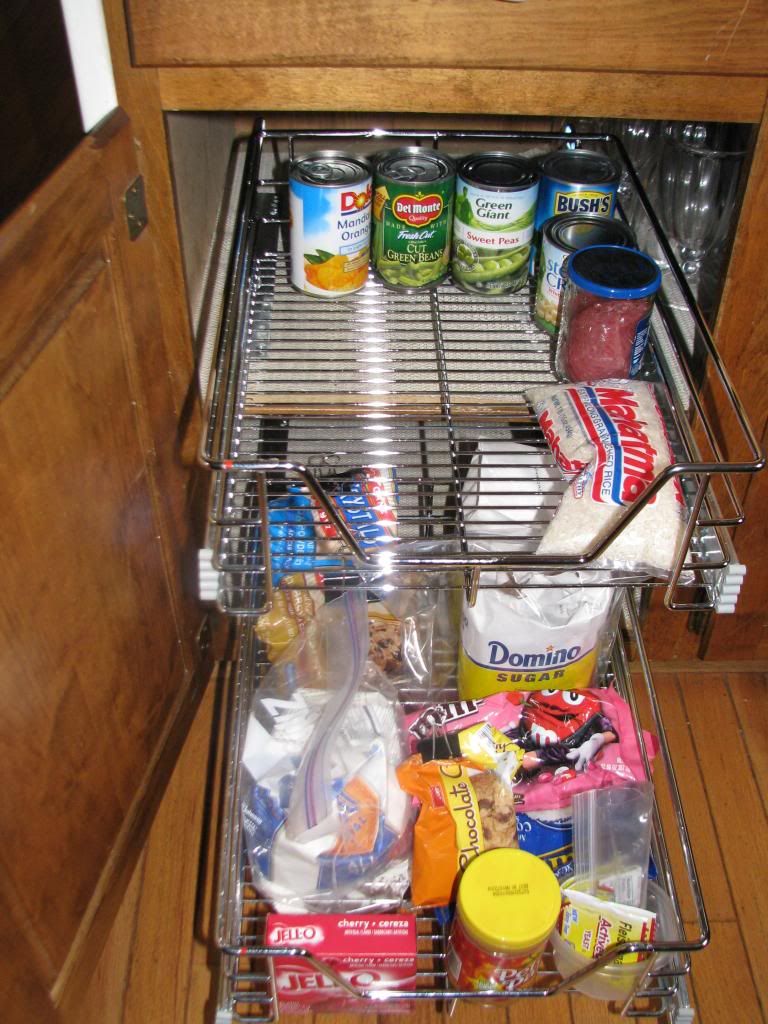 Our food stamp pantry before shopping today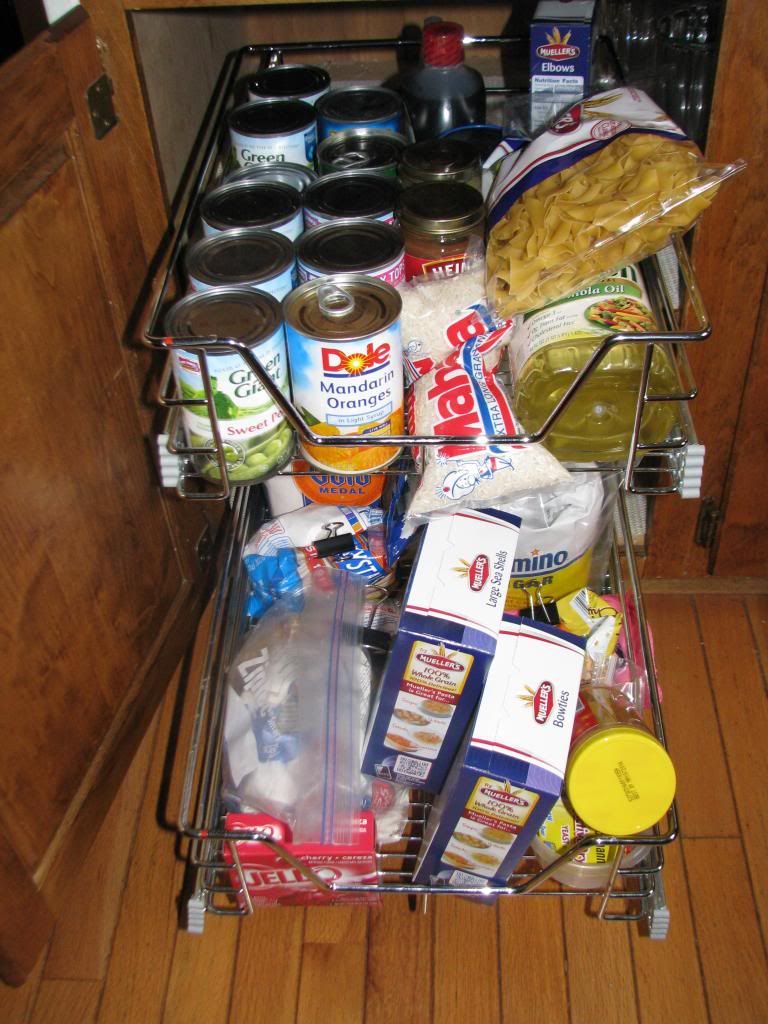 After my shopping trip
Fridge before shopping. Here is what we still have left to eat in the fridge, chili, can tomato's, can pineapples, bread pudding, sausage, pork chops (tonight's dinner), leftover veggies from this week, leftover chicken noodle soup, and a little milk, enough juice, along with regular condiments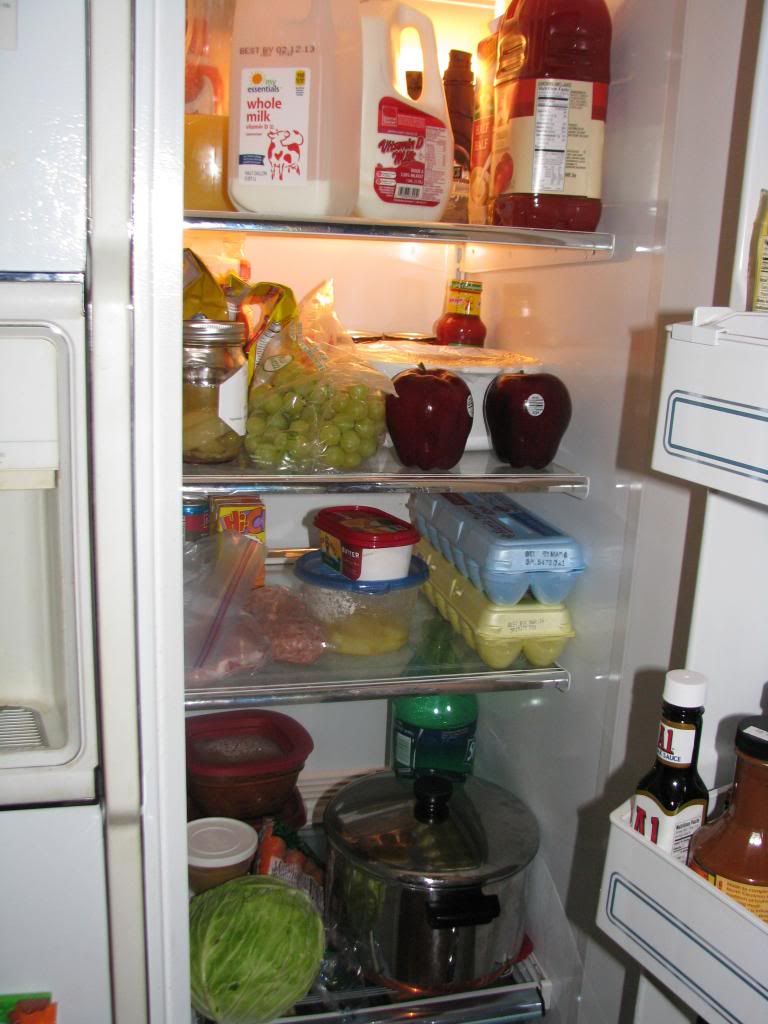 Fridge after
Freezer before. Here is what is leftover to use, Chili, corn bread, Kielbasa, hot dogs, hot dog buns, 1 PKG pork chops, 1 PKG sausage, 1 (4) cup brick of chicken broth/stock, and Ice Cream (I can explain)
Freezer after
Evidently hubby gets the munchies from anistizia. He was eating me out of house and home yesterday. Last night he was ready for yet another snack after supper. We had a carton of 1/2&1/2 in the fridge that I needed to use up before the 14th of this month. What the heck, he LOVES ice cream so I made some, this will last us the rest of the month. I still have some 1/2 & 1/2 leftover that I will use to make more ice cream at Sunday dinner this week. As I am SURE most families on assistance do not have a fancy dancy ice cream maker like we do I added the cost of 1/2 gallon of ice cream to our total spent on food stamp groceries this week.
Here is the damage done at the grocery today. Total spent $69.86, Total saved $26.74. My goal was to only spend $22.00. Blew that now didn't I! I will be reworking our menu for next week as I bought some meats I wasn't planning on but the unadvertised meat sales were too darn good to pass up. Knowing we have to make this money last all month I figure I should save extra on anything and everything I can find. I didn't have any coupons to use this week so the savings came from just the grocery store sales, what the heck some savings is better than none.
We have way more Chicken noodle soup leftover than we can eat so I will be delivering this pot to DD#1 today. I have never frozen chicken noodle soup before does anyone know if it can be done?
I will post our next weeks menu tomorrow as this post is way to long already!!