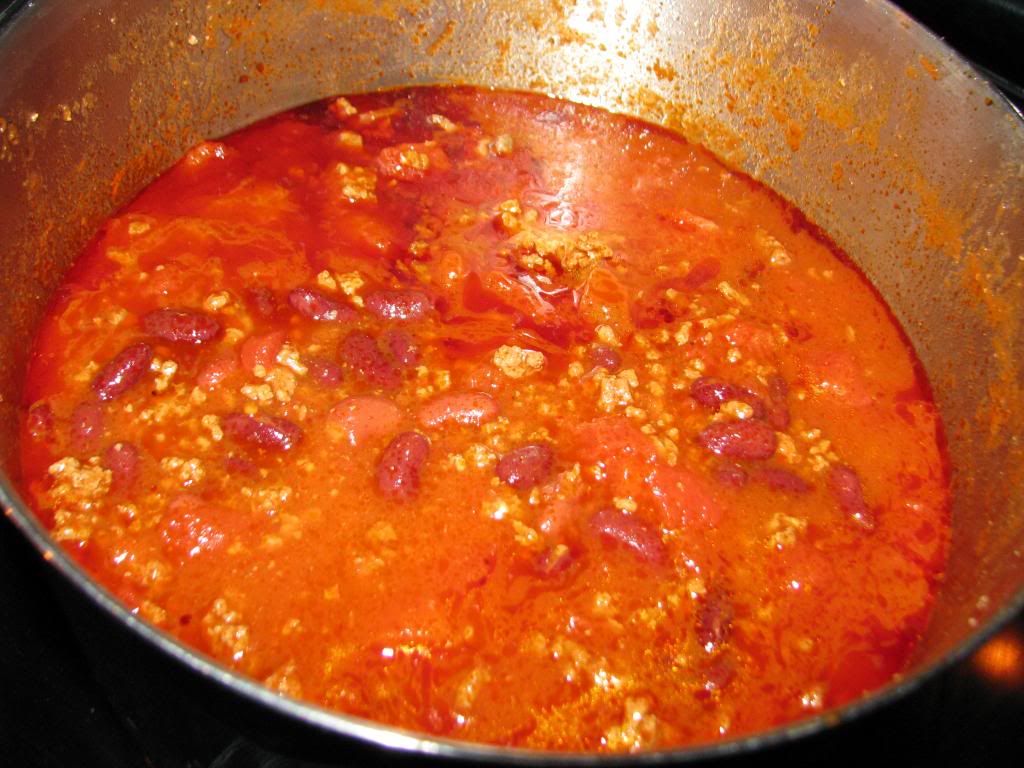 Tonight's supper for me was a bowl of chili. This is really for tomorrow nights supper. I think chili tastes best when it sits overnight. I omitted two things from this pot. Onions and a few jalapenos, let me tell you it was hard not to pull out my dehydrated jars of both!! The chili taste's just fine, I did add a little more chili powder than normal to make up the differences in ingredients.
Desert for the next day or two is pineapple upside down cake. The recipe called for 1/3 cup of shortening but I substituted butter in as shortening was not in my challenge pantry. Also you should use a 8 ounce can of whole ring pineapple as well as maraschino cherries. I only had 16 once can of pineapple tidbits, used 1/2 for the cake the other 1/2 I will use later. Worked just fine!!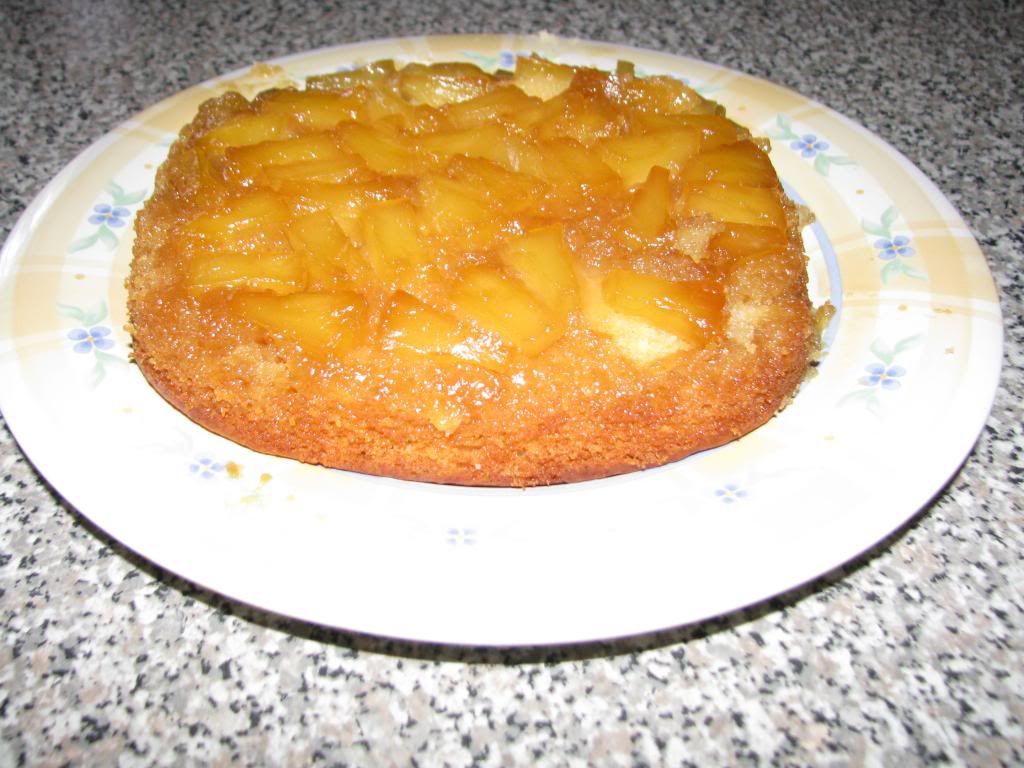 How yummy does this look, the cherries would have been very pretty on the cake however I would rather use that money from the budget on something with more stick too your ribs type of food! Trust me it is as good as it looks I did a little taste test :)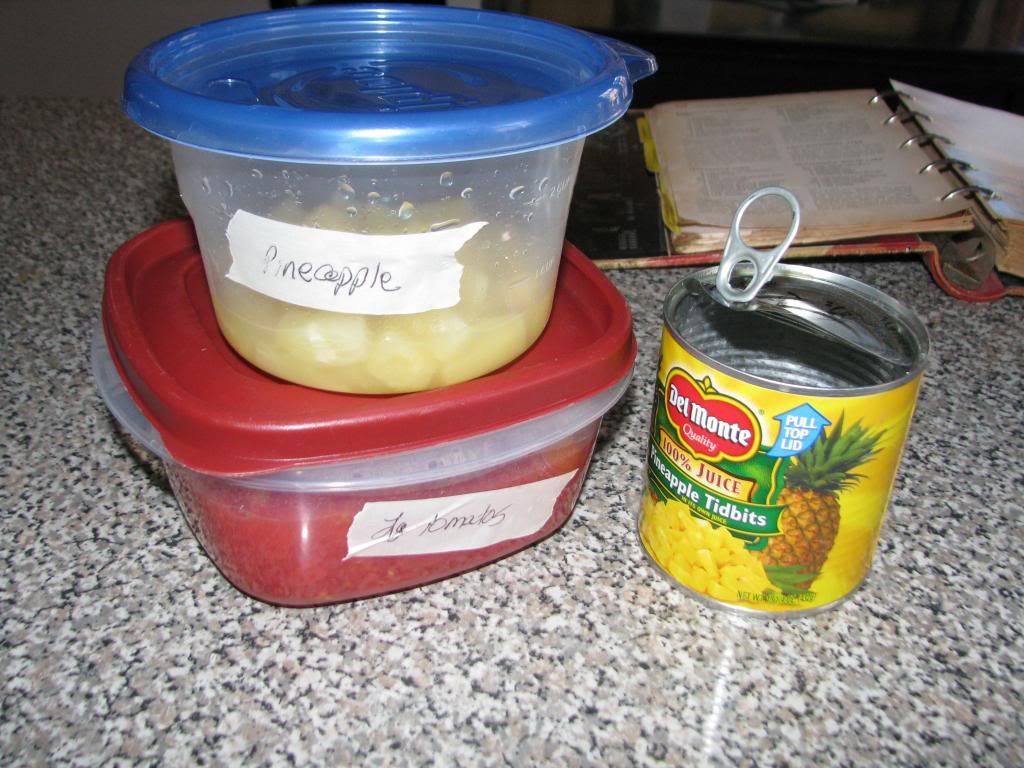 Here is the 1/2 of a can of pineapple I didn't need today. The other container is a can of tomatoes I accidentally opened instead of tomato sauce, grrrr Mason man and Karsyn were over for a visit when I started the chili. It's not always easy to pull something together with 2 toddlers around. I have plans for the tomato's later in the week so nothing lost (other than my mind)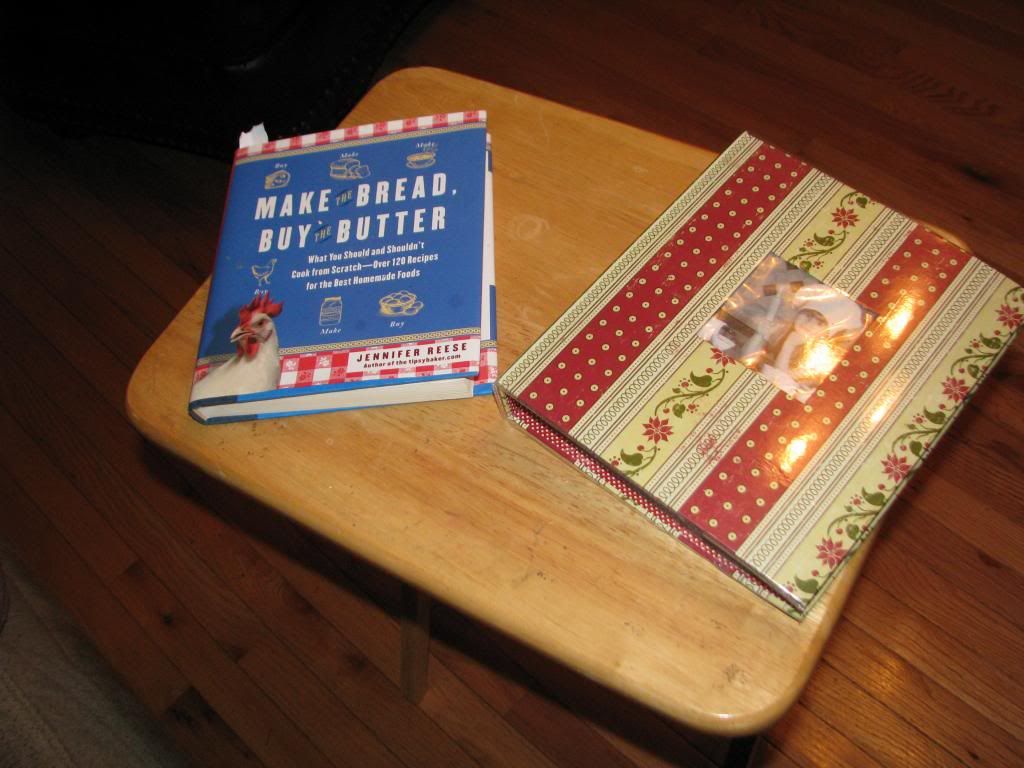 All the odds and ends recipes are finished. On to the first cookbook that I need to write up recipe's from. BTW if you love cooking this is a fun book!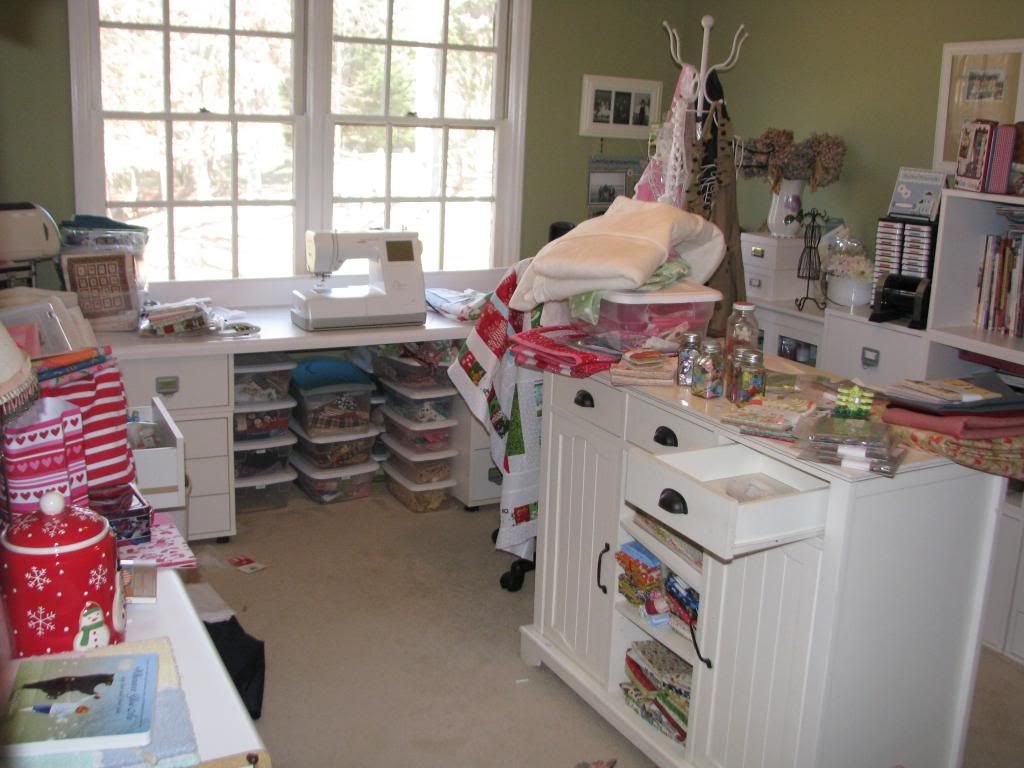 Kara and her Mommy are home sick with strep throat today. Time to get my bootie in gear and do some finish up work in the sewing room. It really is not as bad as it looks, most things are just waiting for a turn on the embroidery machine. I figure I should be able to catch it all back up before bed tonight.
The first day of the eating challenge worked out pretty good today. I am plenty full of home made food. I hated having to omit some things from my recipes when they were right there in the family pantry but I am going to do my darnedest to stick with the challenge. Here is a quick peek at our menu for next week
Friday
Lunch - Egg salad sandwich
Supper - Chili
Saturday
Lunch - Egg Salad sandwich
Supper - Chili with Artisan bread
Sunday FREE DAY, family dinner
Monday
Lunch - SOS (chipped dried beef over toast)
Supper - Roasted chicken, mashed potatoes with gravy, Veggie, home made regular bread
Tuesday
Lunch - Grilled cheese
Supper - Hot dogs with sauce, fried potatoes
Wednesday
Lunch - Chili
Supper - Chicken noodle soup with artisan bread
Thursday
Lunch - Chicken noodle soup
Supper - Pork chops, rice and gravy, veggie, biscuits
Friday
Lunch - PBJ
Supper - Veggie Soup
I didn't list breakfast as we will eat what we are in the mood for. We have English muffins, eggs, sausage, ingredients for pancakes, waffles, biscuits, muffins and such.
Off to hoop another item in the embroidery machine. I want all this mess cleared up by tomorrow sew I can start fresh next week with more projects. I hope to be able to give the final amount saved from the Low/No spend challenge tomorrow. BOA's site has been down all day so I haven't been able to do any banking :(
Anyone else in on the food stamp challenge? If so make sure and leave a comment or link up your blog in the comment section