The winner of this cute ID zippy wallet is
Sharon
. The drawing was held in a very scientific way. I had all the names that posted comments in an Easter basket then let Kara do the drawing. She was expecting candy or some such thing in the basket so she wasn't impressed with my trick! Ha
Lots of Easter cooking yesterday morning with the windows wide open enjoying some springtime weather. I decided to pull out some of my Easter serving dishes to pack up for DD#1 Easter dinner. Thankfully all arrived and were returned home safely. I have had most of the dishes since our our DD's were little ones sure hope they will make it for a few more generations.
While we adults enjoy a more grown up desert the grands like cupcakes the best so cupcakes it was. This is the fist layer of cupcakes.
And the second layer. Can you tell that there is a little handle on the top of this tray?
Three trays fit on top of one another to hold a total of 24 cupcakes with none of them getting squashed.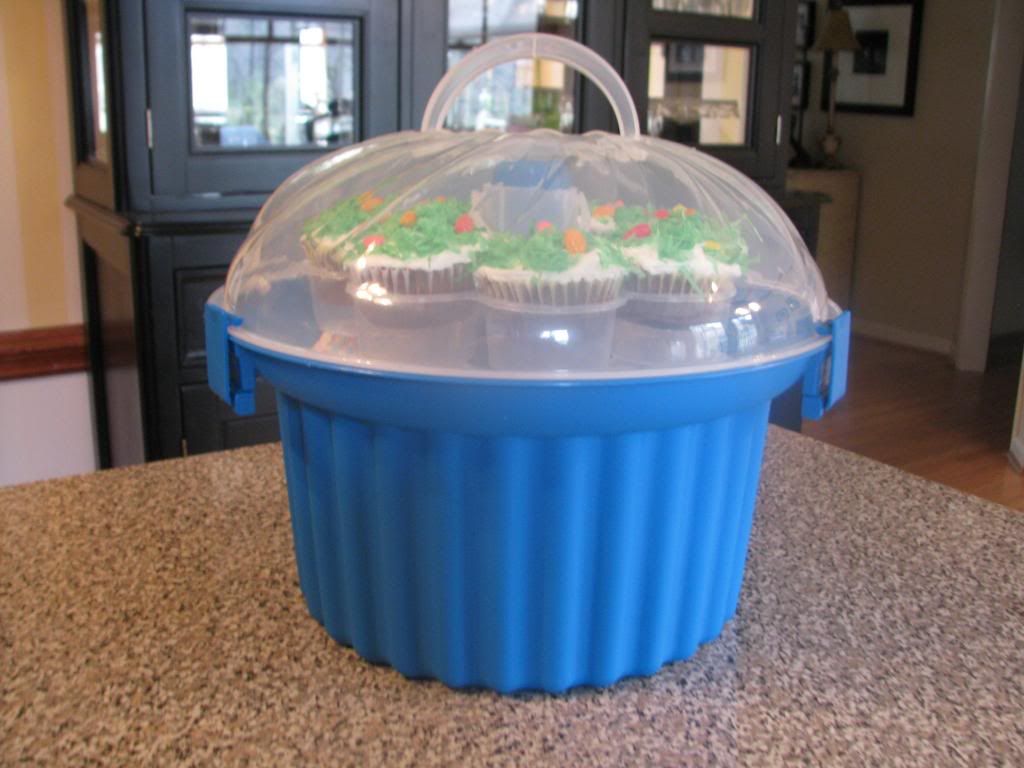 Then the top snaps right on making this a cute cupcake carrier for outings. I figured DD#1 would love something like this and since she has hosted Sunday dinner for the past few weeks I thought she needed a little something extra. Of course now DD# 2 & 3 have decided they need one as well. Sure hope I can find more as I bought this one back in January :(
I worked on my "Make Do" "Won't You be my Neighbor" quilt this morning. I have been digging around in my stash for fabric to add the outer boarder but I don't have enough of anything to pull it off. Looks like a trip to the fabric store is in order. I do however have enough fabric for the backing and binding SEW it will still be an almost "Make Do" quilt.
Congrats to
Sharon
on winning the ID wallet, I know you are going to love saving your pennies in something so cute this spring. Sharon is recovering from a NASTY case of the flu, hope this will put a smile on her face as she recovers.
We had a great time with the grands at Easter yesterday. The biggest hit was the plastic Easter eggs that cost next to nothing from the dollar store. We had DOZENS of Easter egg hunts all afternoon. Kara of course was the big winner as always with anything that has to do with moving FAST! Oh that girl....Mason was happy to have and egg in each hand, no interest in his Easter bucket at all, Ha. Such a sweet, sweet, boy.
DD#1 is loading her three up today for yet another trip to the Dr. None of us seems to be able to get rid of these nasty sinus infections, no doubt the kiddo's have ear infections once again. I am seriously thinking of a trip for myself as this thing has had a hold on me for close to a month, maybe an antibiotic is needed :(
It seems to be baby season around here again this spring. Three friends announced over the holiday that they will be new Nanny's another friend had a set of twin girls last night. Time to get busy on some baby quilts as my stash is getting pretty low. I have two baby boy quilts cut out to piece this week along with a Birthday gift that needs to be done by the end of the month. I can think of nothing better than setting at the machine with the windows open sewing to my hearts content!!
Here's a cute but odd thing. Yesterday we skyped with Papaw to share our Easter happenings. All the Grands enjoy getting to talk with Papaw on the PC where they can see his face. Karsyn took an extra long time as she explained to Papaw to come home and shoot the bunny rabbit!! WHAT!!!
DD#1 had Karsyn at Walmart last week where they had a man size bunny dressed up to greet the kiddo's. Karsyn wasn't expecting such a large and scary bunny. Instead of the typical reaction of a two year old to burst out in screams she yelled at the rabbit "Go away, my Papaw gonna shoot you" "I don't yike you" We are all hoping that by next year she will have forgotten her trauma. A trip to Disney is out of the question this year as we wouldn't want Papaw arrested for a 2 year old communicating threats. Where do kids come up with this stuff?