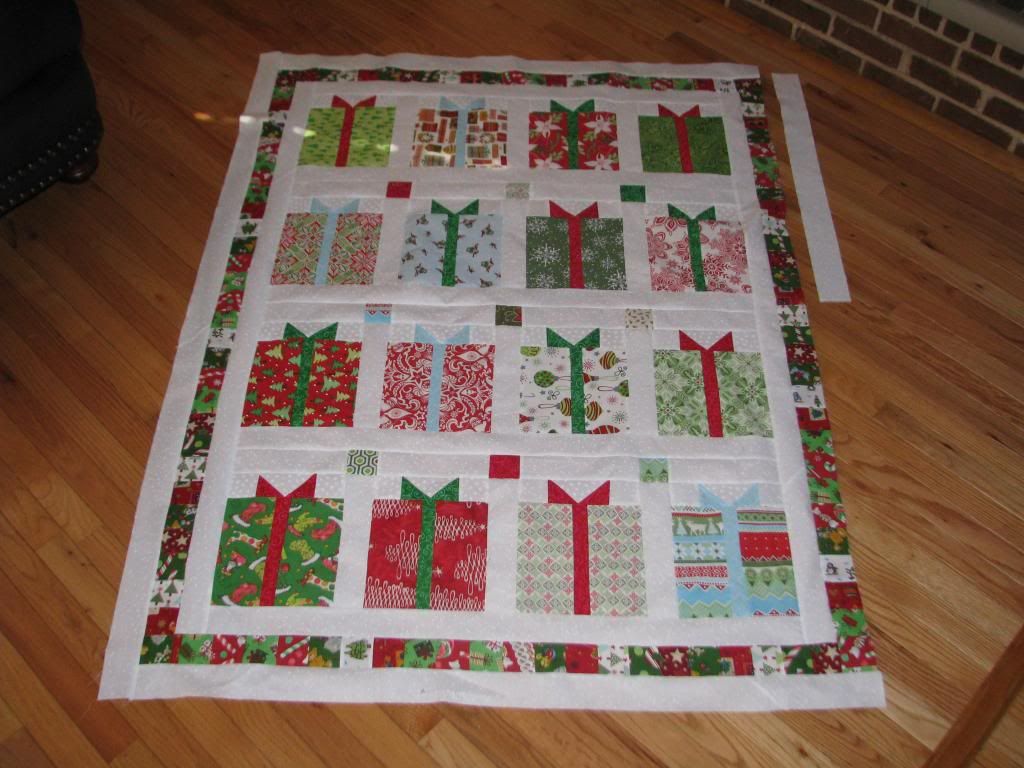 Before I can start anything new I have made a pledge with myself that I have to finish two UFO's. I gave myself a pass on the pledge today as I ran out of fabric to finish the last row on the LAST of the Christmas quilts created entirely with leftovers from last years quilts. Next time I am close to the quilt store I will pick up the bit of fabric to finish this off. Don't want to waste gas on $2.00 worth of fabric!
Now that I have completed two UFO's I could move on to this new project for Mason Man. Here it is all bundled up with ties so it will fit nice and neat in Mommy's diaper bag or purse.
Ta Daaaa. A sweet little Fun on the Run mat he can play with when they are out eating or whatever. The green pocket on the right holds chalk that he can use on the chalk board fabric in the middle. How cool is that? I don't have any chalk on hand right now but tonight when I am out and about I will pick some up at CVS as I have $12.50 in rewards bucks. Need to stick to the No/Low spend challenge when I can.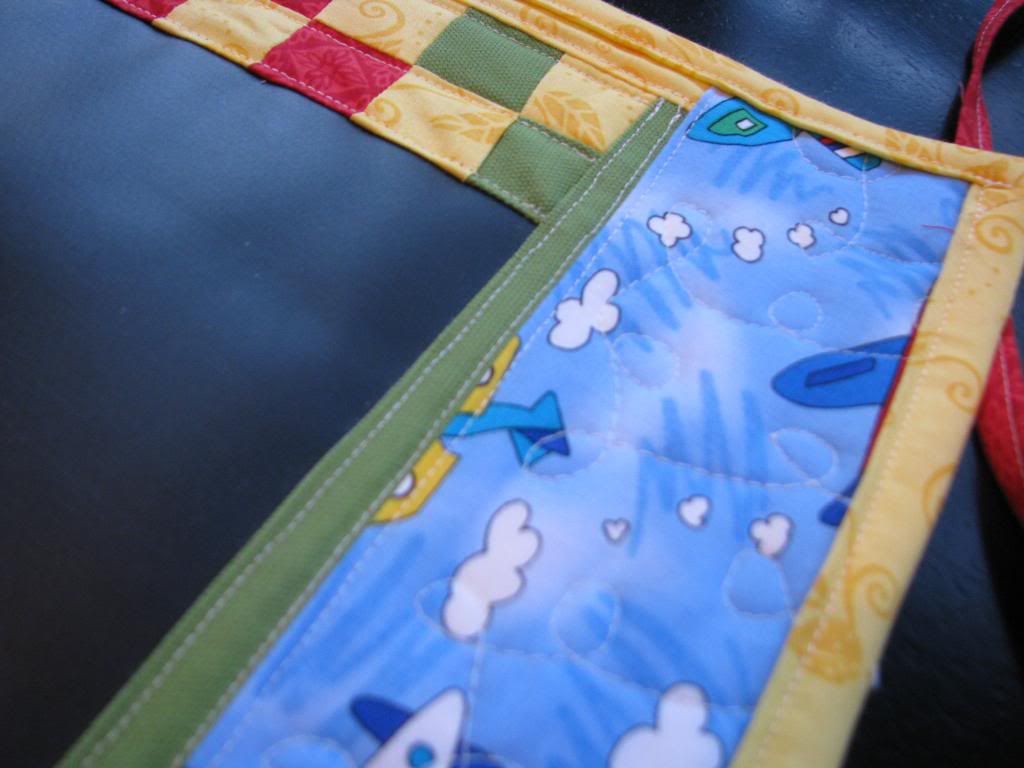 Let me just say right here right now that I HATE working with 1 1/2 inch squares!!!! What a pain in the rump. The next few Fun on the Run mats I make I might just do something much simpler in place of the checker board piecing.
I was afraid the chalk board fabric was going to be a real pain to work with but it cut like soft butter and stitched up so nice!! At $15.99 a yard it should be great fabric!!!
I used fabric from leftovers and my stash for Mason man's mat. I have lots of combo's I can use for the little girls as well but I may need to pick something cool and more grown up for Tyler. He is after all a big kindergartner now you know. I am thinking I might have the time to make a fun mat for the little girls tomorrow if the moon and stars line up just right.
Once I get Fun on the Run mats done for all the Grands I want to do one more project with the chalk board fabric before I move back to UFO's. Hopefully the next item will go as smooth as this one.
Thanks so much for all the comments on the Granny Square quilt!! I have decided to go ahead and add a large border to the sides to enlarge it to a queen size quilt. Once that's done it will move over to the UFO quilt tops pile. I have been thinking about taking a class on long arm quilting so I can rent space at a local quilt shop to use their long arm machine. I need to check the class schedule and pricing on the class as well as the rent per hour to use their machine. It might be cheaper to just hire the work done, however it would be pretty cool to learn something new. Maybe a great Mothers day gift from hubby!! He is always interested in my further educational opportunities. NOT!!