Here is what I have been up to the last few days. All these quilt tops are in need of are the scrappy borders.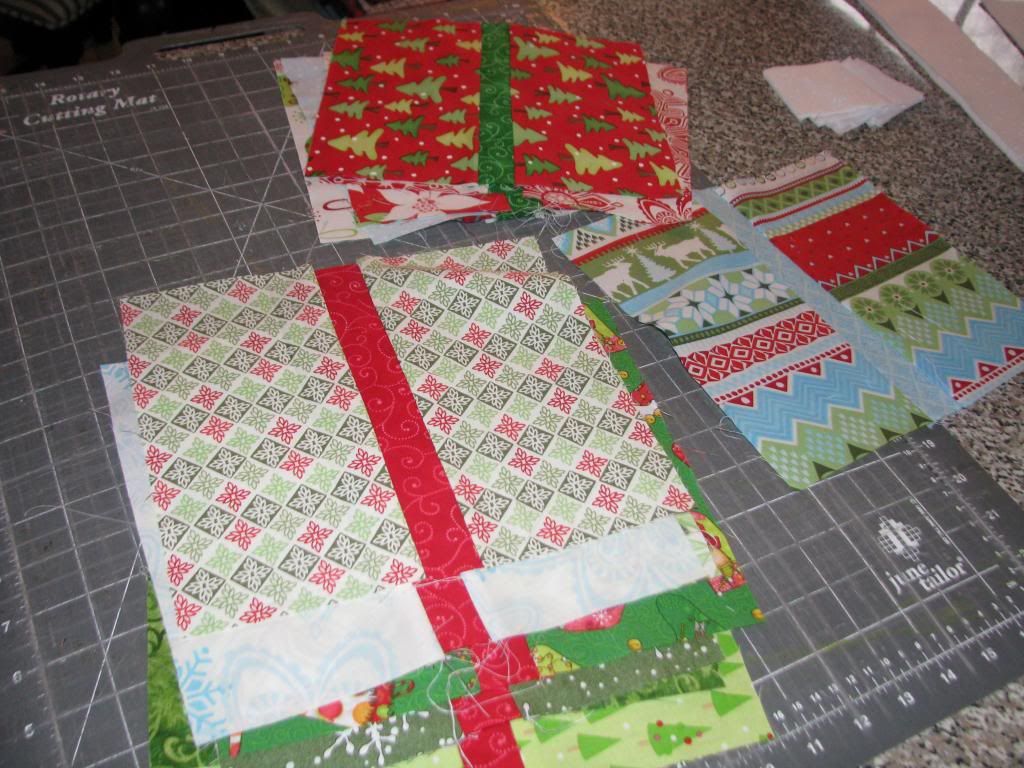 The third quilt top is in the works, I hope to finish it up today.
I did get out and about yesterday morning as I was in need of more white fabric for the shashing and borders on the Christmas quilt tops. The quilt shop was running a pretty good sale on fabric at 60 % off. I picked up the white fabric I was in need of along with backing for a quilt I have waiting in the wings as well as some Boy fabric to use for pillow cases. I also found the cutiest pattern for Halloween or Christmas table runners/lap quilts. Total cost a big fat ZERO as I used a customer rewards coupon along with a GC from Christmas.
After hubby and our company left Tuesday morning I had a sudden onset of the Rip Van Winkle disease. For reasons unknown to me all I want to do is sleep!! Tuesday I took a 3 hour nap then was in the bed with the covers over my head by 8:00PM and slept a full 13 hours. Holy Cow!!
Wednesday was just about the same. A long afternoon nap followed by an early bedtime, I did at least get up at the normal 6:00AM today so maybe I have recovered from the sleepy head syndrome. It's too early to know for sure. What I do know is I am paying attention to what my body is saying. If it says sleep I will comply, eat, well I am all over that one, play time, I will give it my best shot!! Ha
I am thinking the combination of the holiday's, hubby being home for 3 weeks, company, stress of the medical issues Hubby and DD have been having all added up. My body decided to just shut down. On the To Do list for today is to vacuum seal chicken stock, finish the Christmas quilt tops and maybe get in a little pillow case sewing for charity. Another day of napping is not out of the question!! Ha
Our area is having the worst outbreak of the Flu in a decade. Even people who have had the flu shot are coming down with pretty bad cases. All of us have had our flu shot but I am trying to take no chances! All ripping and running around is being done in the AM before the crowds are out and about. We are staying away from "The Childrens Place" until things improve, ditto for any crowded places. Sanitizer is in all of our cars, purses, dipaer bags any anywhere else I can think of. This is another reason I am letting my sleep patterns take me where they want.
Crap, spell check is down, sorry for any misspelled words