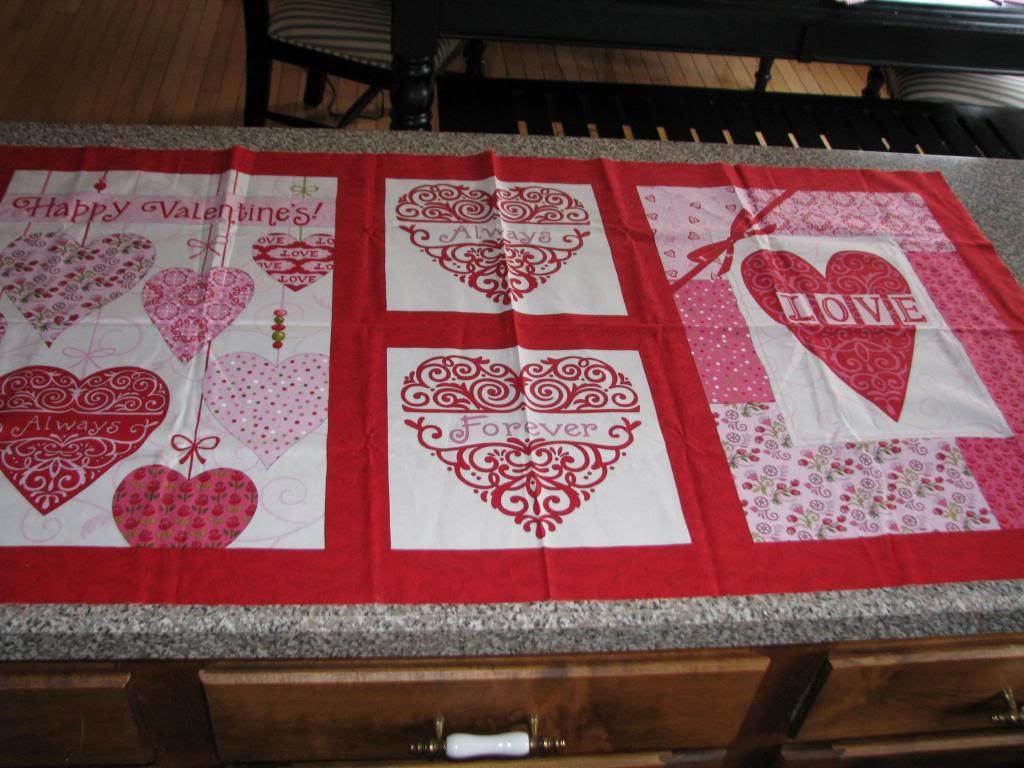 Last fall when I went for a weekend visit with a GF I found this panel of Valentine fabric on sale for $5.00. Pretty darn good deal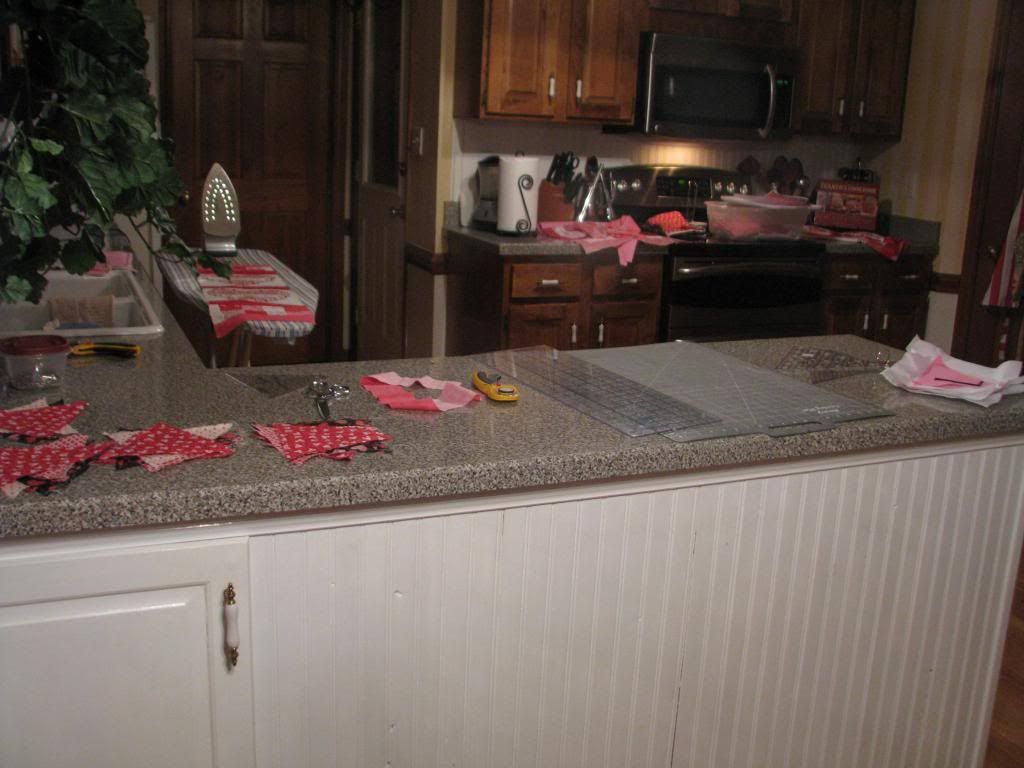 I decided Saturday my play time would be to work on Valentine projects. I mainly planed on doing buntings but after remembering (finding) the panels I had picked up I figure might as well work some of those up.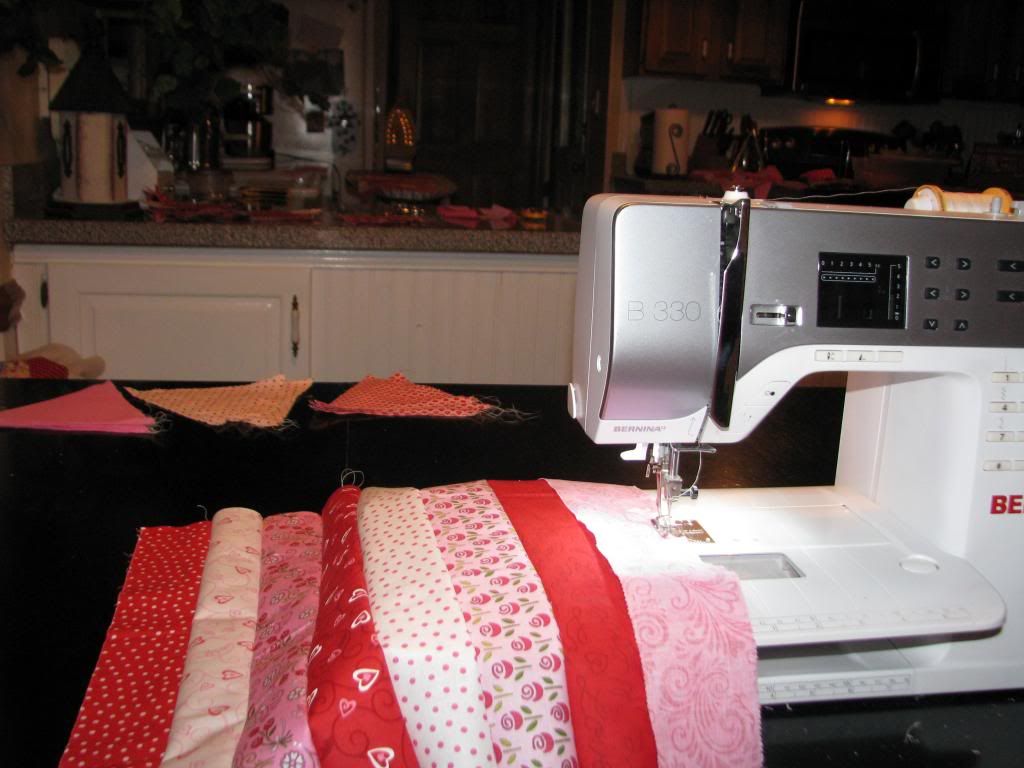 I used some leftovers from a jelly roll to do some strip sewing, then cut it up for scrappy borders.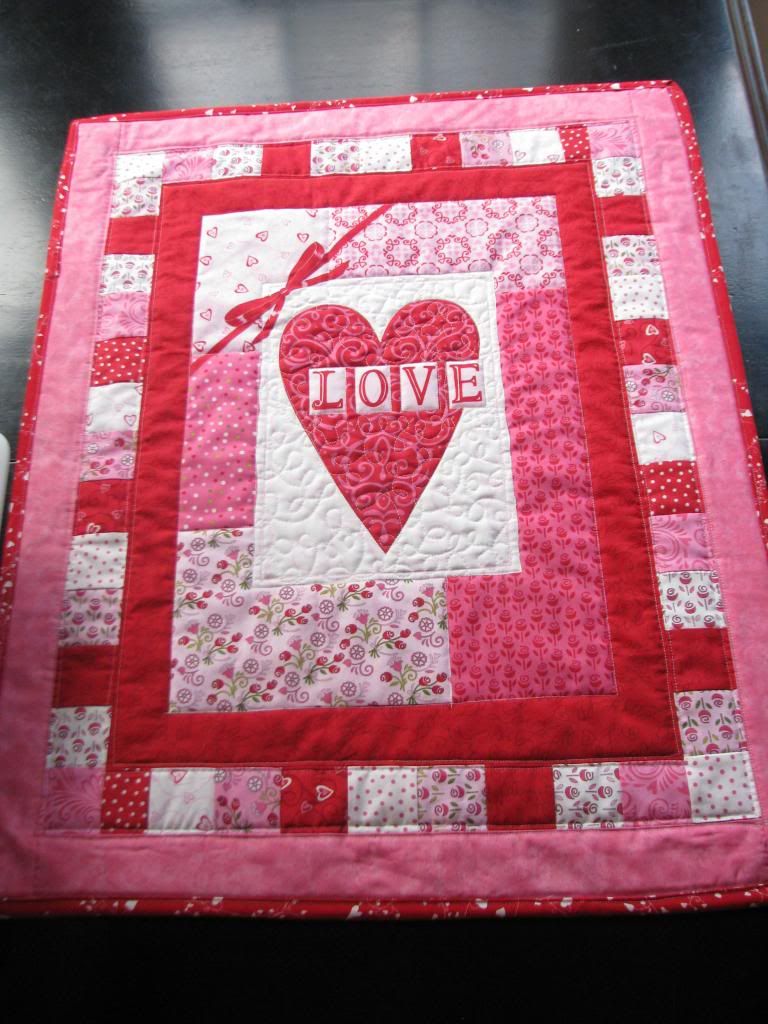 Along with the scrappy boarders I pulled out a little more fabric to enlarge one of the panels for a table topper.
Straight line quilting and some free motion "loop dee do's" finished the first gift off.
Ditto for the second panel, this time I did 4 inch scrappy blocks and pulled even more of my leftover valentine fabric out
After digging around in button jars I added a few rows of buttons for some cute texture. Gift number 2 complete!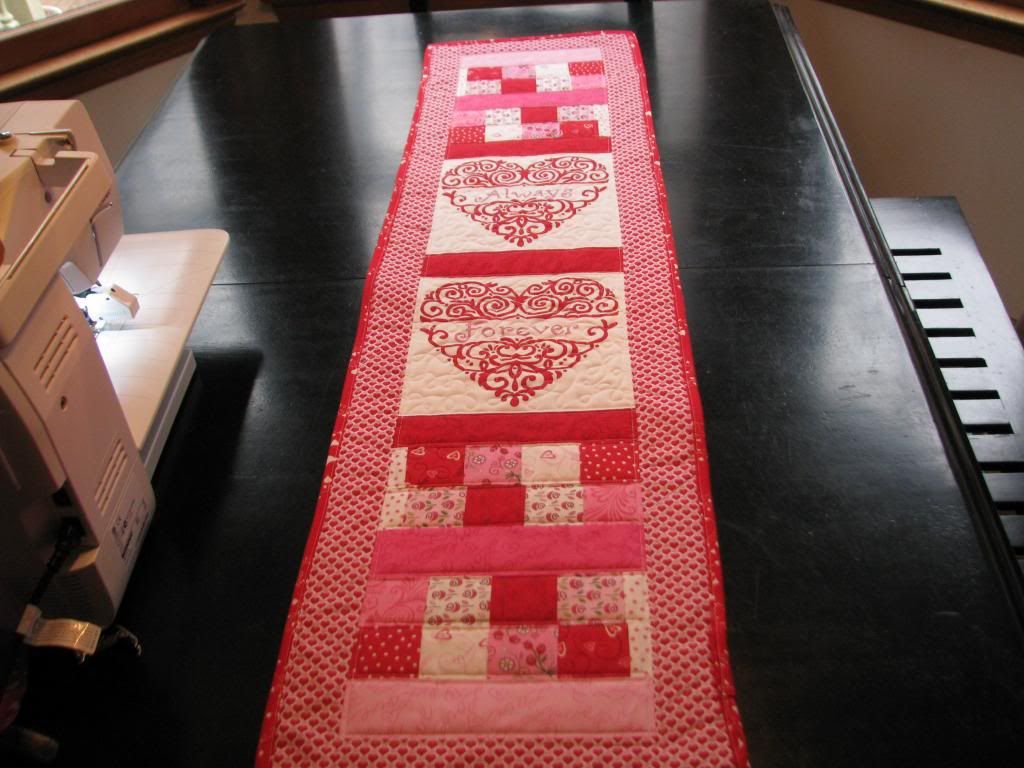 Last but not least I sewed the final 2 panels together, added some strips of fabric along with a few rows of 2/12 inch blocks for a table runner.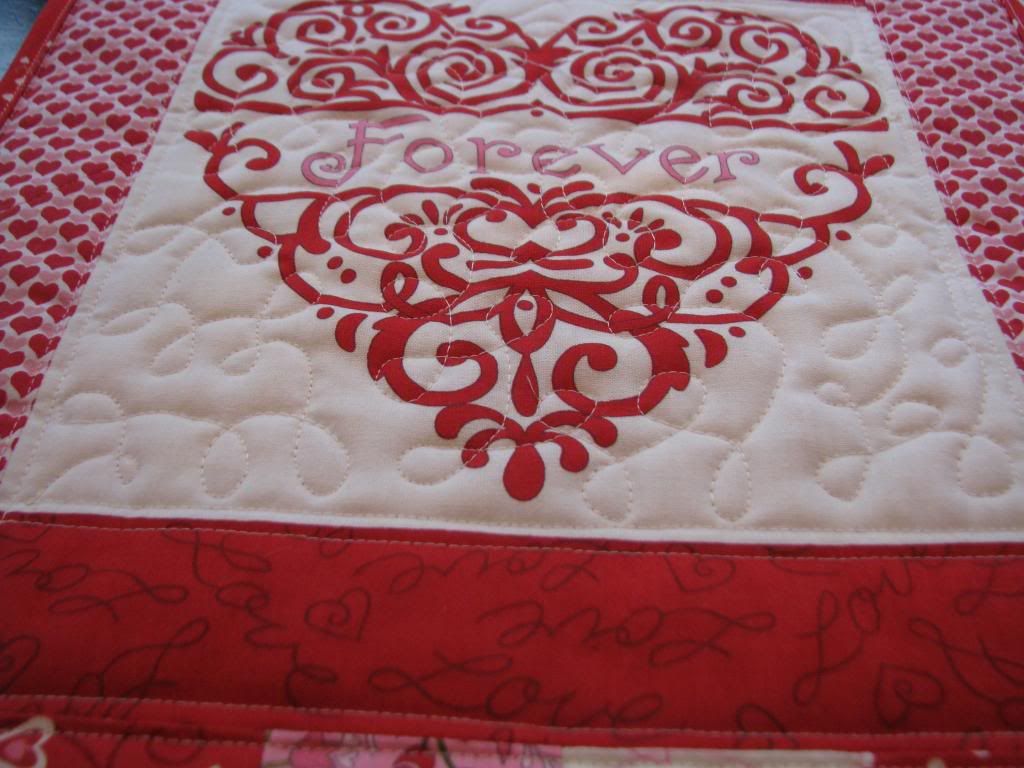 As with the other two gifts I did simple straight line quilting with some free motion quilting to the main fabric to add a sweet touch. Gift number 3 complete!!! All together the 3 gifts ran me $1.70 each by pulling from the leftovers I had on hand. The buntings I had originally planned to work up are still in the works. I have run into a computer problem with the software that I have I have figured out sew I can clean up all this red and pink from the kitchen. After playing, looking and coming up with ideas for the past 2 days I am OVER this stuff! Ha
DD #1 dropped in this afternoon with Karsyn and Mason man for some Nanny time. Nothing like answering the door to those sweethearts ready for some hugs and sloppy kisses. DD#1 claimed the Valentines table runner right off, it is the perfect size for her sofa table. The second runner will be going into a gift box I am working on for later in the year, the 3rd will go to the gift closet for a quick gift when needed. I still have one more of the panels in my Valentines tub. Maybe next year I will work that panel up, for now NO MORE Valentines day!! Other than the buntings of course, which BTW will also be made from leftovers. It's nice to use up a bit more of my stash.
Today was one of those aggravating days that make you want to pull your hair out. First off a trip to the post office to mail a package to hubby. After a 45 minute wait I was headed back home to begin the LONG process of going over Dr. bills that were coming in for hubby from the end of the year. More time wasted on the phone with Dr's offices and insurance company to get everyone on the same page as far as what we really owe. I am so sick of the BS the insurance company pulls over who is or is not a preferred provider. How can a Dr be on the list for 10 years then suddenly the last week of December they no longer are a preferred provider.
LADY - Looks like the contract with the Dr expired.
ME - OK when did that happen?
LADY - December 31, 2012.
ME - OK then why are you not paying a claim for December 27, 2012?
LADY - Our system had already been updated to drop the Dr.
ME - But shouldn't you have to honour the contract until the last date of the year?
LADY - Yes of course we do.
ME - Well you didn't on our claim
LADY - That's because our system had already been update.
ME - just need to keep breathing....don't yell....I can do this....
Me - How can we have the mistake corrected
LADY - You can put in a request for review
ME - That's what I thought I was doing
LADY - OK, what would you like reviewed?
ME - How about this conversation that has taken us close to an hour to figure out?
Lady - Sure, lets get started.
I rest my case. Some people have been educated beyond their intelligence!!!! She also didn't understand why I was complaining as we have plenty of money in our HSA to cover the bill. Why should I pay a bill I don't owe no matter how much money we have in the account? This whole trying to save money and keep up with whats coming in and going out can be a full time job some days!! The bill was $441.00, I told hubby that my worth as a stay at home wife/mommy/nanny is now $441.00 an hour!! Ha
Tomorrow is another day Scarlett, let it be a good one with no more software problems or Dr bills in the mail box!!!!