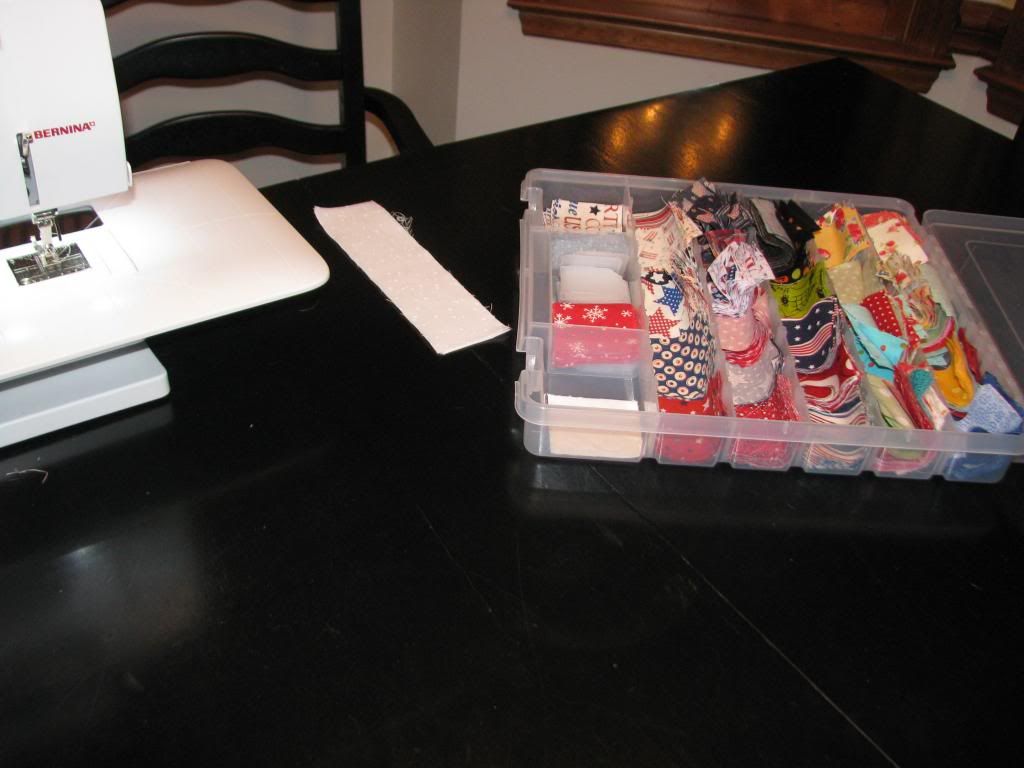 Awhile ago I found a great tutorial from
Blue Elephant Stitches
for Granny Square blocks. I have since been cutting up scraps to use for Granny blocks. Storing them in the handy dandy container makes it sew easy to sit down a whip a few up.
I had a nice size pile of blocks in my quilt block container. I wondered if there would be enough to make a lap quilt. Yep this should do just fine.
I looked around on line at different completed Granny Square quilts to get some idea of how I wanted to do my quilt top. Most of the quilts I saw used white fabric for the sashing and borders, the blocks sorta floated on the quilt. Pretty, but I wanted to do something different and use the vintage pink fabric I had on hand.
Here is where size matters comes in.....The quilt top turned out to be 59x89, way out of proportion for a lap quilt I think. After putting the top on a spare bedroom queen size bed if I add a larger border to the sides and a little at the bottom I will have a queen size quilt. Now it's decision time. I didn't really want or need a queen size quilt but I don't think I will be happy with it as is. Once I add a larger border I will have to have a long arm quilter do the quilting. Looks like my TOTALLY made from scraps quilt is gonna cost me a pretty penny to have the quilting done :( This quilt is headed to the UFO pile once I get the new borders on. I need to save up for the backing and long arm quilter. That's what I get for making up a pattern as I go.
Our "snow storm" last week only gave us high winds and tons of rain. Hubby however got a nice big snow!! Check out the photo he sent me yesterday of his back yard. I plan on heading up to his place sometime this winter. Knowing my luck they will have a tropical warm up and all this lovely snow will be long gone :( BTW hubby is on a project in the UP of Michigan. We rented a house for him back in November to hopefully save a little money as the motel bills were getting out of hand. Not fair!! he is looking out his kitchen window at that beautiful barn and snow. I am looking out at a shed that needs to have the doors painted and a mud hole of a yard.
Well I didn't complete the two quilt tops I had hoped to yesterday. The over sized lap quilt did me in. Maybe today I can get the second one completed, at least I have a pattern for that one! Ha
I had Kara this AM, while Mommy went to yet another Dr.'s appointment. I now will be adding vacuuming and mopping to my To Do list today. It's always something!! Ha
DD#1 is headed in our direction today to use the Gayboree bucks I have put back. I figure there is a pretty darn good chance I will end up with one or more of her three little ones who won't want to shop. Vacuuming and mopping may have to wait until tonight.
BTW, the chalk board fabric is pretty cool. Not sure how it will sew up but as soon as I clear out the quilts I am gonna give it a try. I have a cute pattern for a "Fun on the Run" mat I want to make for the grands. I will be using leftovers from other projects to keep the cost down. Also found a really cute bunting on line somewhere that used chalk board fabric. Wonder where I saved that site? As soon as I get some done I will post where I found the idea's. Really cute!