I got Tyler's approval for this pillow case. He thinks it will be nice for little boys, but not for his big Kindergarten friends! Ha
He also thinks this one is cool.
This one is too girly, maybe Mommy would like this one! Ya, Mommy, Aunt's, and Nanny likes this one!!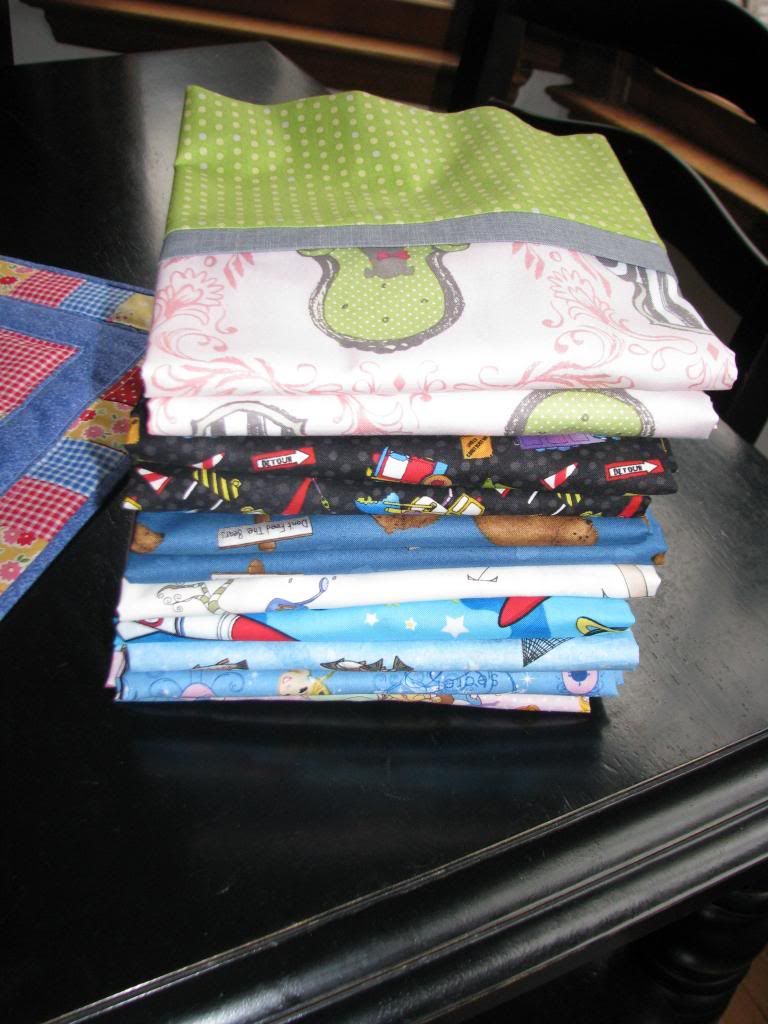 In total yesterday I finished up all 11 pillow cases I had cut out. One more pile of fabric is out of the sewing room. Wish I could say you can notice the difference but sadly it is not at all noticeable.
A Christmas gift for 2013 is on the machine now being free motion quilted. Once the little girls leave today I hope to make some progress on this one.
Look what the weather man is promising!! They are all over the place on the amounts we might get from a dusting to 3 inches. Dog gone it, the snow will not arrive until after the sun goes down :( Sure hope we will at least get to see a little of the white stuff when the sun comes up in the AM!!
DD#1 decided she wanted to try her hand at making some Artisan bread yesterday (shocking) but wasn't into making the dough! Ha I had more than I could use on hand in the fridge so I took a few batches over to her yesterday. Of course my real reason for dough delivery was to get to play with the babies for awhile!
I was so happy to hear from her before bedtime that her bread turned out perfect,go her! I am thinking next time I will go over and show her how easy it is to make up the dough.
On the way home I overheard on the radio we were under a winter storm watch. WHAT???? I love not having the TV on during the day but sometimes you really do miss out on the latest news. Who knows how much we might get as each channel seems to say a different amount but for sure Friday morning we should wake up to something nasty on the roads as in black ice. Our temps will be up by the afternoon so whatever comes down should be gone by noon. Only in the South can even the chance of a few flakes get everyone all excited. By now I am sure the grocery stores will be empty of milk and bread, it's a southern thing. AJ the beagle and I have more food than we could ever eat, dry wood is in the garage if needed, and of course we are all set on quilts to snuggle under! Ha
Off to pick up our little girls for some Nanny time. I do believe I will make a batch of cookies to send home with them, maybe even some egg salad. On cold rainy days, soon to be snow it just seems right to get into the kitchen and do a little something. It's a southern thing I am sure! Ha