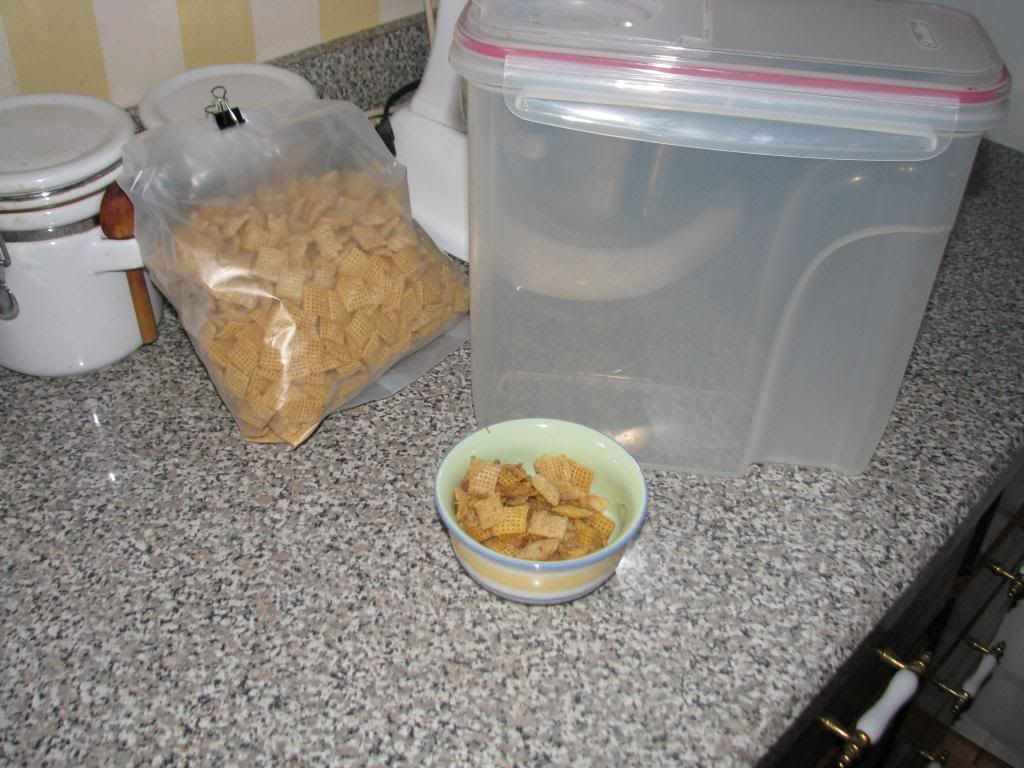 We were all but out of Chex Mix when I cleaned out the pantry. Time to make a few batches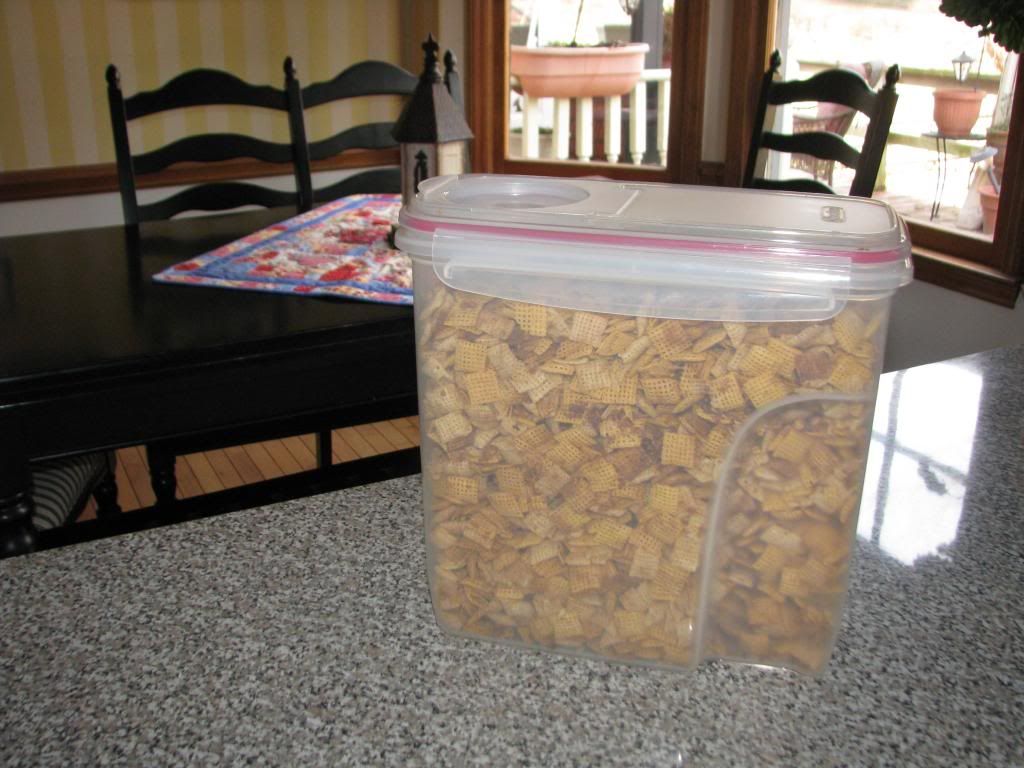 This should hold the boys over for a weekend of football. Our DD's each ended up coming by as I had the party mix on the counter cooling. As you can guess they each took home a gallon zip lock bag for their own family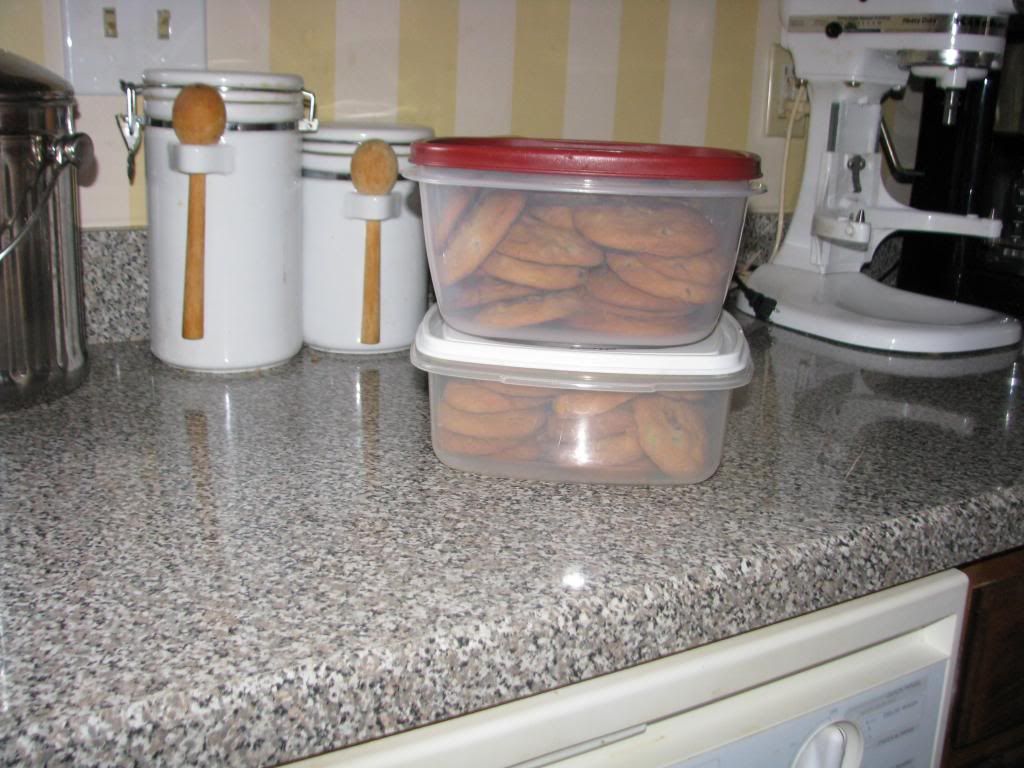 The freezer was really low on cookies after the holiday's, time to restock on their favorites. The DD's of course scored some to take home
Anyone up for a new 2013 challenge? This one is being hosted by the every lovely
Cindy
. Check out her blog post from maybe 2 days ago to join in and see what great things you can do for your savings one week at a time for 52 weeks. I set mine up a bit different. We have way more various accounts open now that I am trying to keep up with, instead of opening yet another account I stapled the form to the front of a over size envelope. Each week I will just drop the allotted amount in and use a highlighter to remind me I have made my little deposit. Keep it simple stupid will work for me this year. Lets call this my Red Neck 52 week savings account! When DD#3 picked Kara up today she was interested in giving it a try so I made one up for her. While enjoying a meal tonight with our company we were talking about the crazy amount of money we all spent in December and the HIT we took on this pay period with the tax increase as well as increase in health insurance costs. I think I have found a little cottage business for myself in making up these 52 week savings envelops. Maybe I should charge 10% of what they save, better yet why not go with Uncle Sam's formula, 47% please!!!!! God Bless America
Another day of eating from the pantry around our place. For lunch we ate the last of New Years BBQ along with some chips that are sure to go bad when the big kids are not around as much now that everyone is back to their normal routine. Supper was vegetable beef soup, roasted beef franks, sauerkraut (New Years leftovers) with hard rolls (more leftovers). I wasn't sure when our company for the weekend would be in today, soup was the way to go. Throw it in the pot and walk away. The only thing store bought in the soup was kidney beans, the beef is from the side of beef we get from a local farm. All the veggies were from the garden, dehydrated or canned. I soooo love using things I worked so hard on in the spring and summer for winter meals. It makes me ALMOST forget all those hot days over the canner! Ha
One last thing. I have been ask a few times to share our recipe for home made noodles. It is NOTHING fancy let me assure you, just country cooking. Instead of rolling out the dough the old fashion way with a rolling pin and lots of upper body muscles using a pasta maker would be much easier. I do have a pasta maker that I have never used (shame on me) it is so darn cute setting on the bakers rack in its pretty fire engine red paint. Learning to use it is on my must do list this year!!!
Noodles
1 egg
1 tsp salt
2 TBLS milk
1 cup flour
Mix egg, salt and milk.
Add flour a little at a time
Let dough rest 20 to 30 minutes
Roll out on floured surface then cut into thin strips
Set noodles aside to dry for at least 2 hours. I put ours on cookie racks to dry
The dough should be a firm stiff dough, not sticky nor so dry it crumbles.
On noodle day I make 10 to 12 batches of noodles. After they have dried for a few hours I put them on a cookie sheet then place in the freezer overnight. The next morning just throw them in a gallon zip lock bag then back in the freezer.