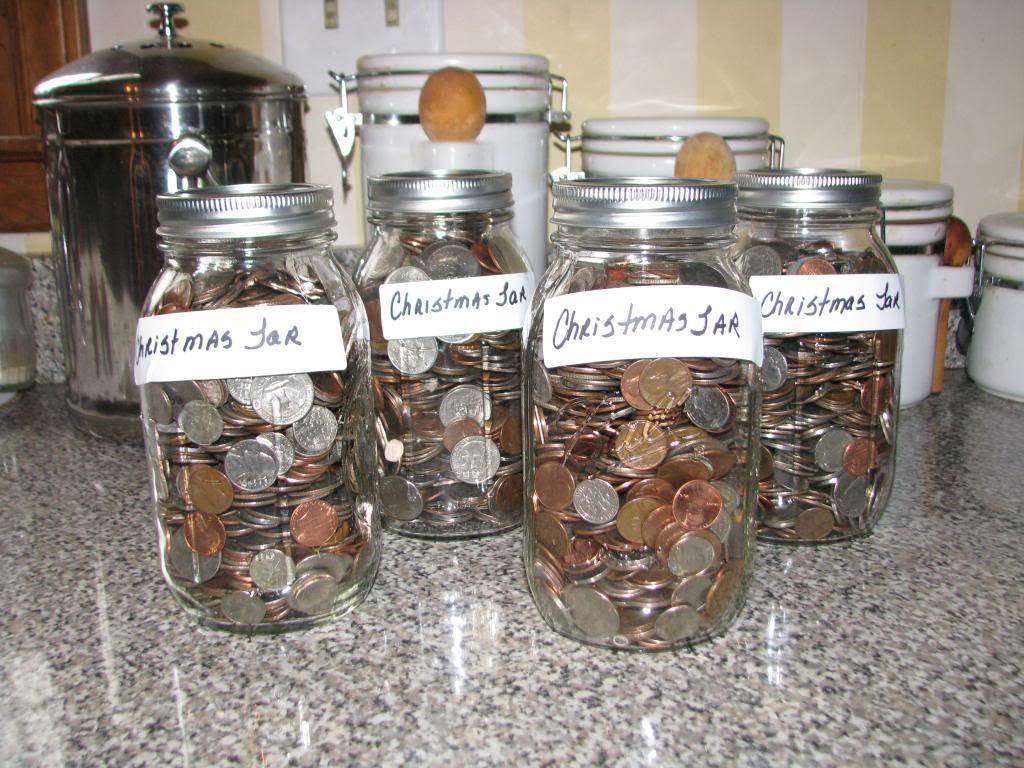 On yesterday's blog I mentioned that we save our change for charity at the end of each year rather than keeping it for ourselves.I forgot to take a photo of our Christmas Jars this year, just too much going on 2011 jars will have to do. We ended up donating 6 jars in all, the jars hold between $120.00-$140.00 each
We began this tradition some years back after reading this book. Want a chance to have a copy of your own? Leave a comment stating you are interested in finding out whats up with "The Christmas Jars"
My distraction from updecking the halls today was to work on Christmas quilt blocks. I haven't made a Christmas quilt yet for DD#2 as she has yet to marry but rather than leave the whole shebang hanging around in the UFO containers I figured I would go ahead and piece her quilt top. In fact I will be able to piece 3 quilt tops in all. I think I know where the other two will be headed for Christmas 2013.
As I am pulling things together very slowly for our 2013 budget I took a look at our charity donations for 2012. Happy to report we came in at 12% of our salary!! Yepee skippy. Want a great way to log your charity giving during the year that will make tax time super fast? Check out this
site
. Sharon shared this info on her blog last year, thanks so much
Sharon
it has worked great for us this year!!!
I don't get receipts for donations we make to the local soup kitchen. Putting that much extra work on the director seems silly to me. Each month I donate a box of assorted items I pick up on sale/coupons, excess veggies from the garden get donated during the summer, school supplies in the fall, and our Christmas jars also go to them.
Our local soup kitchen is a bit of an odd bird. The vast majority of the folks are elderly ladies who have had grands and great grands dropped on their doorstep. They get no public assistance since the mothers have not given up parental rights. The Grandmothers/Greatgrandmothers don't want to turn their DD or GDD in to the authorities for abandoning the children so they just make do with the very limited resources they have. It is heart breaking as well as heart warming to see these proud ladies pull up in their cars barely seeing over the steering wheel then maneuver around to unload the little ones. No receipt needed on this one, it's a gift I give to myself all year
Off to watch a little trash TV and work on undecking the family Christmas tree...close, oh so close to being done!!