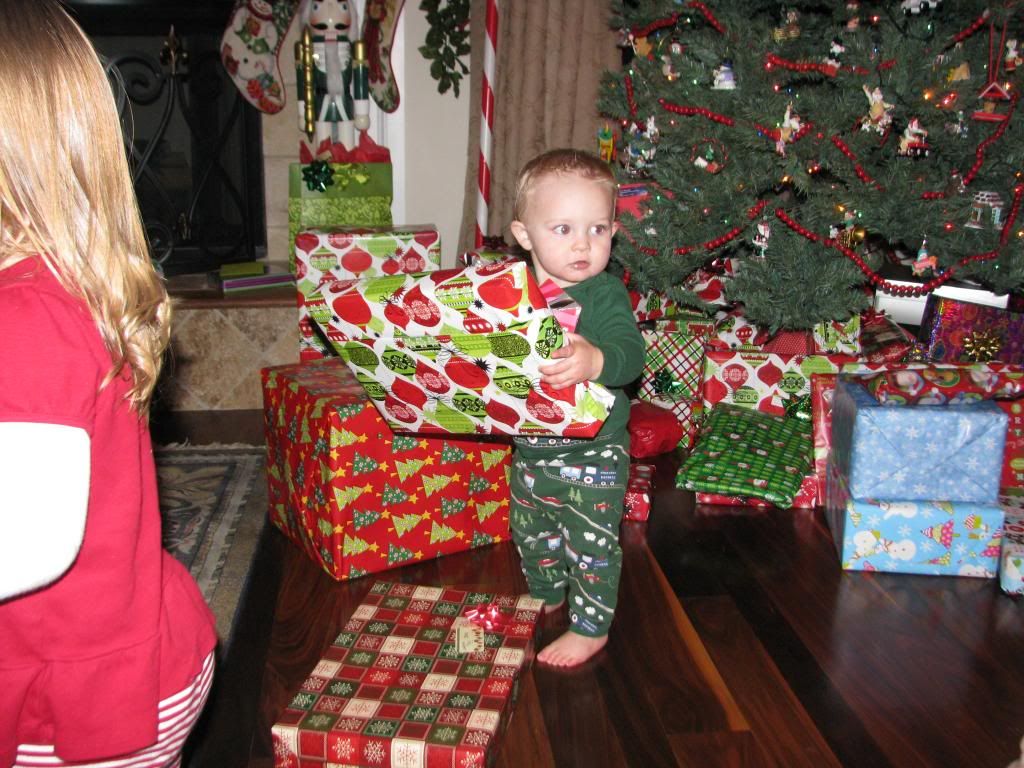 It didn't take Mason man long to figure out whats up with Christmas gifts this year. He was right in the thick of things at my Sisters house on Christmas Eve.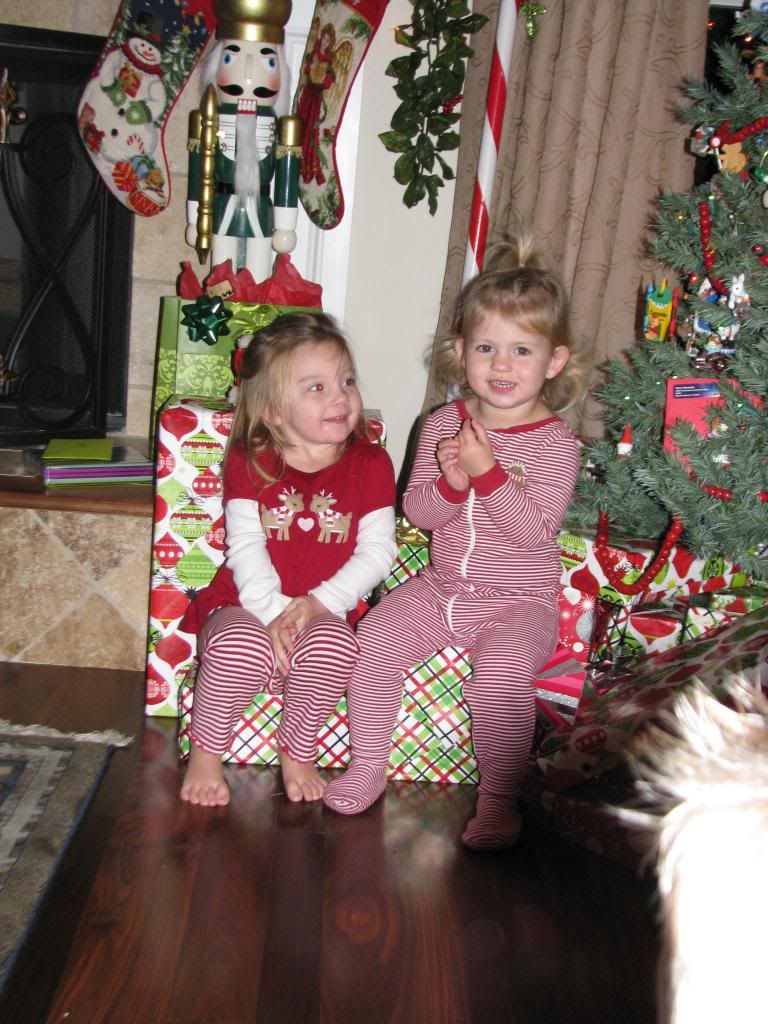 The little girls loved siting on the gift boxes to have their pictures taken
Karsyn couldn't get enough of it, I think I took 50 or more pictures of her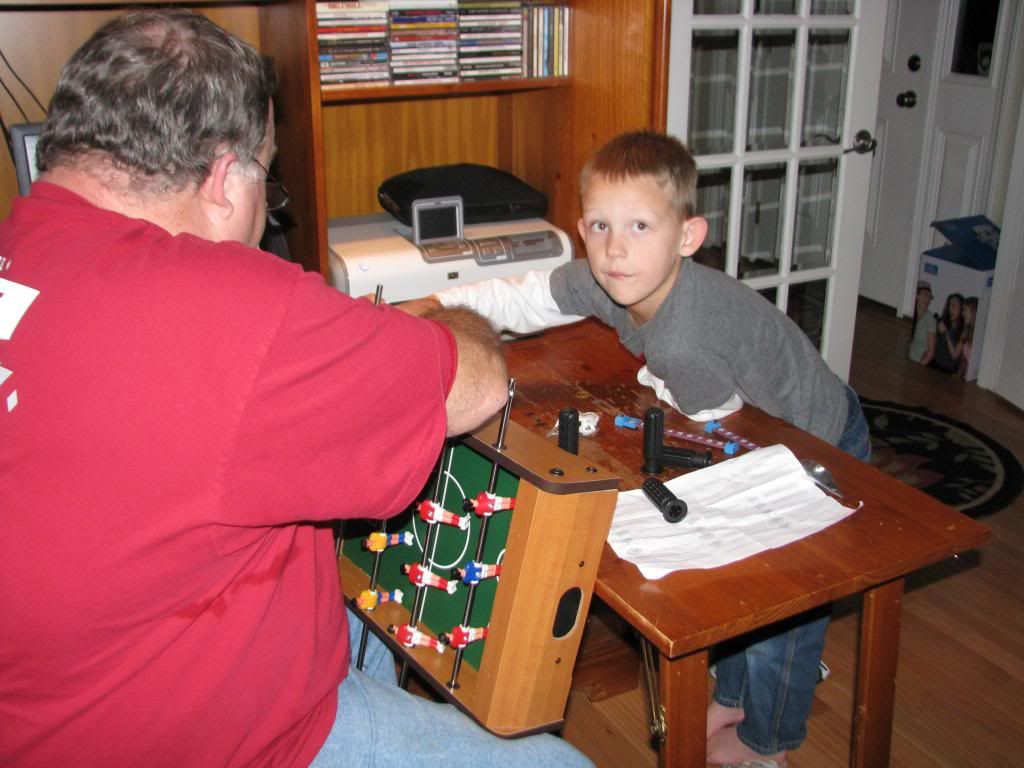 Papaw and Tyler found a quite place to do some assembly work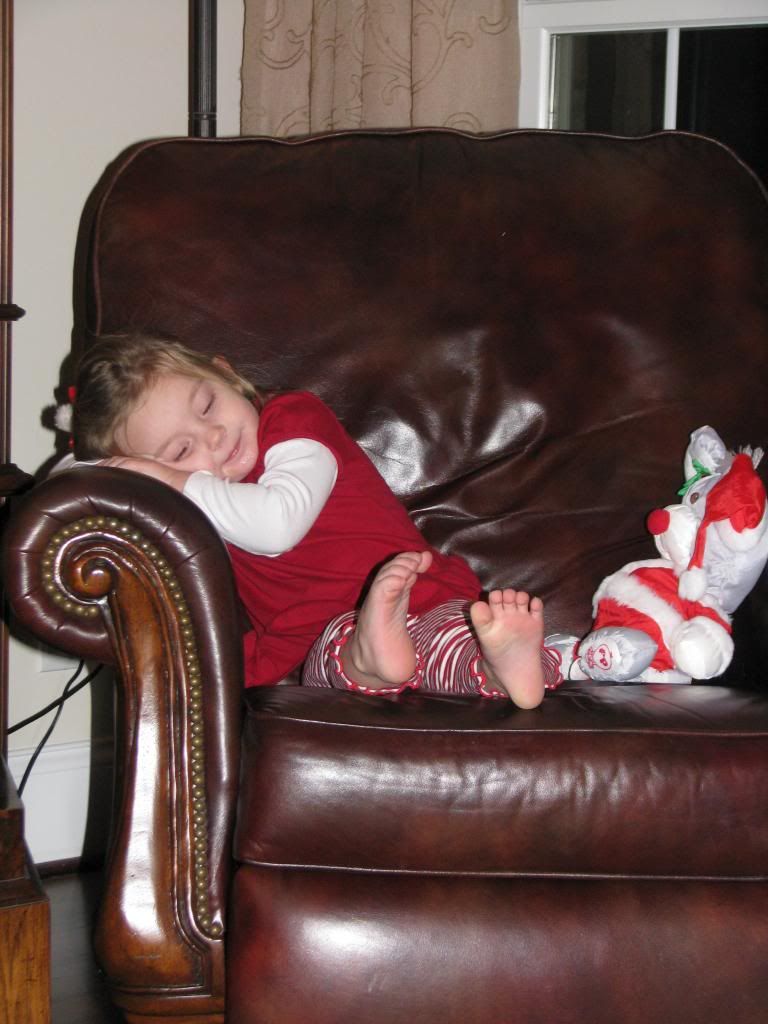 A rare photo of Kara sitting still!!
By the time Christmas morning was over poor Mason was over it all!! He pulled his nap pad out of the grands room to nap in front of the stove! Ha
We had a wonderful LOUD Christmas with everyone piled in the house. We spent too much, ate more than we should have , and of course didn't get enough sleep.
The day after Christmas the real world was back in full force. I will do my best to explain what has been going on.
Our DD#3, Kara's Mommy became very sick in her 7th month of pregnancy with Kara. Mommy's iron levels had become dangerously low to the point we were not sure Kara would make it. Since that time DD has been seeing 3 different oncologist/hematologist to try and build up her blood count with no improvement. The week before Christmas the latest oncologist called needing our family history of cancer, leukemia, or any blood disorders. We of course were frantic. On the 26th his office called for us to come in to talk about the test results. We were prepared to hear the worst but had prayed for the best. At this time the tests are coming back negative for leukemia, there are no indicators for cancer. However DD is not responding to the last series of treatments so more testing is being done. The only explanation they can come up with at this point is DD body is rejecting the Iron infusions she has been enduring for the past 2 years. We will be going back in 2 weeks to get the latest tests results, she will also be having a full body scan, upper and lower GI. We know somewhere out there someone will be able to get a handle on this. The oncologist we are working with now seems to be the most aggressive in getting to the bottom of it all and finding a way to help DD's health improve. She catches each and every germ that is floating around. More sleepless night, tears and prayers than I can ever explain. But things are looking up at least where the cancer concerns were.
Hubby makes me CRAZY in so many ways but he is the best of the best any woman could ask for. Way back in the spring he had a bump come up on his leg. At first he thought it might be a bug bite from working in the garden. By summer is was getting bigger and uglier. He finally agreed to see the Dr. At that time they wanted to do a biopsy just to be safe, hubby of course ask for meds and was on his way. Since then he has been back to the Dr 3 times but still didn't want a biopsy. The week before Christmas he finally gave in after I has a BIG time hissy fit. The day after Christmas our family Dr called. Hubby needed to see a surgeon. Today I escorted him to that appointment. We will not be able to work with the hospital to schedule the surgery until next Monday. The test results from the biopsy are inconclusive, we won't know whats up until after it is removed. Because he has put it off for so long the surgery will require a very large incision as well as skin grafts.
While we were at it I made him go to his yearly eye appointment. Next week we will be seeing a specialist as he is showing signs if glaucoma.
There you have it. So much.........I do believe I have cried all the tears I had in my body. Lots and lots of sleepless nights, so much fear of the unknown. Constant prayers that "God your will be done" when all I really want to pray is "hey big guy how about a break!"
This post isn't for sympathy, or to make anyone sad!!!! It's just what we are up to right now. It's why I haven't been able to post for so many days. Should I even share this on the blog or keep it to myself? We still laugh until I wet my pants (need to do something about that) We are still doing the every day normal things that everyone has to do but now with not as much spring in our step.
Tomorrow Hubby will go play with his buddy's, I will be taking down Christmas decorations and working on the 2013 budget. Will have chicken noodle soup, hubby will get on my nerves the big kiddo's will call needing something and we will thank God that we are all still together and able to still make each other crazy.
The End