DD#1 is in charge of decorating for Tyler's Kindergarten class "Winter Party" She is going with "The Gingerbread Man" theme. After digging around in my embroidery programs I found a Gingerbread Man candy cane holder. This should work great for table decorations as well as a party favor for the kiddo's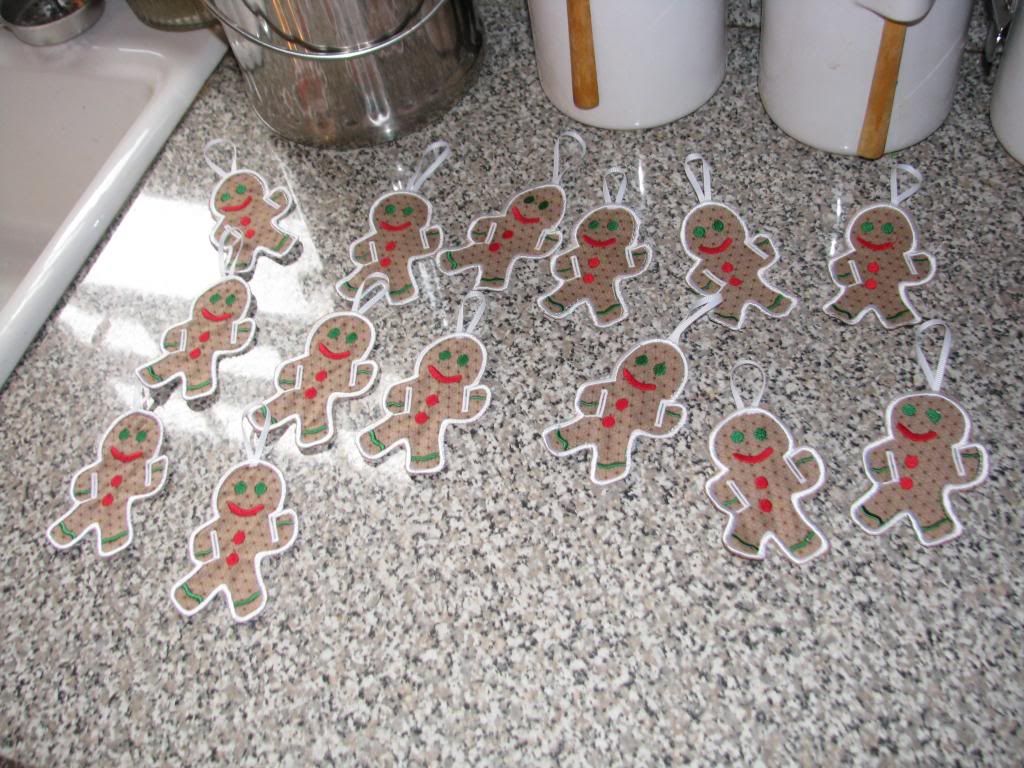 I figured out how to add a ribbon during the embroidery process so the kiddo's can hang their Gingerbread Man on the tree after the candy is long gone.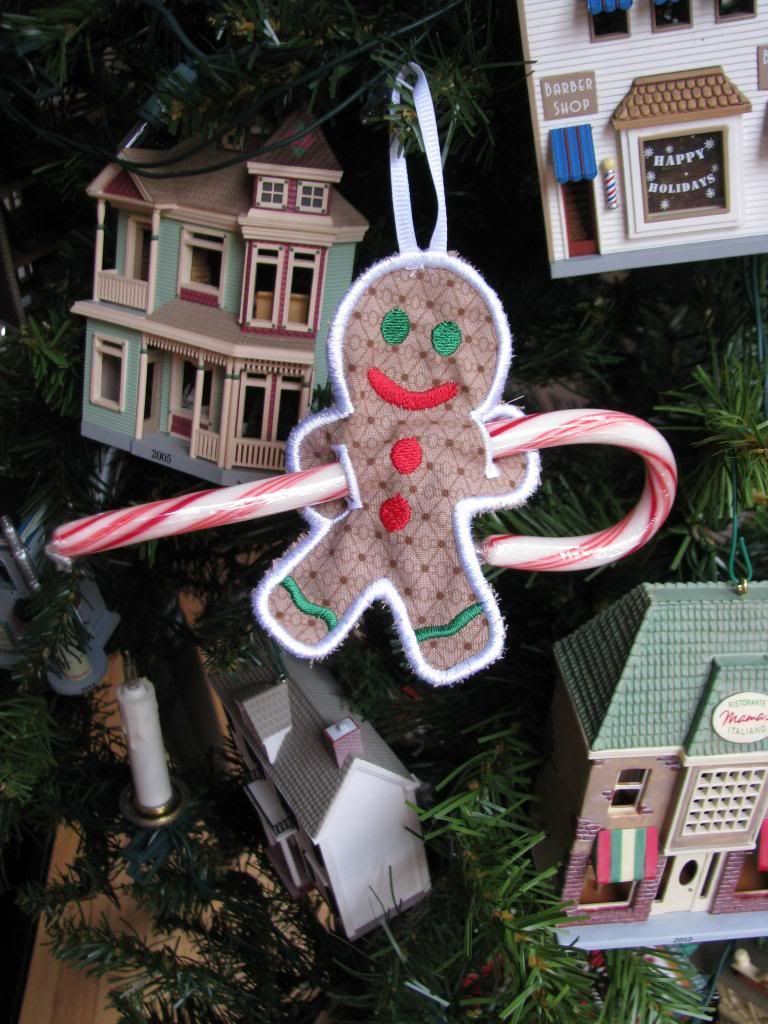 I had thought the only cost was for the candy canes as I am using my fabric stash! They however need Fray check for the slits to put the candy cane through. For the life of me I couldn't find my fray check. Somebody needs to do some clean up in the sewing room. Off to the big box fabric store. The fray check was only $4.99 however......
This sewing machine was on sale for $129.99 regular price $189.99
I have been without a sewing machine for 28 days people!!! After calling on the progress of my sick machine on Monday I had been thinking a back up machine might be in order. They hope they will be able to finish up repaires of my machine by the end of the week. With the Christmas rush in full swing at the postal service they can't guarantee I will have it back before Christmas, grr Now if I would like to pay for overnight delivery I might get it sometime next week. NO THANKS!! The shipping would cost a pretty penny I am sure.
My Sister has been so sweet as to let me borrow her machine while mine has been in the shop but we are firm believers that you shouldn't borrow something that you can't replace. My Sister has a TOP of the line Bernina that is over 20 years old, maybe closer to 30 years. If I were too have to replace it we are talking $8,000.00 or more. After putting the binding on one of the quilts I was afraid to touch the thing! Ha
I have heard nice things about the Janome brand machine, while this one is no where near top of the line the sales lady assured me it will do the trick for piece work as well as everyday sewing around the house. She herself has one that is a step or two up from the one I purchased that she takes with her to retreats and Bee's. She leaves her Bernina at home due to size, weight, and cost! Ha That is a tip I will be keeping in mind, maybe my big girl machine needs to stay put at home.
I called hubby and told him to mark a big gift off of my Christmas list (not that I had one on it) since I purchased a new machine. He was A-OK with that and wished me luck with my new toy. He called back in a very short period of time,
HIM "Wait a minute, did you say you bought a new sewing machine?"
ME "Yep"
HIM "I thought the new ones were over $5,000.00"
ME "That would be the upgraded machines"
HIM "Did we upgrade?"
Me "No, we down graded. It was less than most people would pay for a new winter coat"
HIM "Do you need a new winter coat?"
Me "No honey I am menopausal remember?"
I LOVE that man!!
If I find the time today to get the new machine out of the box and sit up I do believe a little blog candy is in order as a celebration!