Christmas cards went in the mail bright and early Monday morning.
as soon as I get the addresses from the following ladies who are the blog WINNERS I will be making one more trip to the post office this week. Congrats to.
"Lovely" will be going to
Katie
"Lake House" is headed to
Lena's
home
"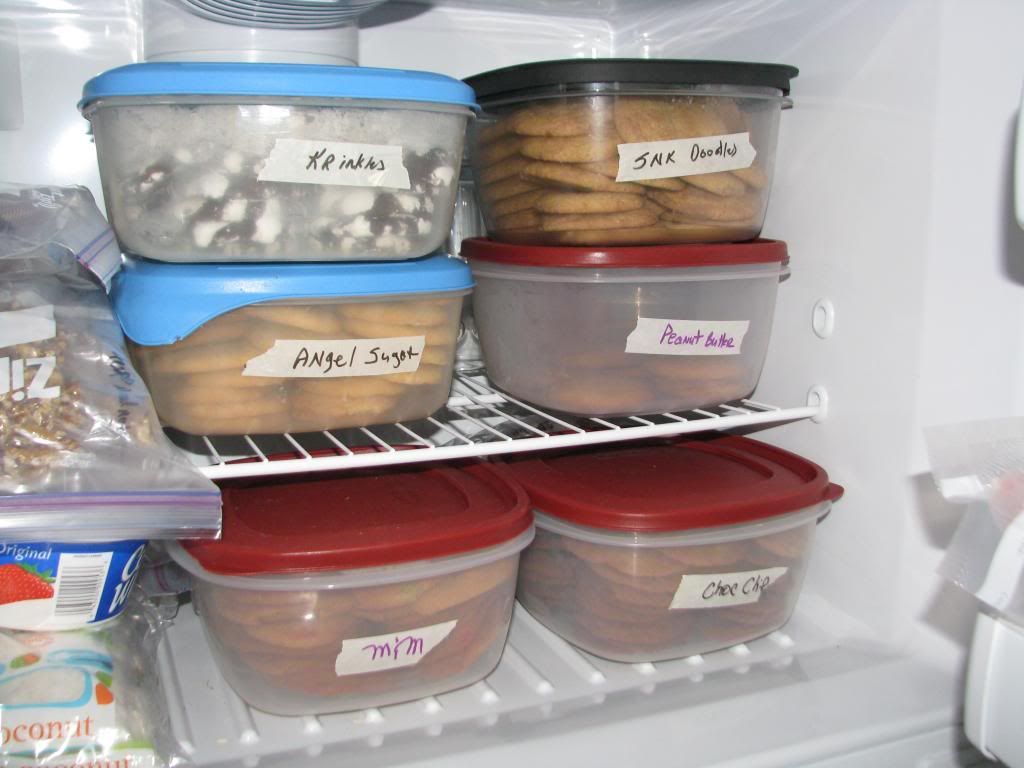 Want to guess how I have been keeping busy this past 24 hours? Filling the freezer with all the families favorite cookies.
I am almost done Gingerbread house baking.
Sugar cookies are line up waiting for a turn in the over. Thanks to my good buddy Jackie for the tip on freezing sugar cookies. This will save me a whole lot of time on my feet decorating cookies with the grands.
Now I want to share a great recipe a friend gave me a few years back that his Mother use to send to him for Christmas when he couldn't get home. They are so light an fluffy, you will love them. I forgot to take a picture of them when I was baking yesterday so I am substituting photo's of Christmas Krinkles to give you an idea of the last step in Angel Sugar cookies. Here is the recipe, nice and simple
Angel Cookies
1 cup white sugar
1 cup powder sugar
2 sticks butter soften
1 cup oil
2 eggs
1 tsp baking soda
1 tsp cream of tarter
1 tsp vanilla
4 cup all purpose flour
Mix it all together and refrigerate for a couple of hours
Form dough into balls and roll in powder sugar (See photo above)
flatten down the ball just a bit (See next photo)
but not too flat: photo(I am holding about the right size in my hand)
Bake at 350 degrees of 8 to 10 minutes
The cookies should be golden on the bottom but pretty much white on top
I use a juice glass to flatten my cookies. Make sure to dip the glass in powder sugar to keep it from sticking.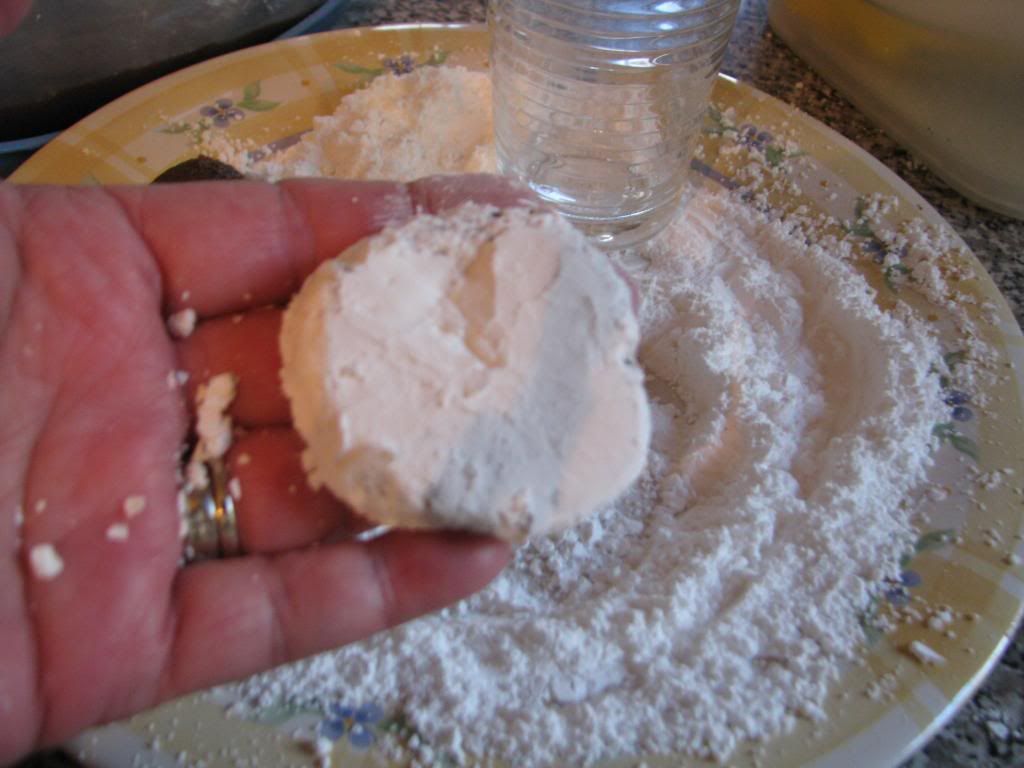 Just an average size cookie, monster size cookies won't bake up right.
It's been a bust your rump 2 days starting with my yearly physical Monday morning, Kara in the early afternoon, then finished the day with a cookie baking marathon. Today was no different, more cookies to bake, 5 pounds of chocolate covered nuts, laundry, change bed clothes, roll cut out and bake gingerbread houses, washing of pans and bowls all day long. It's done! I still need to decorate the gingerbread houses in the morning when they dry out a bit, they have to be to DD#1 house by tomorrow night so she can decorate Tyler's class for the "Winter Party" Thursday. I think I can, I think I can....
So I am feeling a little less stressed and out of sorts from the CT tragedy after reading all your comments on how to relax when you think you can't go on. THANKS SO MUCH to each of you. A friend posted the loveliest drawing on face book that put things in perspective for me at least (I will try and share it when I figure out how) Then don't you know the good Lord put something in my path to help me feel as if I can do a little something for the families and children.
One of our local
shops
is sistering with a
CT quilting shop
to do a Pillowcase drive for "Sandy Creek Elementary school". The deadline is Friday morning Dec 21st. I can tell you, my family better get the heck out of the way, no more "Mom can you, will you?" until this is one little thing I feel I can do is done. My sewing machine will be going full throttle to get at least two pillowcase's completed, one for a little boy and another for a girl. I don't think the shop has updated their site yet for the info on the pillow cases as I received the e-mail just an hour ago, but check them out. It is a great shop run by an incredible family.
As Tyler says "God is a good guy" Yep he sure is little buddy, he puts in our path just what we need when we need it!!